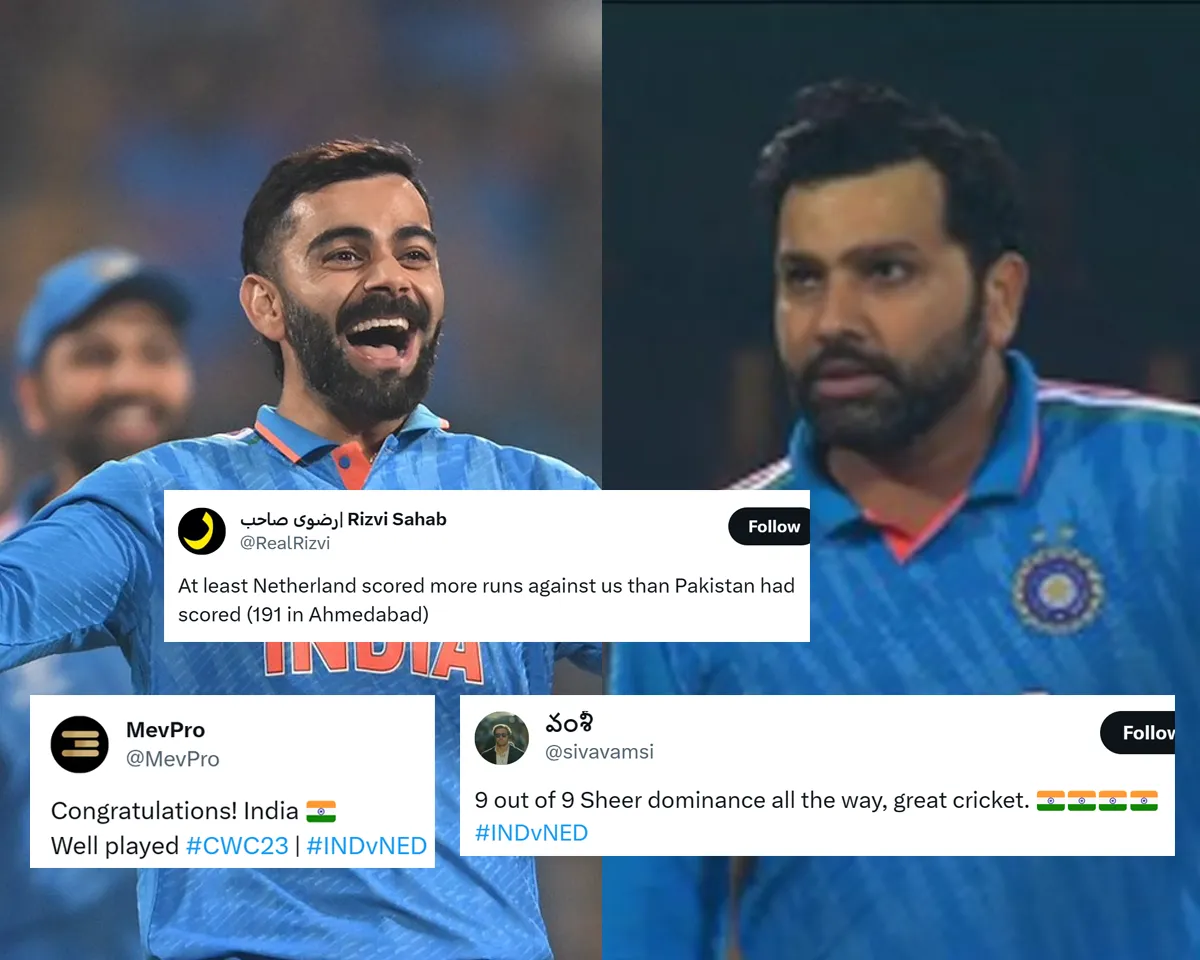 India created another history as they ended up their league stage of the ongoing ODI World Cup 2023 with an unbeaten streak, securing 9 successive wins in all 9 league matches in the tournament. India defeated the Netherlands by a big margin of 160 runs in the 45th match of the ODI World Cup 2023, played at the M Chinnaswamy Stadium in Bengaluru.
Indian skipper Rohit Sharma won the toss and decided to bat first; the opening pair of skipper Sharma and his young mate, Shubman Gill stitched an amazing partnership of 100 runs for the first wicket in 11.5 overs. The top three of India, including Rohit, Gill, and Virat Kohli played the crucial knocks of 61 runs, 51 runs, and 51 runs, respectively.
But then came a record-extending partnership of 208 runs off just 128 balls for the fourth wicket between star middle-order batters Shreyas Iyer and KL Rahul; both of them scored amazing centuries, scoring 128 and 102 runs off just 94 and 64 balls respectively. Meanwhile, KL Rahul also smashed the fastest century for India in the history of the ODI World Cup, he scored the century off just 62 balls.
On the back of these sensational knocks, the men in blue posted a big total of 410 runs for the loss of just 4 wickets in the allotted 50 overs. Bas de Leede scalped two wickets for the Netherlands, alongside one wicket each claimed by Paul van Meekeren and Roelof van der Merwe.
India's bowling experiments worked for them in defending the target
While defending the target, Indian skipper Rohit Sharma came up with a strange experiment trying 9 bowlers, including himself. Jasprit Bumrah and Mohammad Siraj scalped 2 wickets each, alongside 2 wickets each bagged by Kuldeep Yadav and Ravindra Jadeja.
Apart from this, one of the major highlights of the match was that the Indian skipper Rohit Sharma and former skipper Virat Kohli also claimed one wicket each to add a cherry on the cake in India's convincing win.
Eventually, India won the match by 160 runs and secured their 9th successive win in the tournament and Shreyas Iyer won the 'Player of the Match award for his brilliant century.
Here's how fans reacted to India's 9th consecutive win in the ODI World Cup 2023:
9 out of 9 Sheer dominance all the way, great cricket. 🇮🇳🇮🇳🇮🇳🇮🇳 #INDvNED

— వంశీ (@sivavamsi) November 12, 2023
At least Netherland scored more runs against us than Pakistan had scored (191 in Ahmedabad) #INDvNED

— رضوی صاحب| Rizvi Sahab (@RealRizvi) November 12, 2023
Congratulations! India 🇮🇳
Well played #CWC23 | #INDvNED

— MevPro (@MevPro) November 12, 2023
9/9 to wrap up the league stage and celebrate Diwali 🎆 💙

The demons of knockouts lie ahead but if any team can put them to rest, it is this lot. Full belief in the team 🇮🇳 👊#CWC23 #INDvNED pic.twitter.com/s78089W9ZT

— Rushil (@FPLRushil) November 12, 2023
Leave Siraj, Bumrah and Shami!!

We have an even more lethal bowling attack duo: Rohit and Kohli 😏#INDvNED #Kohli #RohitSharma #TeamIndia #CWC23 #Semis pic.twitter.com/9P5X8iAaMs

— Harsh Kothari (@TheHarshKothari) November 12, 2023
58#INDvNED #KLRahul #ShreyasIyerhttps://t.co/FrMZSxpTLQ

— ASINGU (@ASINGU001) November 12, 2023
Virat Kohli leads the most runs chart at end of group stages in the #CWC23 🔥🏏#MostRuns #INDvNED #CWC23 pic.twitter.com/jHGzUvsK6Y

— Helping Hand Sk InfoTech (@HelpingHandSk) November 12, 2023
Finally we get a video of Rohit Sharma Taking the Final wicket💓💓

The Best all Rounder India have🤔#INDvNED | #RohitSharma#ShreyasIyer | | #ViratKohli
|#KLRahul #Kanguva #BrandedFeatures          #crackerspic.twitter.com/td7uck9DnC

— Roman (@SkyXRohit1) November 12, 2023
9 में से 9 💪
शानदार, जबरदस्त, जिंदाबाद... 🇮🇳

विश्व कप में लगातार 9वीं जीत के लिए भारतीय क्रिकेट टीम को बहुत-बहुत बधाई।#INDvsNED #INDvNED #CWC23 pic.twitter.com/SvT6BUAIXe

— Sandeep kishore 🇮🇳 (@sandeepkishore_) November 12, 2023
दीपोत्सव के महापर्व की ख़ुशी को दोगनी करने के लिए भारतीय टीम के सभी खिलाड़ियों को बहुत-बहुत बधाई एवं विश्व चैंपियन बनने की यात्रा के लिए अग्रिम शुभकामनाएं।@BCCI @Media_SAI #CWC23 #TeamBharat #MeninBlue #INDvNED #BharatvNED

— Asha Negi (@AshaNegi_14) November 12, 2023
#MenInBlue continues its winning streak in the #CricketWorldCup2023

Congratulations to #TeamIndia and best wishes for the semifinal. #INDvNED #ICCCricketWorldCup23 pic.twitter.com/LuYBMDBlvQ

— CA Naresh Dhanraj Kella 🇮🇳 (@NareshKella4BJP) November 12, 2023
Solid performance from India to finish the group stages. We had a great innings with the bat to put us in a strong position. It was good to see rotation in our bowling attack and still take wickets! 🇮🇳💙🏏 #India #TeamIndia #IND #BharatArmy #COTI #CricketComesHome #INDvNED #CWC23 pic.twitter.com/k4b1JsJTwI

— 🅿️remCFCPatel ✯✯ (@PremCFCPatel26) November 12, 2023
Rohit Sharma gets a wicket 🔥🇮🇳#INDvNED #RohitSharma #INDvsNEpic.twitter.com/7Ap3EKq0mc

— M Usman Khan (@ImMUsmanKhan_) November 12, 2023
This Indian Team is an Emotion 🧿❤️
9 Matches ✅
9 Wins ✅

Nobody Deserves to Win World Cup More Than India this time...

Also Teams Need to Be Aware of Virat Kohli & Rohit Sharma - the Bowlers 🔥#INDvNED | #INDvsNED pic.twitter.com/GJtvVjXh93

— Raj Paladi (@IamRajPaladi) November 12, 2023