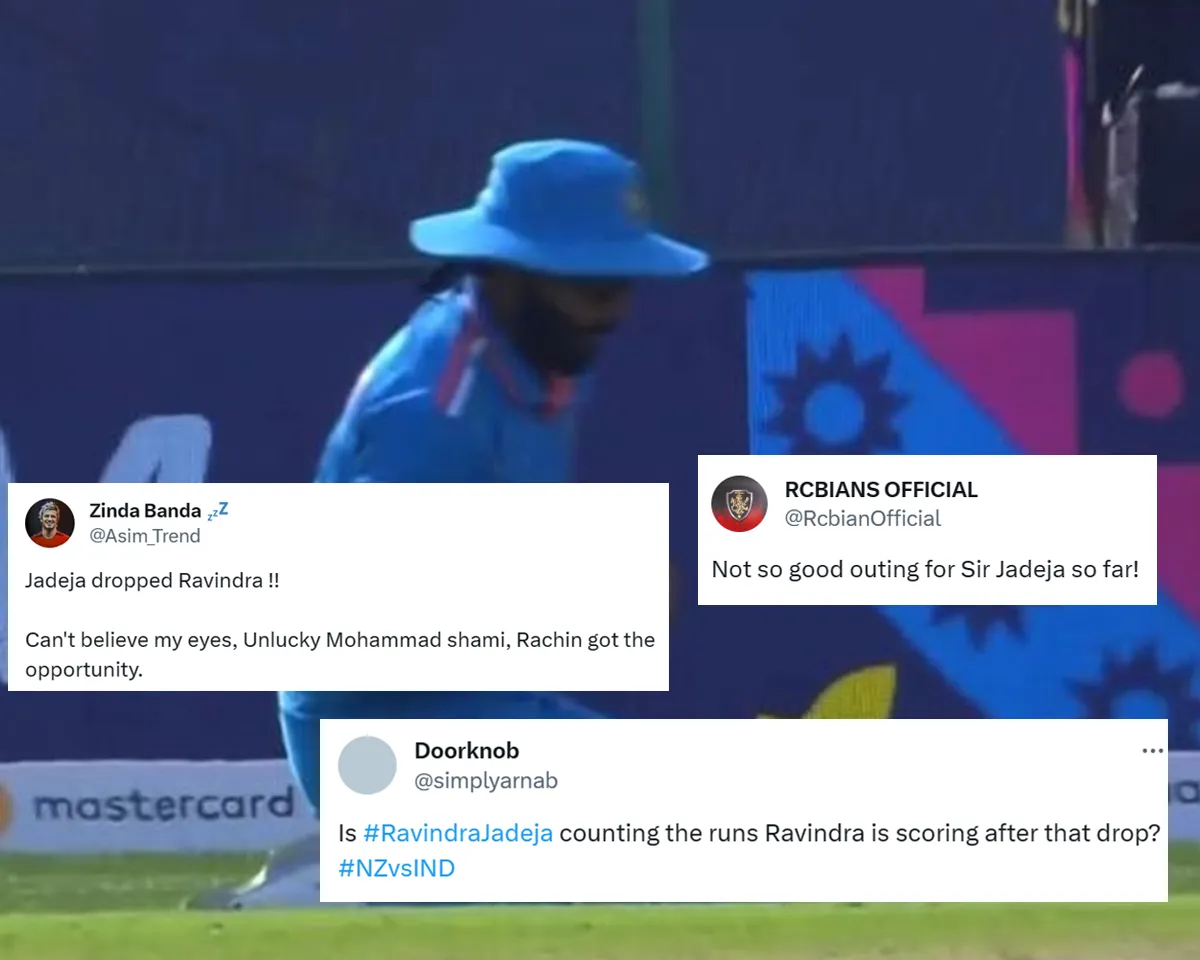 Ravindra Jadeja and mis-fielding look like two completely different poles on the field of cricket. But some of the time, there are some rarest of rare moments when the cricketing fans witness such kind of incident from an excellent fielder of Ravindra Jadeja's stature. The unexpected moment came during the ongoing India vs New Zealand ODI World Cup 2023 match.
It happened when the veteran pacer Mohammed Shami came up around the wicket to bowl against Rachin Ravindra on the fifth ball of the 11th over. Rachin played it quite square to the offside and it happened to be an easy catch for the fielder there, who was none other than one of the amazing fielders of modern-day times, Ravindra Jadeja.
The video of this one of the very rare moments including Ravindra Jadeja in a mis-fielding or a catch drop, is also making rounds on social media as soon as shared by cricket's governing body from their official Instagram handles.
Here's the video:
However, this dropped catch happened to cost a bit for India as New Zealand had scored 40 runs at the moment when Rachin Ravindra got life from Jadeja's drop. Later, he went on to score 75 runs, with 6 fours and a six. He also stitched an outstanding partnership of 159 runs for the third wicket with Daryl Mitchell.
Speaking of the ongoing action of the match, the Blackcaps have scored 255 runs for the loss of 5 wickets in 46.2 overs, with Daryl Mitchell and Mark Chapman there in the middle on the individual scores of 117 and 4 runs, respectively.
Mohammed Shami and Kuldeep Yadav have scalped 2 wickets each so far for India, alongside one wicket picked by Mohammed Siraj.
Notably, both India and New Zealand are coming off with four consecutive wins in the four matches of their ODI World Cup 2023 campaign. Now, it will be interesting to see who blinks first.
Here's how fans reacted to the catch dropped by Ravindra Jadeja:
Jadeja dropped Ravindra !!

Can't believe my eyes, Unlucky Mohammad shami, Rachin got the opportunity.#INDvsNZ #RavindraJadeja #Shami pic.twitter.com/JjgkpaLI4u

— Zinda Banda 💤 (@Asim_Trend) October 22, 2023
Not so good outing for Sir Jadeja so far!#INDvsNZ #CricketTwitter #RavindraJadeja pic.twitter.com/JeNaVDlPBP

— RCBIANS OFFICIAL (@RcbianOfficial) October 22, 2023
Is #RavindraJadeja counting the runs Ravindra is scoring after that drop? #NZvsIND

— Doorknob (@simplyarnab) October 22, 2023
Rare occupy but sad #RavindraJadeja

— Nikhitha S Pai (@nik_incognito) October 22, 2023
जड़ेजा आज कैच छोड़ने के बाद 😊#jadeja #ravindrajadeja #RohitSharma𓃵 pic.twitter.com/8SFEQt5m5A

— Rohit Khurana BSP (@RohitKh63458973) October 22, 2023
Ravindra Drops Ravindra! Jadeja Drops Easy Catch of Rachin Ravindra During IND vs NZ ICC Cricket World Cup 2023 Match, Video Goes Viral! #INDvsNZ #ICCCricketWorldCup #ICCCricketWorldCup23 #CWC2023 #CWC23 #NZvsIND #RavindraJadeja #Jadeja https://t.co/AQ6PR4q5ip

— LatestLY (@latestly) October 22, 2023
रवींद्र जडेजा की इस फील्डिंग को देख तमाम भारतीय फैंस रह गए हैरान#RavindraJadeja #INDvsNZ #trendingnews #Bigbreaking #update #Viralnews #sports #latest #viralnews #bigbreaking #teamindia #newzealandcrickethttps://t.co/8DTnm90pzi

— CricTracker Hindi (@ct_hindi) October 22, 2023
Can we take the Medal back for the drop catches ? #RavindraJadeja

— JD (@jnd583) October 22, 2023
Today sriraj's wide and jadeja 's dropped catch disappoint us 😔#CWC23 #CWC23INDIA #CricketWorldCup #ravindrajadeja #ravindra #rachin

— Piyush Kumar (@Piyush_india07) October 22, 2023
one catch drop and Jaddu is trending...
#ravindrajadeja #CWC23INDIA #NewZealand pic.twitter.com/SVKXuLcbvr

— GK News Live युवा जोश, नई सोंच शहर से गांव तक (@GkNewsLive1) October 22, 2023
Ravindra dropped Ravindra's catch, otherwise it was INDIA today for sure!🇮🇳🇮🇳 #indiavsnewzeland #indvsnz #India #jadeja #ravindrajadeja #bharat #newzealand #ICCCricketWorldCup23 #WorldCup2023

— aayush maru (@aayushmaru18) October 22, 2023