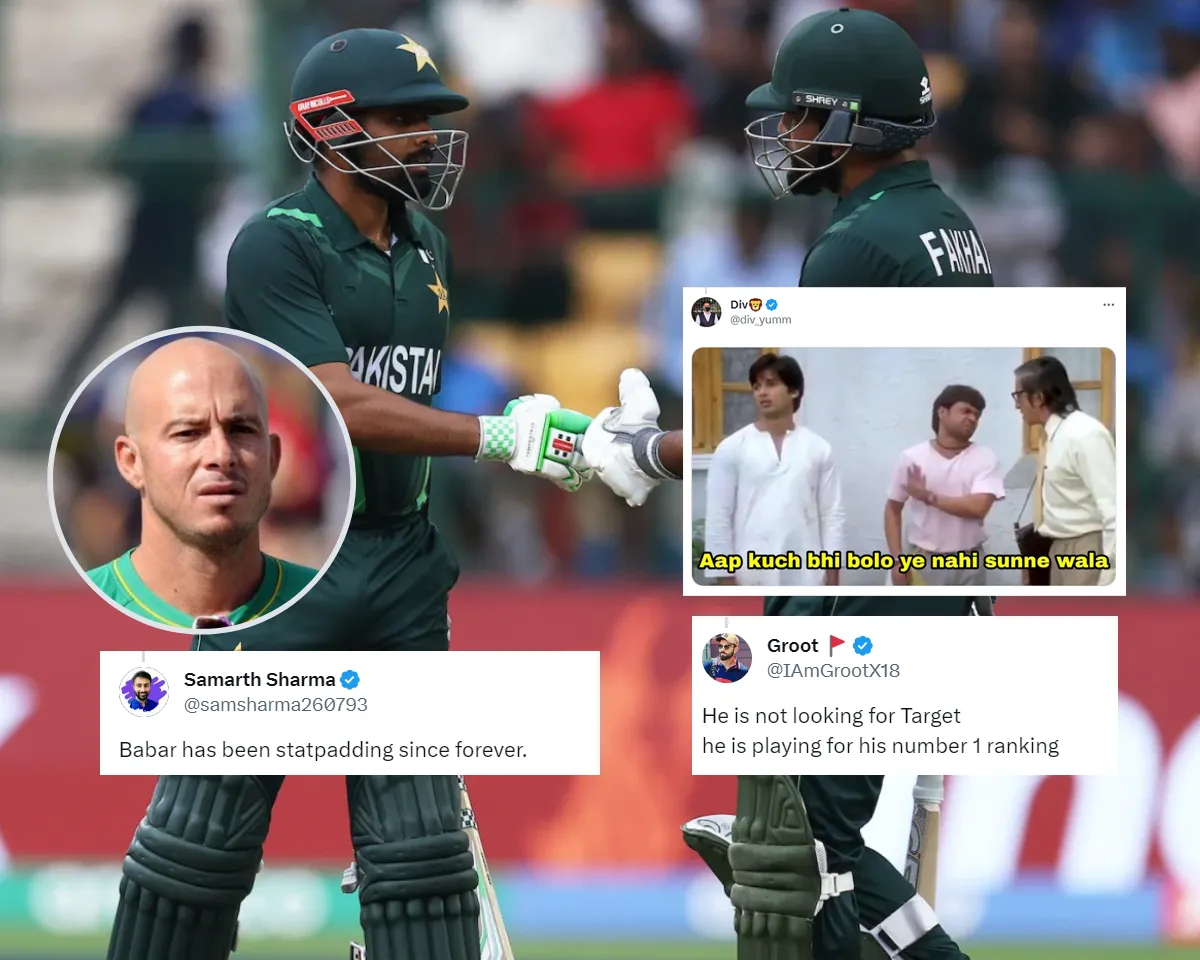 Former South African batting star Herschell Gibbs came up with a tweet taking a dig at the Pakistan skipper Babar Azam. Gibbs targeted the latter for his slow approach while batting for the run-chase of 402 runs in the ongoing ODI World Cup 2023 match against New Zealand. Notably, both teams are playing the 35th match of the ODI World Cup 2023 at the M Chinnaswamy Stadium in Bangalore.
Skipper Babar Azam and the blistering opener Fakhar Zaman are there in the middle for Pakistan as they have scored 160 runs for the loss of just 1 wicket in 21.3 overs before rain interrupted the match while chasing the target of 402 runs against the Blackcaps.
Babar Azam has scored 47 runs off 51 balls with 4 fours and a six at the time of rain interruption, which seems not to go well with the former star Proteas batter Herschelle Gibbs.
"Can someone tell Babar they chasing 400," wrote Gibbs in a post on his official X handle (formerly Twitter).
Here's a look at the post from Herschelle Gibbs:
Can someone tell babar they chasing 400 …

— Herschelle Gibbs (@hershybru) November 4, 2023
Speaking of the action of the match, the action resumed after the rain interruption and Pakistan had scored 168 runs for the loss of 1 wicket in 22.4 overs, having Babar and Fakhar on the individual scores of 55 and 106 runs, respectively, while chasing the revised target of 342 runs in the 41-over game. 
Earlier in the first innings, New Zealand posted a massive total of 401 runs for the loss of 6 wickets in the allotted 50 overs courtesy of the brilliant knocks played by skipper Kane Williamson and young in-form batting sensation Rachin Ravindra. Williamson scored 95 runs whereas Ravindra smashed his third century in the ongoing ODI World Cup 2023, scoring 108 runs off just 94 balls, hitting 15 balls and a six. 
Here's how fans reacted to Herschelle Gibbs' dig at Babar Azam:
November 4, 2023
He is not looking for Target
he is playing for his number 1 ranking

— Groot 🚩 (@IAmGrootX18) November 4, 2023
Babar has been statpadding since forever.

— Samarth Sharma (@samsharma260793) November 4, 2023
He is only worried about his rankings and Biryani

— Kavya 🥀💌 (@Kavvyia) November 4, 2023
Two different players and two different mindset in 400+chase.Babar Azam going with 80 strike rate while Fakar Zaman is going with 150+ strike rate.Chose your king.Babar playing for another personal milestone and asking other batters to take the charge.Disappointing.😊

— Sujeet Suman (@sujeetsuman1991) November 4, 2023
It's his way of telling that he is nowhere near to King Kohli.

— Unofficial Zoo Bear: LKFC (@JagatJananii) November 4, 2023
LoL he knows well that's why he is not trying to do hard work on field right now :D result we knows we are genius 😂

— Anas Hanif 🇵🇰 (@aanasshhaniff) November 4, 2023
He doesn't cares about PAK victory

He wants his own stats 😂😂

— Hammer and Gavel (@hammer_gavel) November 4, 2023
He wanted to hold his no.1 ODI position

— Abhay 👔 (@Xavviieerrrrrr) November 4, 2023