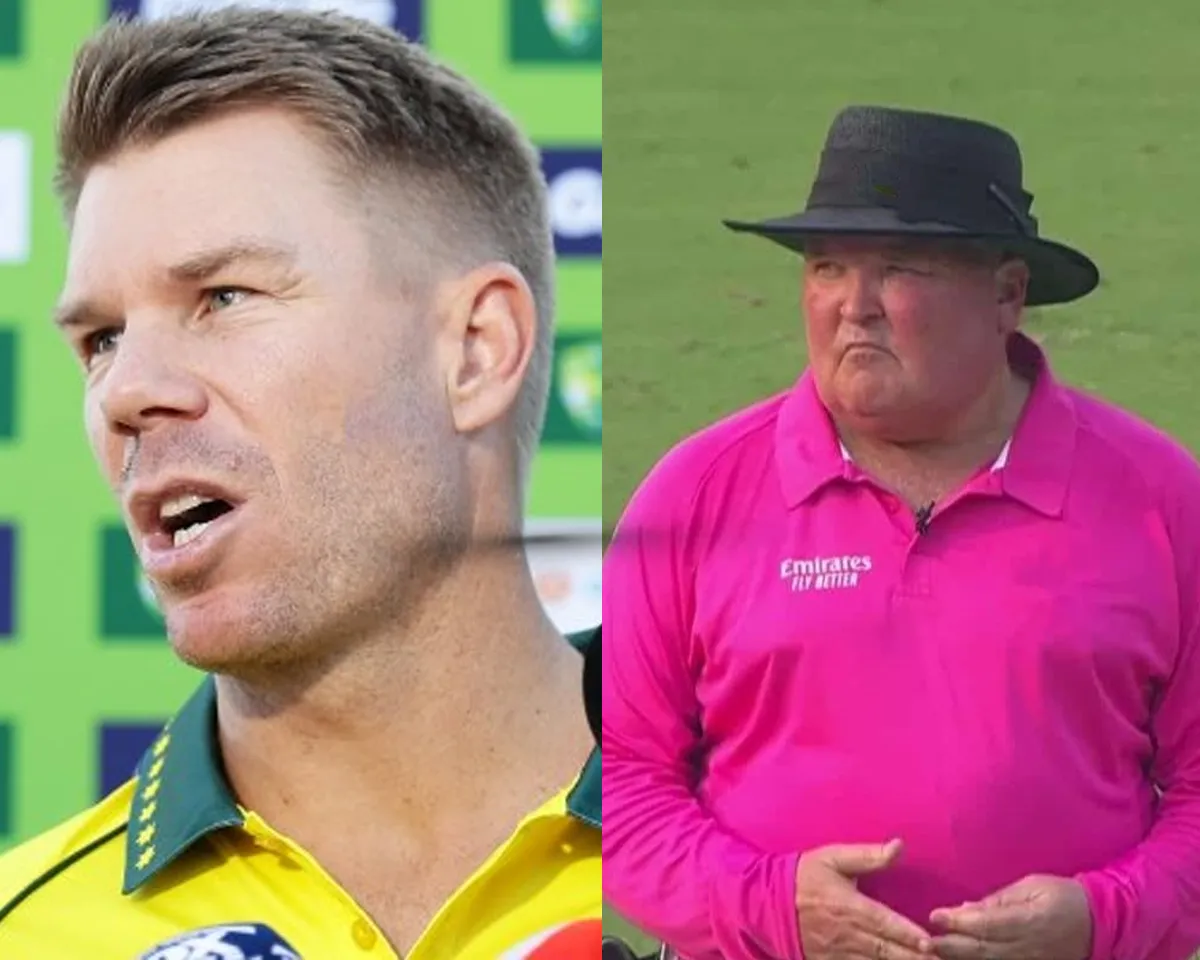 The veteran Australian opener David Warner has come up with a very hard-and-fast-lined statement while talking about the umpiring standards in the ongoing India-hosted ODI World Cup 2023. Notably, the Aussies have been on the receiving end of a couple of controversial umpiring decisions in the tournament so far.
Warner himself was declared out by umpire Joel Wilson in the game between Australia and Sri Lanka; the question about that dismissal was about the ball angling down the leg. Meanwhile, the 36-year-old has voiced his frustration over the umpiring decisions and called for the umpire's stats to be displayed on the big screen on the ground.
"I'd love to see their stats come up on the board as well." - David Warner on umpires
"Player's stats go up on the board as you walk out to bat. When they announce the umpires and they come up on screen, I'd love to see their stats come up on the board as well. Over some time, players get dropped for poor performances. It's never explained to us about how or what goes on with the (umpire)'s panel," said Warner. 
"We check up there sometimes and go 'oh, gee, I'm only averaging that now'. But it's just little things that show the spectators. As a player, you know which umpires will keep those 50-50 ones when you're hit on the pad. Because you know literally if you get hit on the pad it could be a close one unless it's not out. There's no bias in anything. It's just you feel like that as a player sometimes," he added later. 
Now, David Warner will be in action for Australia in their next match of the ODI World Cup 2023 campaign against Pakistan. Both teams will play this match at the M Chinnaswamy Stadium in Bengaluru on Friday, October 20.
Here's how fans reacted to David Warner's statement for umpires:
Yes we all want the stats of the umpires as well, drs aa Gaya toh kuch bhi decision dete yeh pic.twitter.com/M4PCYzBmKT

— Avinash P (@avinashparmar97) October 18, 2023
He is correct 💯. In recent times multiple wrong descisions given by the umpires and to make it even worse we have umpires call, one of the most pathetic rule in cricket 🤦.

So stats of umpires descisions is most needed. pic.twitter.com/7PlxnZv5Il

— CricWiz (@CricWizTalks) October 18, 2023
How does it matter? They are human beings and it's impossible for them to be correct every time in such a quick time without any technology

— Manish Bansal (@ManishB61307544) October 18, 2023
He is escalating a new topic which unfortunately is not raised...Umpire's capability is very imp..lot of time wasted for so many useless third umpire calls....umpires on the field should be active and vigilant

— Ankit Khanna (@ankit_khanna) October 18, 2023
That would be interesting, really. We should get to understand how much the custodians of the laws of cricket fulfil their duty in the right manner. Even this could lead to unprecedented fandom for the umpires.

— Samarth Sharma (@samsharma260793) October 18, 2023
Good Point suggested by @davidwarner31

— Krishna S (@KShukla1996) October 18, 2023
Warner spitting fire 🔥

— Yash Jadhav (@farzi_rtist) October 18, 2023
Well said Warner... This is needed in cricket

— Md Husnain (@mdrj007) October 18, 2023
Interesting suggestion.

— Cricket Polls (@CricPollsdaily) October 18, 2023
He is not wrong. Umpires also should have stats.

— Digant (@keepitsimple176) October 18, 2023