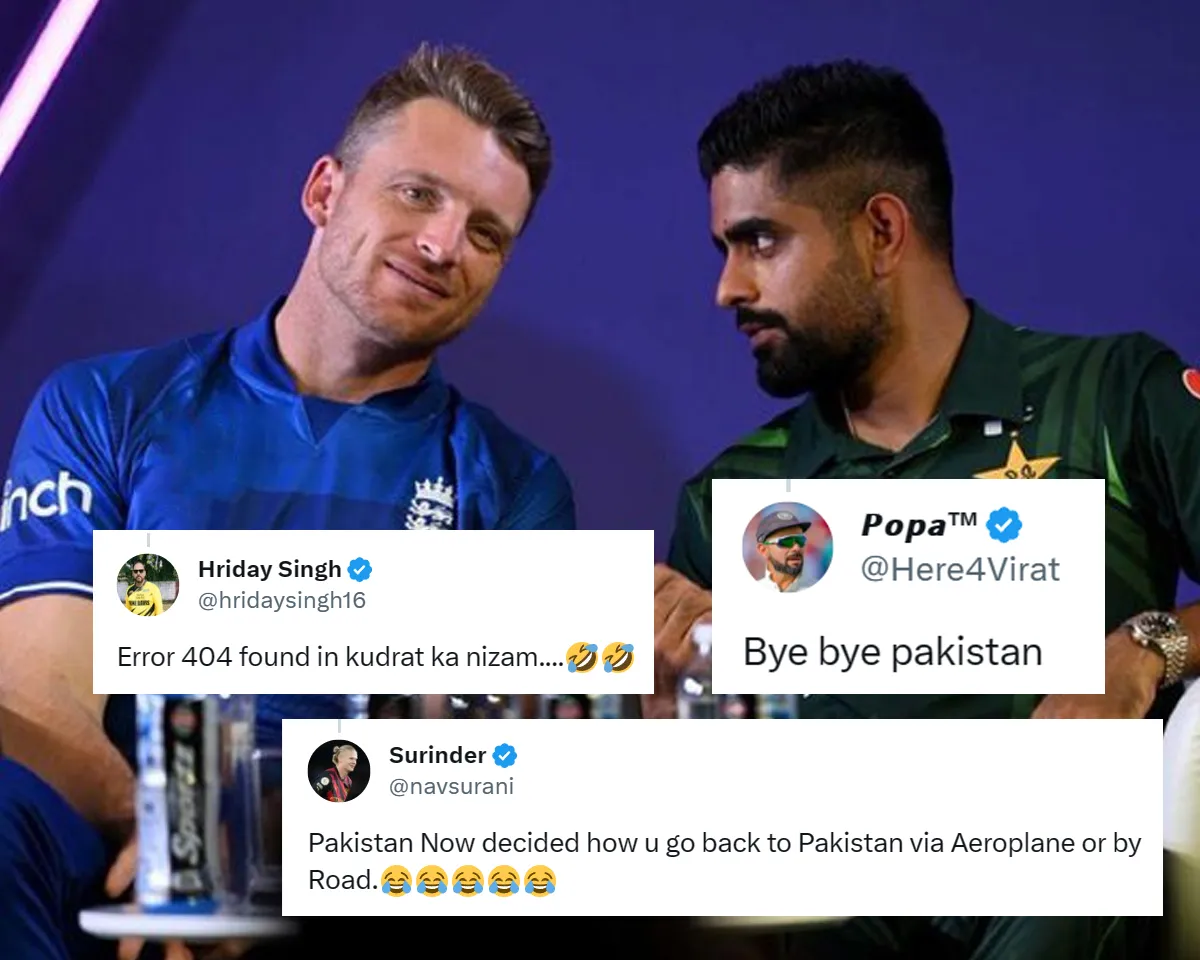 Pakistan cricket team has been on the receiving end of a lot of hilarious trolls and comments on social media just after New Zealand defeated Sri Lanka and crushed Pakistan's hopes of semi-final qualification. Notably, the Blackcaps have strengthened their chances of semis after a 5-wicket win against Sri Lanka in their last league match of the ongoing ODI World Cup 2023.
Meanwhile, the chances of Pakistan's qualification in the knockouts are almost down and out as they would have to beat England with some near-impossible margins in their last league match to make it possible for their qualification in the semi-final.
New Zealand dismiss Pakistan's hopes for the semi-finals
Now, Pakistan would have to win the match either by a margin of 287 runs if they bat first or they would have to chase the target with 284 balls to spare if they bat second, which looks quite impossible on practical grounds. These scenarios for Pakistan have also drawn a lot of hilarious and witty reactions from the cricket over X (formerly Twitter).
Speaking of the action of the match between New Zealand and Sri Lanka, the Kiwi skipper Kane Williamson won the toss and asked the Islanders to bat first. Batting first, Sri Lanka had a brilliant start as they scored 74 runs in the first powerplay but they were also in trouble as they lost 5 wickets at this score.
Eventually, the New Zealand bowling attack led by the veteran pacer Trent Boult, bundled out Sri Lanka at the score of 171 runs in 46.4 overs. Kusal Perera and Maheesh Theekshana played the knocks of 51 and 38 runs, respectively to keep things going for Sri Lanka.
While chasing the target, the Blackcaps comfortably crossed the winning line in 23.2 overs, scoring 172 runs for the loss of 5 wickets and winning the match by 5 wickets to ensure their qualification as the fourth team in the semi-finals of the tournament.
Here's how fans reacted to Pakistan's qualification scenario for the semi-finals:
Error 404 found in kudrat ka nizam....🤣🤣

— Hriday Singh (@hridaysingh16) November 9, 2023
Pakistan Now decided how u go back to Pakistan via Aeroplane or by Road.😂😂😂😂😂

— Surinder (@navsurani) November 9, 2023
Bye bye pakistan

— 𝙋𝙤𝙥𝙖™ (@Here4Virat) November 9, 2023
If England scores 300 against Pakistan on Saturday:

Pakistan need to chase that down in 6 overs to better New Zealand's NRR. pic.twitter.com/66oekm0ZlX

— Jago India (@JagoIndia_) November 9, 2023
Pakistan Team Be Like :- pic.twitter.com/aENTiutiJj

— Aufridi Chumtya (@ShuhidAufridi) November 9, 2023
Pakistan chances still😂🤣

— Manu (@virat_facts) November 9, 2023
No chance 💯✅ pic.twitter.com/46BlSTvFZw

— King Kohli's Fan (@ViratFan100) November 9, 2023
And if they score 500?

— Hamza Tariq (@_HamzaPro) November 9, 2023
Pakistan can score 400 and bowl out England for 100

— Saurabh Jain (@skjsaurabh) November 9, 2023
They have a quality pace attack and will bowled out Eng for 10 runs

— Web Wizard (@speckydude_js) November 9, 2023
November 9, 2023
😂😂😂😂😂😂😂😂😂 kya hi bolu mei. pic.twitter.com/8hWsflKbus

— Tasneem Hanif 🇮🇳 (@TasneemKhatai) November 9, 2023