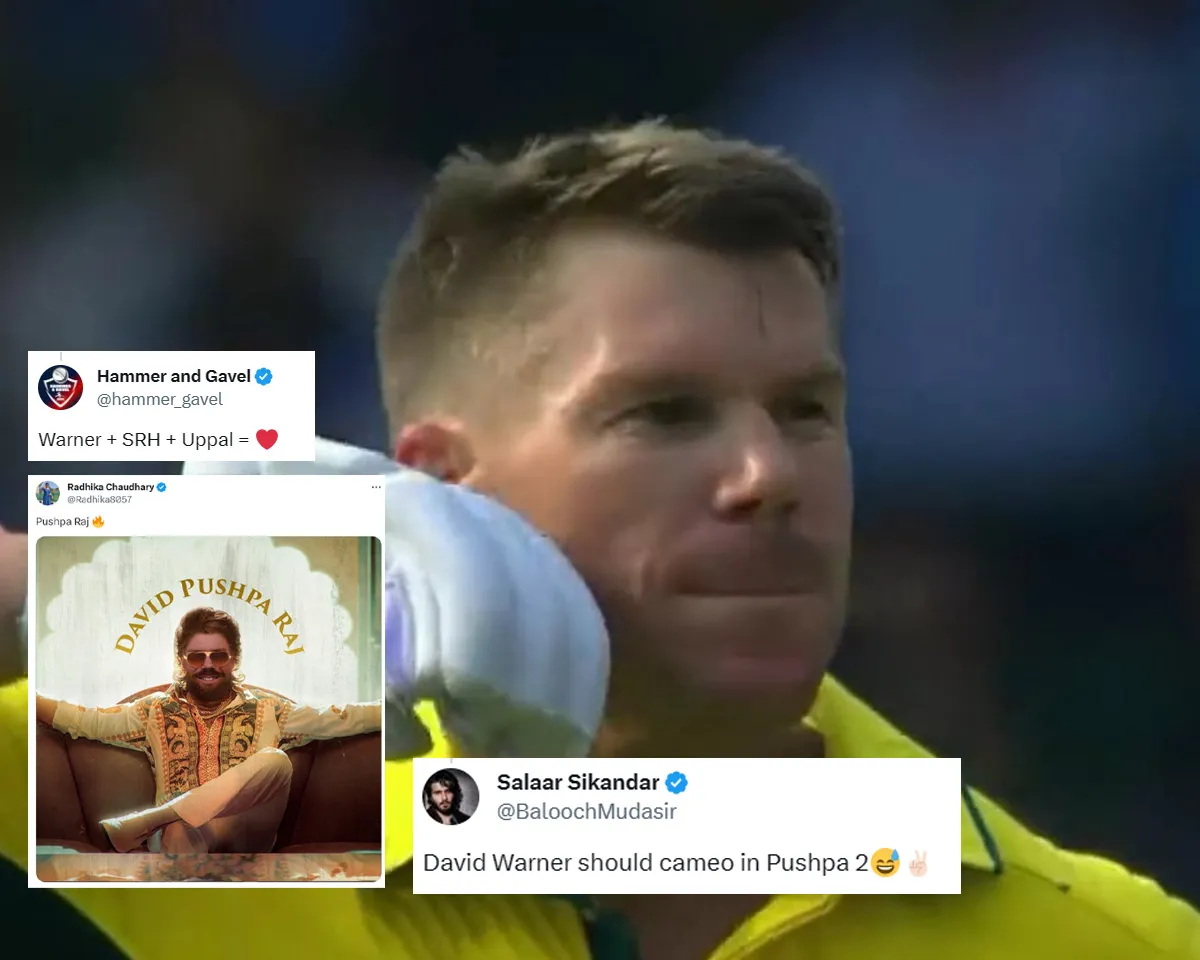 David Warner has turned 37 on the 27th of October, 2023. On the field, Warner has been having a great time with great numbers in the ODI World Cup 2023. In the last 2 matches in the tournament, Warner has scored a hundred each against Pakistan and Netherlands. It has helped in Australia's comeback in the tournament. In the last three matches, Australia has won three on a trot.
Warner has been the third-highest run scorer in the ODI World Cup 2023 at the moment. In 5 matches so far in the tournament, the Southpaw has 332 runs at a good average of 66.40. Warner has two hundreds to his name and has hit 13 sixes and 33 fours. Warner has played a big role in Australia's turnaround in the tournament with his fine batting. 
On the other hand, Allu Arjun is gearing up for his next release, Pushpa 2. It will be the sequel to Pushpa 1, which was a massive hit in the Indian box office. In the past, Warner had performed several reels of songs of Pushpa. Warner had posted videos on the song 'Buttabomma', another work from Allu Arjun. That was how the two came to know each other as far as social media is concerned. 
Allu Arjun wishes David Warner on 37th birthday
Allu Arjun took to Instagram and wished the Australian batter on his birthday. In his Instagram story, the Indian star wrote "Many happy returns of the day to cricket superstar David Warner. Wishing you the best of everything you want and more." The wish of the Tollywood hero has gone viral on social media. Many have shared the Instagram story of Arjun on their accounts. 
Australia will be hoping to get more from David Warner in the upcoming days. Australia have to face teams like New Zealand, England, Afghanistan, and Bangladesh in the tournament. Warner being the highest run scorer for Australia in the tournament will have a big role in the success of Australia in the upcoming days. Australia is currently placed 4th in the points table after a massive win against the Netherlands. 
Here's how the fans wished Warner on his birthday 
David Warner should cameo in Pushpa 2😅✌🏻

— Salaar Sikandar (@BaloochMudasir) October 27, 2023
Pushpa Raj 🔥 pic.twitter.com/cBZtTYCJSr

— Radhika Chaudhary (@Radhika8057) October 27, 2023
Warner + SRH + Uppal = ❤️

A story of its kind

— Hammer and Gavel (@hammer_gavel) October 27, 2023
Happy birthday australian pushparaj pic.twitter.com/F8jb126mgr

— Harsh (@harshthengineer) October 27, 2023
David Pushpa Warner 🤝 Allu Pushpa Arjun

— Cricket Polls (@CricPollsdaily) October 27, 2023
Happy Birthday Warner, Jhukega nahi 💥pic.twitter.com/GdMsCHCLwr

— Syed Irfan Ahmad (@Iam_SyedIrfan) October 27, 2023
David Warner should cameo in Pushpa 2😅✌🏻

— Salaar Sikandar (@BaloochMudasir) October 27, 2023
Warner + SRH + Uppal = ❤️

A story of its kind

— Hammer and Gavel (@hammer_gavel) October 27, 2023
Pushpa biggest fan

— CricXtra (@CricXtra_) October 27, 2023