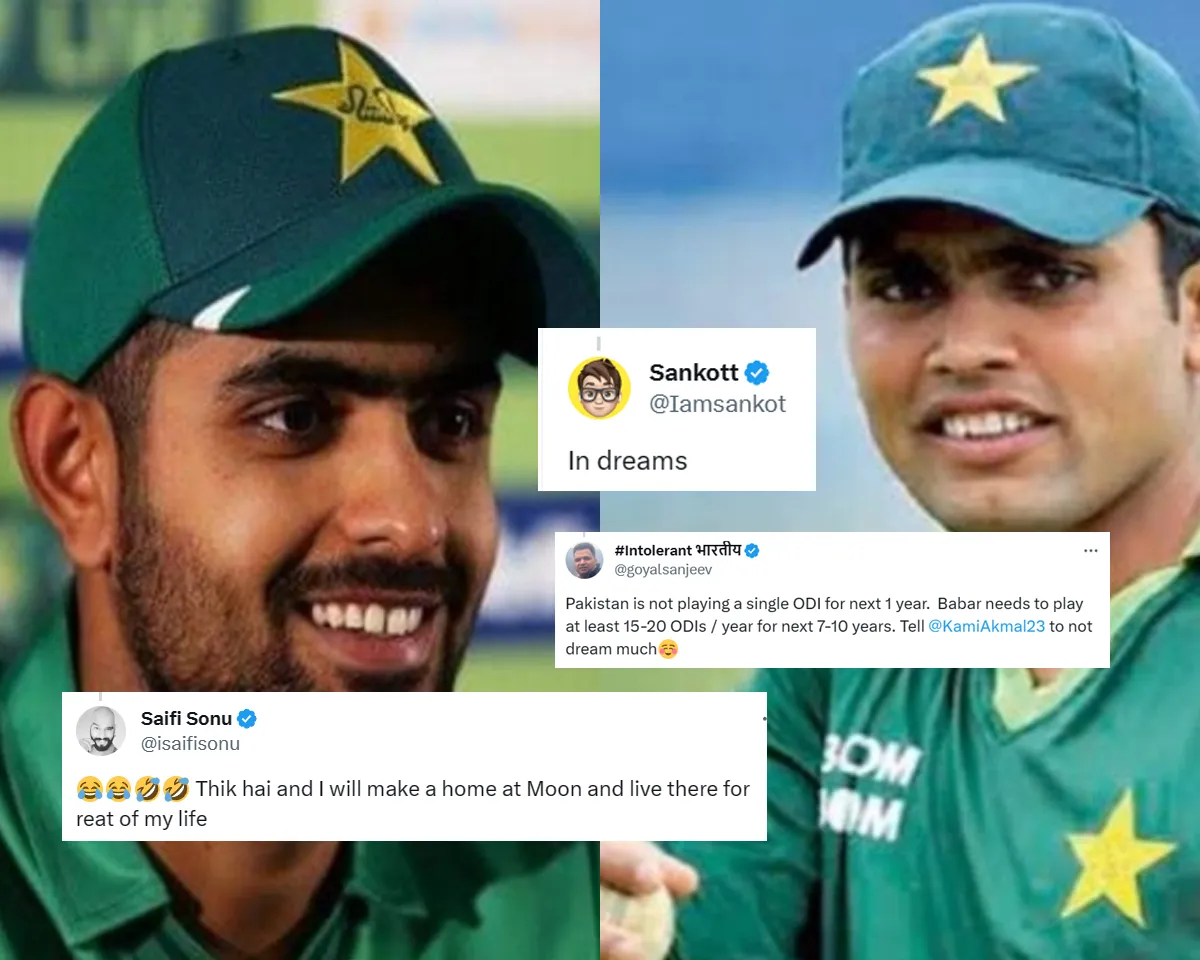 Virat Kohli on Wednesday broke the record for the most centuries scored in ODI Cricket. The former Indian skipper scored 117 runs during the first semi-finals of the ODI World Cup 2023 versus New Zealand in Mumbai. Former Pakistan wicket-keeper Kamran Akmal has now predicted that Babar Azam will break the record set by Virat Kohli.
With this century Virat Kohli now has 50-centuries in ODI Cricket going past Sachin Tendulkar's 49 century mark. Upon reaching the magic mark, Virat Kohli could be seen bowling down to his cricketing idol who was in the stands watching the game.
The focus now shifts to the ODI World Cup 2023 final on Sunday between India and Australia. Indian cricket fans will hope that Virat Kohli can yet again wield his willow and help India win the title for the third time.
Kamran Akmal backs Babar Azam to break Kohli's record –
Former Pakistani wicket-keeper Kamran Akmal was part of a show on ARY News recently. The 43-year-old said that former Pakistani skipper Babar Azam can break the record for the most ODI centuries recently set by Virat Kohli.
"Vo record top three wale hi tod sakte hai 50 hundreds ka. Middle-order batsman nahi tod payega. Humare paas Babar Azam hai vo kar sakta hai. Top three main khelta hai. Unke pass Shubman Gill hai, vo peeche lag sakta hai is record ke"
Babar Azam has played 117 ODI matches for Pakistan and record 19 ODI centuries. The 29-year-old was in the news recently when he stepped down as the Pakistani skipper from all three formats.
Over the last few years, many Pakistani media houses and former players have compared Babar Azam to Virat Kohli. Both the players played each other last month during the big game in Ahmedabad. Babar Azam had scored a half-century but that couldn't prevent India from winning the game by 7-wickets.
Shaheen Shah Afridi has been named the new T20I captain while Shan Masood will be the new test skipper. Taking to Twitter the former Pakistani skipper penned an emotional statement about his resignation as the captain a few days ago. 
Here's how the fans reacted -
Kamran Akmal believes Babar Azam can break Virat Kohli's record of 50 ODI hundreds 👀 #CWC23 pic.twitter.com/FTAT8qwqVg

— Farid Khan (@_FaridKhan) November 16, 2023
😂😂🤣🤣 Thik hai and I will make a home at Moon and live there for reat of my life

— Saifi Sonu (@isaifisonu) November 16, 2023
Pakistan is not playing a single ODI for next 1 year. Babar needs to play at least 15-20 ODIs / year for next 7-10 years. Tell @KamiAkmal23 to not dream much☺️

— #Intolerant भारतीय (@goyalsanjeev) November 16, 2023
In dreams

— Sankott (@Iamsankot) November 16, 2023
in dream 🤣🤣 pic.twitter.com/JjHkSFUXo8

— 💪🎭..Rai ji..💪🎭 (@Vinod_r108) November 16, 2023
Pakistani's think they are more developed than India. Pakistani's think they they can take over Kashmir. Pakistani's think Babar Azam can break Virat Kolhi's record of 50 ODI hundreds.

I want to smoke what these guys are smoking.

— TMS 🇮🇳 (@TMS205) November 16, 2023
He can't even dream that😂🤣

— Manu (@virat_facts) November 16, 2023
Koi kaam dhaam nahi hai par tweet karna hai wala scene 😒😒

— vishal kumar (@vishalsah1986) November 16, 2023