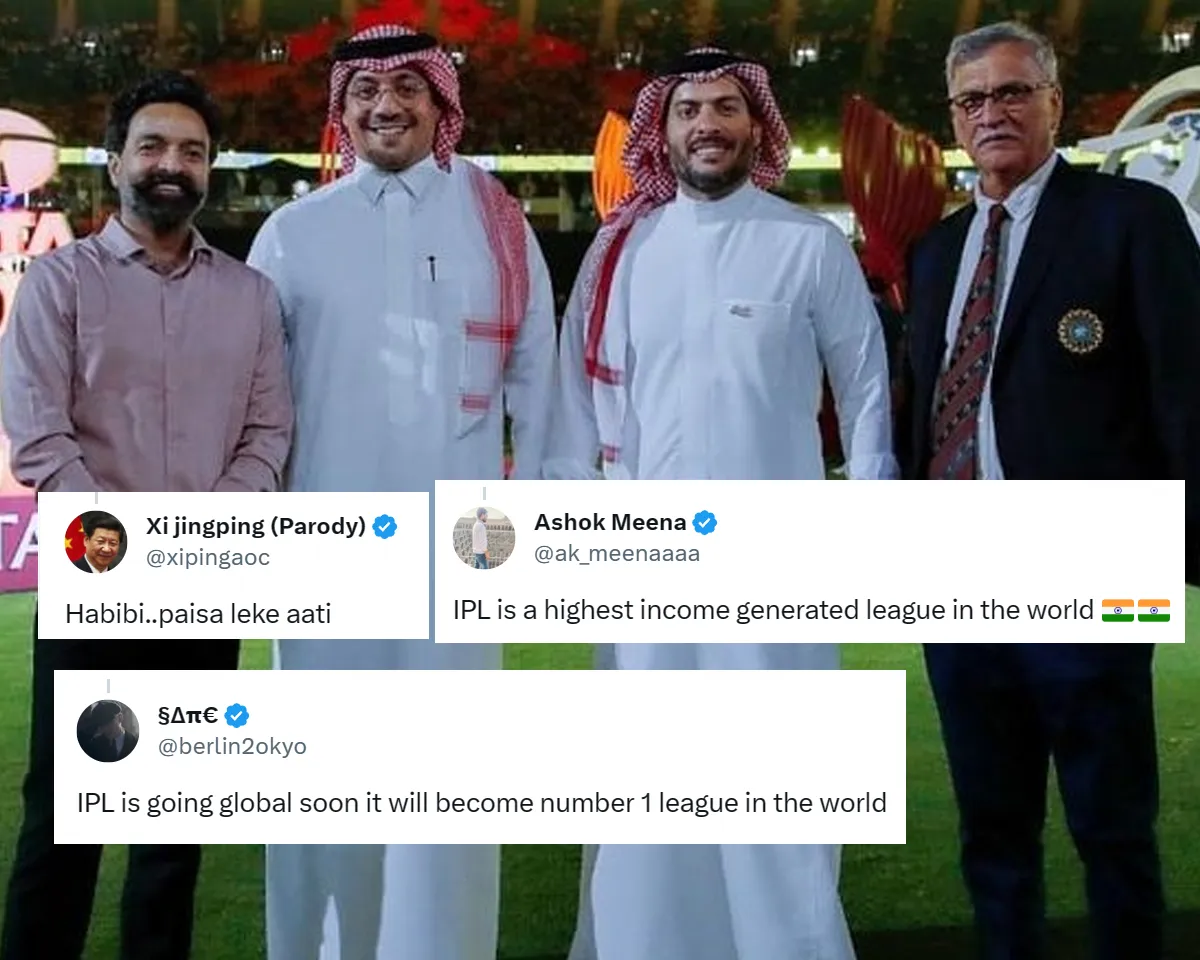 In a recent piece of news, Saudi Arabia has come up with an interest in investing a huge amount in the upcoming edition of the Indian Premier League 2024. Apart from that, the reports also suggest that Saudi Arabia is looking ahead to buy a big stake in the cash-rich Indian franchise tournament.
An adviser of Crown Prince Mohammed bin Salman, on the condition of anonymity, said that that the talks were done during the India visit of the kingdom's de facto ruler.
"While the Saudi government is keen to press on with a deal, the Indian government and the country's powerful but opaque cricket regulator — BCCI — are likely to take a call on the proposal after next year's federal elections, the people said. The BCCI is led by Jay Shah, the son of India's Home Minister Amit Shah — a close ally of Premier Narendra Modi," reads a report by Bloomberg.
"Saudi Arabia's powerful sovereign wealth fund, which has anchored many of the kingdom's previous sports investments, could ultimately be the vehicle used to do a deal with the BCCI if an agreement is reached. No final decisions have yet been made," the report adds further.
"You can't compete with money." - England captain Ben Stokes on Saudi Arabia's involvement in cricket leagues
Earlier, the England Test captain and star all-rounder Ben Stokes had also spoken about the involvement of Saudi Arabia in the cash-rich franchise cricket leagues.
"You can't compete with money, especially the money that Saudi Arabia is throwing around to certain people," said Stokes to Bloomberg earlier this year.
Notably, the inception of the Indian Premier League 15 years back in the year 2008 has been followed by the start of a lot of franchise cricket leagues in the cricketing world, including the likes of the Caribbean Premier League, SA20 League, and a lot more.
Here's how fans reacted to the news of Saudi Arabia's potential investment in Indian Premier League: 
Habibi..paisa leke aati

— Xi jingping (Parody) (@xipingaoc) November 3, 2023
IPL is a highest income generated league in the world 🇮🇳🇮🇳

— Ashok Meena (@ak_meenaaaa) November 3, 2023
IPL is going global soon it will become number 1 league in the world

— §∆π€ (@berlin2okyo) November 3, 2023
Great news for india. India is well and truly a sports powerhouse of the world. Credit ro performance of our player and diplomacy of our @PMOIndia #SaudiArabia

— MRS. RAJALAXMI (@MrsRajalaxmi) November 3, 2023
Wow that's something really huge 😳😳😳😧😧😧😧🔥🔥🔥

— Babarians (@JunaidBabarian) November 3, 2023
Interesting 😎😎

— Amit Shah (Parody) (@Motabhai012) November 3, 2023
Final decision kya huaa

— Introvert //🙇🏻‍♂️ (@introvert_hu_ji) November 3, 2023
Ye to apna alag league bana rahe the.

— Abhinav singh (@Abhinav_tmk) November 3, 2023
Then what is 1st price for winning team

— Arun Rajan (@arunrajan92) November 3, 2023
IMF giving 2 billion to Pakistan.. and here we are getting 5 billion in IPl😂😂😂

— Xi jingping (Parody) (@xipingaoc) November 3, 2023
November 3, 2023
that will be massive
for already mega event
exciting times ahead

— Dan (@mrdan654) November 3, 2023