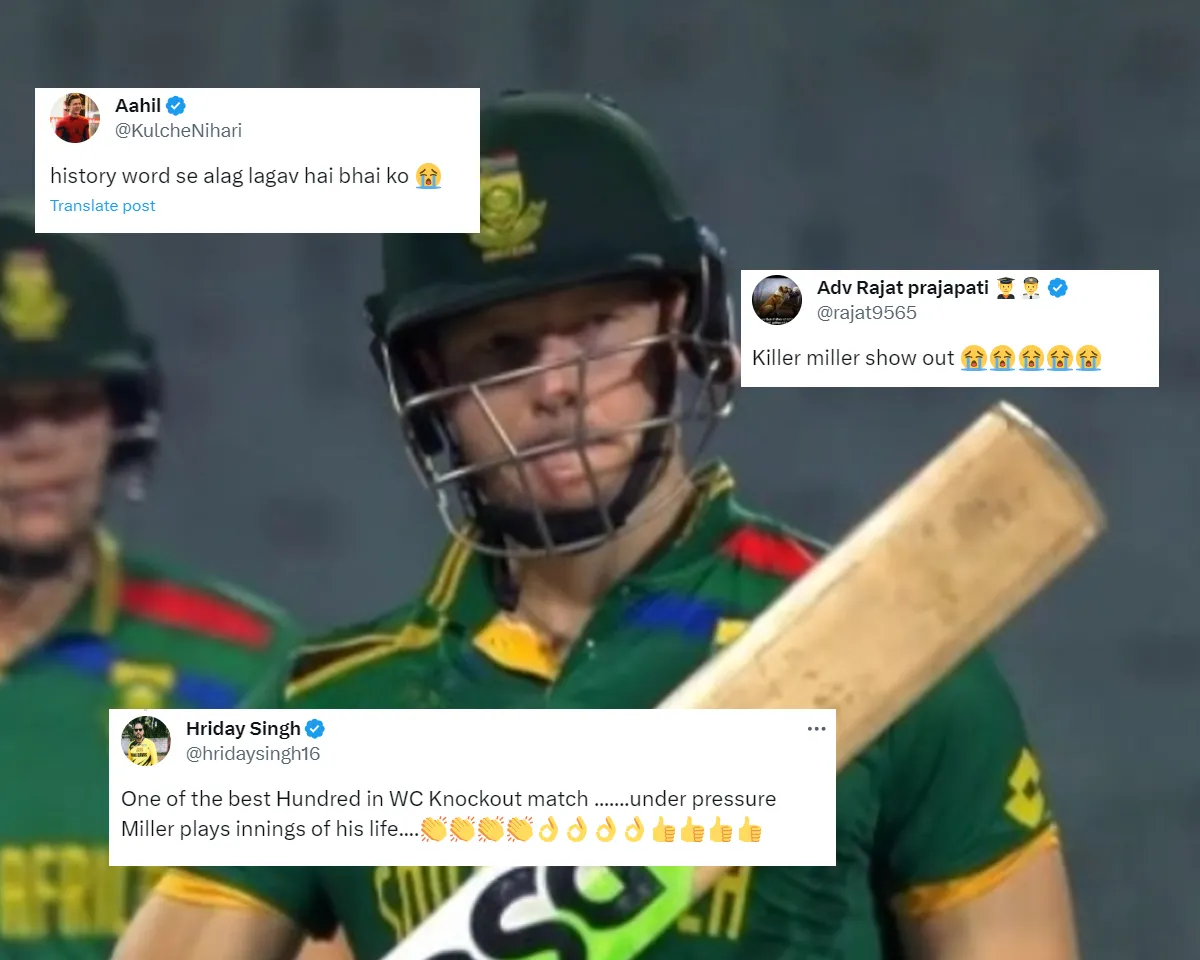 Star South Africa middle-order batter David Miller scored a remarkable century against Australia in the ongoing second semi-final of the ODI World Cup 2023. He played an all-important and crucial knock of 101 runs off 116 balls, with 8 fours and 5 sixes to rescue South Africa from a miserable position from the score of 24 runs for the loss of 4 wickets.
On the back of his century and partnership of 95 runs for the fifth wicket with Aiden Heinrich Klaasen, South Africa managed to post a total of 212 runs, losing all the wickets in 49.4 overs. Klaasen also scored crucial 47 runs, with 4 fours and 2 sixes to accompany Miller and stabilize South Africa's crumbling batting lineup in the first innings.
Aussie bowlers keep a check on South Africa's mighty batting lineup
The veteran pacer Mitchell Starc scalped 3 wickets for Australia at the cost of just 34 runs in his quota of 10 overs. Alongside him, skipper Pat Cummins also picked 3 wickets, including 2 wickets each bagged by Josh Hazlewood and Travis Head to bundle out South Africa at the score of 212 runs in 49.4 overs.
Notably, it is the third time in the history of the ODI World Cup that South Africa and Australia are facing each other in the semi-final of the tournament. Earlier on two occasions, it was the historic tied semi-final of the ODI World Cup 1999 and the one-sided affair at St. Lucia in ODI World Cup 2007. Australia emerged victorious on both occasions.
Speaking of the ongoing action of the second semi-final between South Africa and Australia, the Aussies have started their run-chase of the target of 213 runs. At the time of filling this copy, Australia have scored 15 runs for no loss in 2.3 overs, having openers, David Warner and Travis Head there in the middle at the individual scores of 8 and 5 runs, respectively.
Here's how fans reacted to David Miller's century for South Africa:
history word se alag lagav hai bhai ko 😭

— Aahil (@KulcheNihari) November 16, 2023
Killer miller show out 😭😭😭😭😭

— Adv Rajat prajapati 🧑‍🎓🧑‍✈️ (@rajat9565) November 16, 2023
One of the best Hundred in WC Knockout match .......under pressure Miller plays innings of his life....👏👏👏👏👌👌👌👌👍👍👍👍

— Hriday Singh (@hridaysingh16) November 16, 2023
Perfect way to complete his century

— Syed Irfan Ahmad (@Iam_SyedIrfan) November 16, 2023
One man army David Miller 😍🔥#SAvsAUS #miller pic.twitter.com/GOLumjU7tt

— Hemaram Saran (@saran_hemaram) November 16, 2023
In the crucible of a knockout game, David Miller crafted a gem of an innings, showcasing brilliance under immense pressure. A true master class deserving of a bow. Take a bow, David Miller! 🏏👏 pic.twitter.com/PCi1YILVaG

— umair khan (@ksz399) November 16, 2023
Century by MILLER is one of the best in this tournament as it comes against quality bowling and under pressure.#WC2023 #SAvsAUS

— जय श्री राम (@JaiShreeRam90) November 16, 2023
Maxwell and miller with these innings why am i remembering KXIP.

— Johny Bava (@johnybava) November 16, 2023
Excellent hitting

— Anshuman Singh (@indiancrusher) November 16, 2023
Brilliant innings, Take a bow Killer Miller 🙇‍♀️

— Fatima Zahra (@its_fatiiiii) November 16, 2023
Man for South Africa today 🔥🔥

— Manu (@virat_facts) November 16, 2023