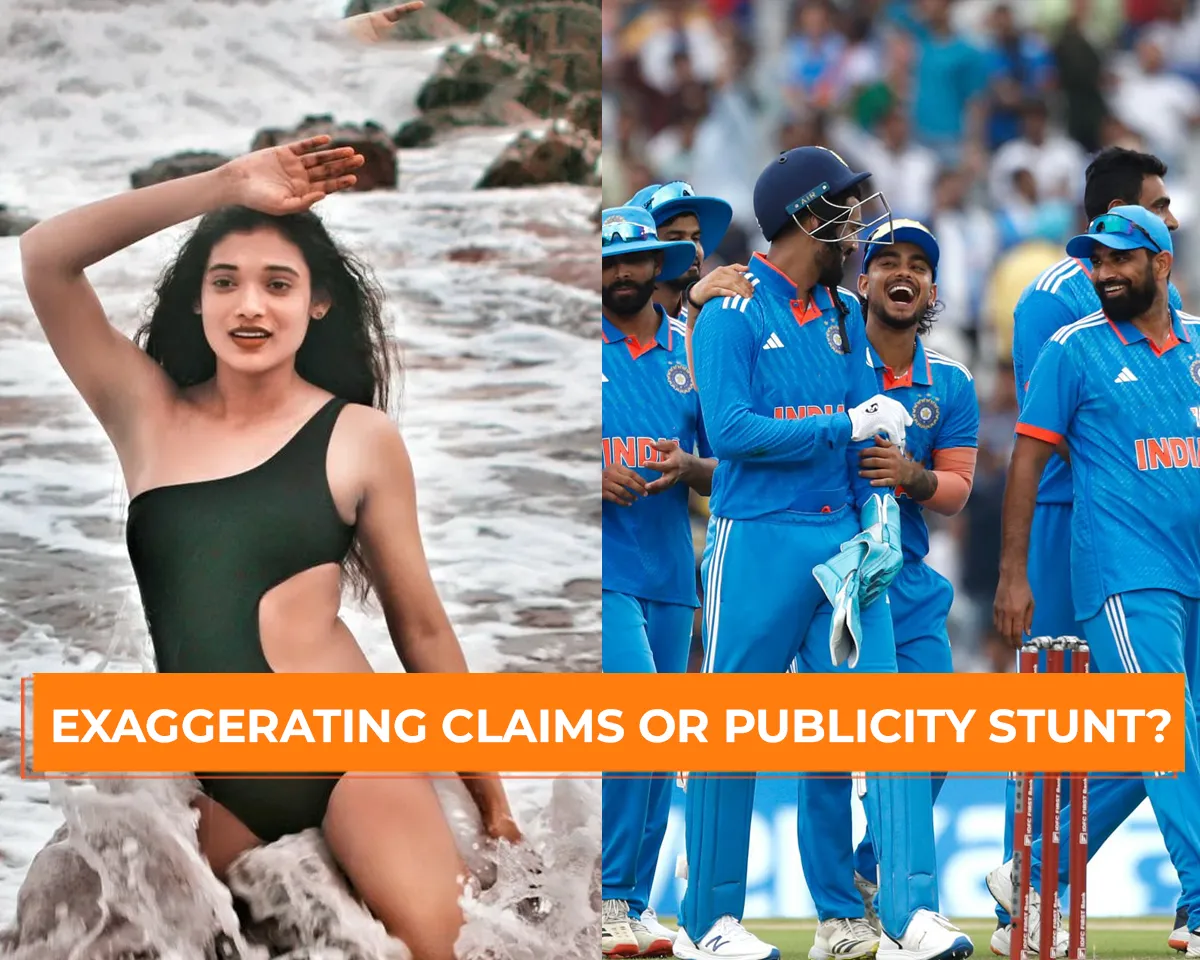 India made it to the final of the ODI World Cup 2023 after a thumping 70-run win over New Zealand in the tournament's first semi-final. It will be the fourth appearance for India in the final of an ODI World Cup in the history of the tournament.
Now, Team India will take on the five-time World Cup champions, Australia in the summit clash of the ongoing ODI World Cup 2023 at the Narendra Modi Stadium in Ahmedabad on Sunday, November 19.
Meanwhile, the Telugu actress Rekha Boj, out of nowhere came up with a sensational claim ahead of the India vs Australia final clash. She went on to make a bold statement, committing to streak on Vizag beach if India beat Australia to win the ODI World Cup 2023. For the unversed, streaking means running without clothes mostly in foreign countries as a celebratory gesture on some happy occasion or something similar.
"If India wins the World Cup, I will streak on Vizag beach," wrote Rekha Boj in her Instagram post, captioning it as "All the best to our India Team."
Here's a look at the Instagram post from Rekha Boj:
Earlier, the actress Poonam Pandey had made the same kind of bold comments on India's win in the ODI World Cup 2011, when India played the final match against Sri Lanka at the Wankhede Stadium in Sri Lanka.
Talking about cricket, it will be the second time in the history of the ODI World Cup that India and Australia will be facing each other in the final of the tournament. Earlier, both teams took on each other in the summit clash of the ODI World Cup 2003 at the Wanderers Stadium in Johannesburg, where Australia won the match by 125 to win their third ODI World Cup title.
Here's how fans reacted to Rekha Boj's 'running naked' promise after India's ODI World Cup 2023 win:
In 2011, Poonam Pandey says also same thing. Because It's for the publicity.

— raja padukone (@rajapadukone) November 16, 2023
Nonsense

— Shesha kiran (@Sheshakiranmv) November 17, 2023
Shameless..

— Shamanth (@Shamant68588701) November 16, 2023
Shame on you

— Saddamhusenbasha H laxmmeshwar (@laxmmeshwar) November 16, 2023
May I know the schedule. So that i can manage my travel to Vizag.

— kamlesh chaturvedi (@kamleshchaturv1) November 17, 2023
#RekhaBoj.I think Bharat definitely win world cup,but I request you that please because we are always have faith on sanskar and sanskriti of this nation for team India it is not necessary.

— Subhaschandra Servegar (@SubhasServegar) November 16, 2023
@rekha_boj
You should have to be run Nude when some girls were treated as nude in street of Manipur..

What is the use of running nude for cricket winning..

Your message for cricket is too ugly than your nude one..

Make all things for good one.. Don't behave like chilly one..

— haridass (@haridassnr1) November 16, 2023