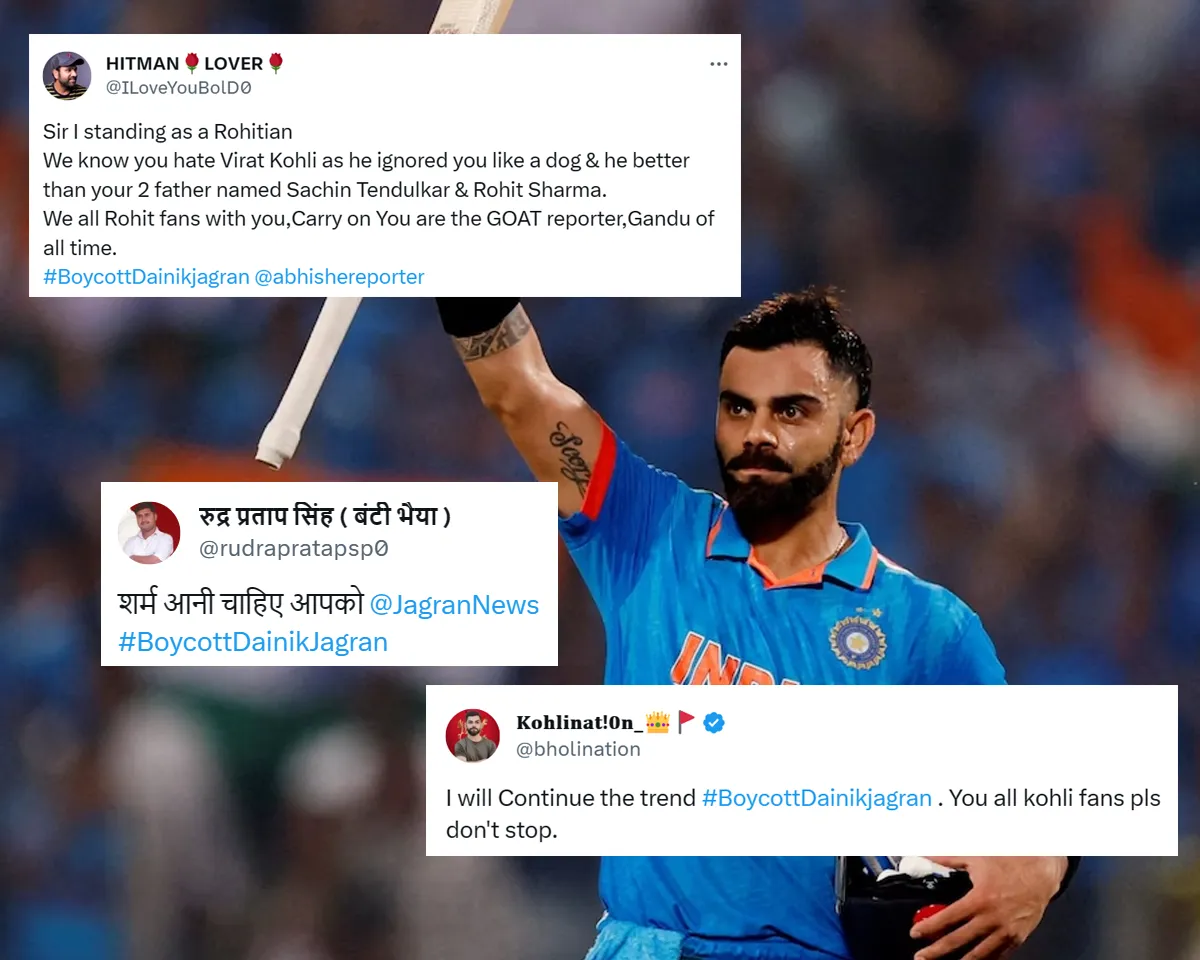 Former Indian skipper and the modern-day batting great, Virat Kohli is currently enjoying a golden run of form with the bat in the ongoing ODI World Cup 2023. He has scored 354 runs in the 6 innings of the 6 matches he played so far with an outstanding average of 88.50, hitting a century and three half-centuries with the willow.
Meanwhile, a renowned India-based media house has fallen on the receiving end of harsh criticism and trolling over social media for criticizing Virat Kohli. The journalist working with this newspaper, Abhishek Tripathi came up with an article in which he was of a critical opinion for Virat Kohli's 95-run knock against New Zealand, where India emerged victorious by 4 wickets to continue their winning streak.
Notably, Virat Kohli was the key element in India's successful run chase in the two all-important clashes against Australia and New Zealand, respectively. Meanwhile, he also completed his 48th ODI century in the match against Bangladesh, which helped to register a massive win by 7 wickets.
Virat Kohli playing a vital role in India's unbeaten ODI World Cup 2023 journey
Talking about Team India's campaign in the ongoing ODI World Cup 2023, they are currently unbeaten in the tournament with 6 successive wins in all the 6 matches they played so far. They recently defeated the defending champions England by a massive margin of 100 runs to register the sixth win in the ongoing prestigious cricket quadrennial.
Now, Virat Kohli will be in action for Team India in the next match of their World Cup campaign. The men in blue will lock horns with Sri Lanka in their seventh match of the tournament at the Wankhede Stadium in Mumbai on Thursday, October 2.
Meanwhile, Kohli is also under the media headlines for his highly anticipated 49th ODI century, with which he is set to equal the world record of former legendary Indian batter Sachin Tendulkar, who holds the record of ODI centuries (49).
Here's how fans trolled the media house and journalist, who criticized Virat Kohli:
शर्म आनी चाहिए आपको @JagranNews#BoycottDainikJagran

— रुद्र प्रताप सिंह ( बंटी भैया ) (@rudrapratapsp0) December 29, 2021
I will Continue the trend #BoycottDainikjagran . You all kohli fans pls don't stop.

— 𝐊𝐨𝐡𝐥𝐢𝐧𝐚𝐭!𝟎𝐧_👑🚩 (@bholination) October 31, 2023
Sir I standing as a Rohitian
We know you hate Virat Kohli as he ignored you like a dog & he better than your 2 father named Sachin Tendulkar & Rohit Sharma.
We all Rohit fans with you,Carry on You are the GOAT reporter,Gandu of all time.#BoycottDainikjagran @abhishereporter pic.twitter.com/arrFCCLyo6

— HITMAN🌹LOVER🌹 (@ILoveYouBolD0) October 31, 2023
#BoycottDainikjagran
Don't run agenda, do your job man

— FAN OF MIB🧡🤍💚 (@YuvrajYada7396) October 31, 2023
King for a reason 👑🇮🇳#ViratKohli𓃵 #BoycottDainikjagran https://t.co/14uzXmvv72

— aaiza_khan_18 (@Aaiza_khan_18) October 31, 2023
#BoycottDainikjagran https://t.co/8AfZ3EVl9o

— Abhinav Garg (@Ab14641ba) October 31, 2023
#BoycottDainikjagran https://t.co/V1Pxa296tu

— unpaid lawyer (@VarunR13190483) October 31, 2023
Shame on you @abhishereporter #BoycottDainikjagran https://t.co/OOiAlr2tiR

— Nitin rwt (@Nitinrwt6699) October 31, 2023