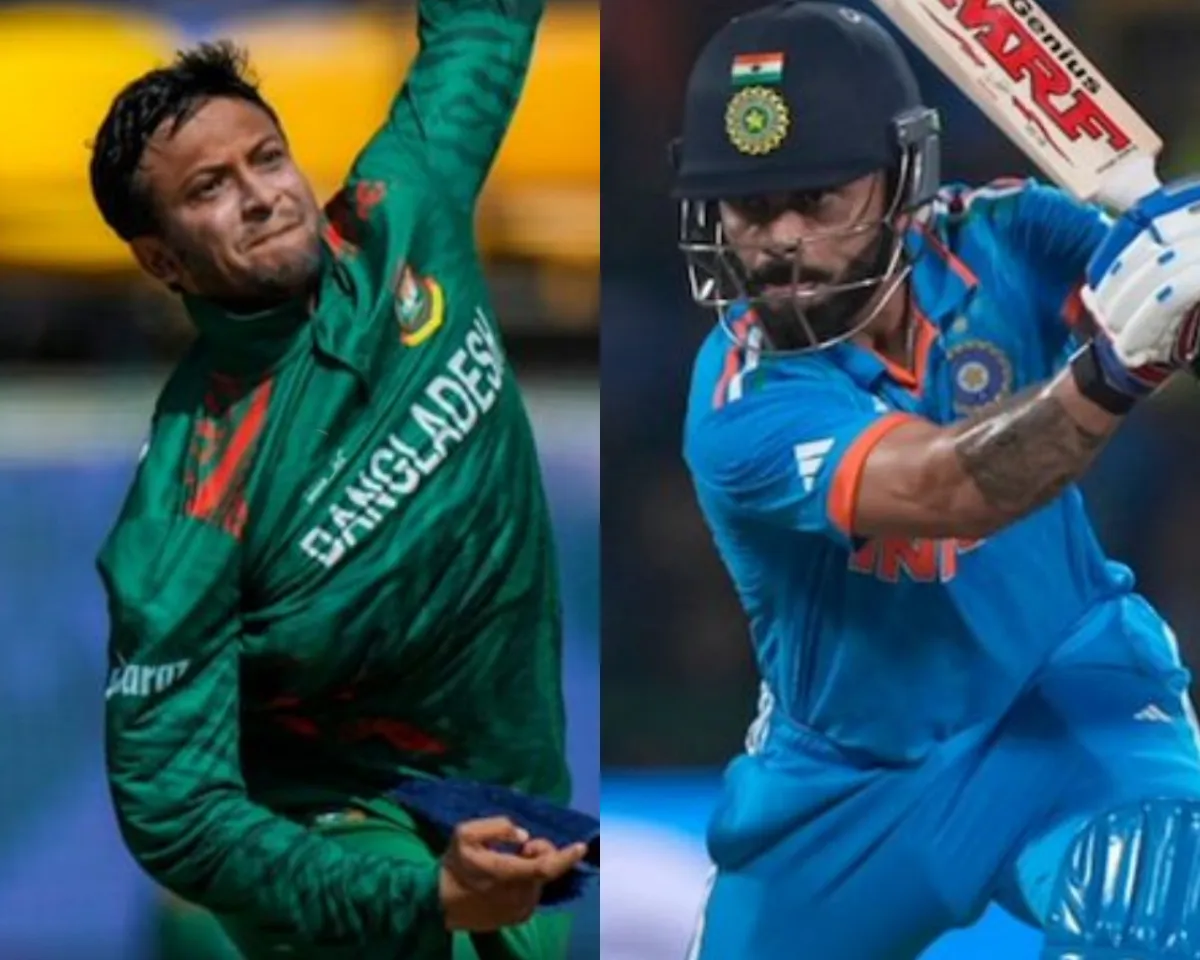 The veteran Bangladesh all-rounder and skipper, Shakib Al Hasan has lauded former Indian skipper and modern-day batting great, Virat Kohli. Notably, Shakib and Virat have played a lot against each other in the last couple of years. Now, both the stars are set to face off against each other once again in the next match between India and Bangladesh in the ongoing ODI World Cup 2023.
"He's a special batsman, probably the best batsman in the modern era. I think I'm lucky to get him out 5 times. Of course, it will give me great pleasure, to take his wicket," said Shakib to Star Sports while talking about Virat Kohli.
"He's got amazing control. He's a very experienced bowler." Virat Kohli on Shakib Al Hasan
Subsequently, Virat Kohli also heaped praise on Shakib Al Hasan and his experience as an all-rounder for Bangladesh. Interestingly, Shakib is quite senior to Virat Kohli in terms of playing international cricket for their respective countries.
"Over the years, I've played a lot against him. He's got amazing control. He's a very experienced bowler. He bowls very well with the new ball, knows how to deceive the batsman, and is also very economical. You have to play your best against all these bowlers, and if you aren't able to, these bowlers can create pressure and increase the chances of getting you out," said Kohli to Star Sports.
Speaking of the ongoing ODI World Cup 2023, India and Bangladesh will lock horns in their next match of the tournament against each other. Both teams will play this match at the Maharashtra Cricket Association Stadium in Pune on Thursday, October 19.
Currently, Team India are coming off unbeaten with three successive wins in their first three matches against Australia, Afghanistan, and Pakistan, respectively. On the other hand, Bangladesh have won one of their first three matches with two defeats against England and New Zealand, respectively.
Here's how fans reacted to Shakib Al Hasan's statement about Virat Kohli:
Stats poora ratt ke rakha he bhai ne

— Johns (@JohnyBravo183) October 18, 2023
Saath mein show off b kar diya..

I have taken his wicket 5 times bolke

— Extraa Cover (@ExtraaaCover) October 18, 2023
Shakib is the most underrated all-rounder

— Crypto with Khan ( SFZ ) (@Cryptowithkhan) October 18, 2023
King Kohli is admired by everyone ❤️

— Kirkett (@bhaskar_sanu08) October 18, 2023
Shakib is best all rounder

— Aarav (@sigma__male_) October 18, 2023
All time great 💯💯

— Zohaib (@zohaib_talks) October 18, 2023
International players fan boying Virat Kohli is not a new thing :)

— Nikhil Gupta (@Nikhilgupta1104) October 18, 2023
King 👑 kohli 🇮🇳❤ The heart of Cricket🏏

— GORDXROHIT (@gordxrohit) October 18, 2023