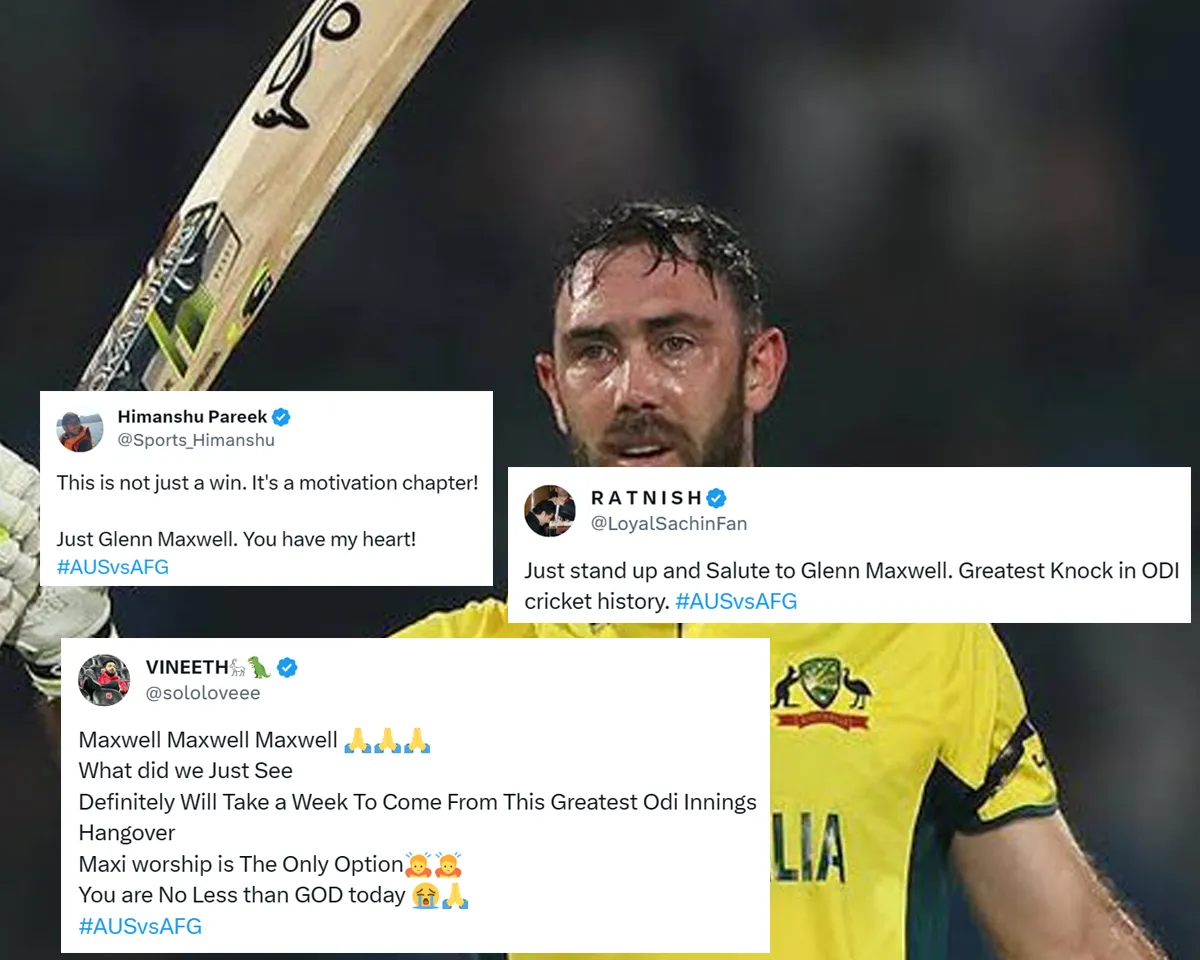 Australia, riding on the single-handed once-in-a-century batting heroics of Glenn Maxwell scripted one of the greatest and historic wins in the 48-year-long history of the ODI World Cup 2023. The Aussies were looking completely down-and-out when they lost 7 wickets just at the score of 91 runs while chasing the target of 292 runs against Afghanistan in the 39th match of the ongoing ODI World Cup 2023.
But then came a guy named Glenn Maxwell who single-handedly stole the show, with brilliant support from his skipper Pat Cummins, who just scored 12 runs off 68 balls to stay there in the middle, taking Australia over the line.
Speaking of the detailed action of the match, Afghanistan won the toss and decided to bat first; batting first, the Afghans posted a decent total of 291 runs for the loss of 5 wickets in the allotted 50 overs. Star opener Ibrahim Zadran scored a crucial century, scoring 129 runs with 8 fours and 3 sixes, alongside a quick and blistering cameo of 35 runs off just 18 balls, played by Rashid Khan.
Josh Hazlewood picked two wickets for the Aussies, alongside one wicket each claimed by Mitchell Starc, Glenn Maxwell, and Adam Zampa.
Glenn Maxwell scripts historic run-chase of Australia
While chasing the target, Australia started losing wickets at quick intervals after they lost their second wicket at the score of 43 runs; there came a moment in the match when the five-time World Cup champions had lost 7 wickets at the score of only 91 runs and a defeat was nearing them.
But Glenn Maxwell had some other plans on the day and he came up with a historic and blistering knock of 201 runs, with 21 fours and 10 sixes, hitting his first ODI double century. Maxwell stitched an unbeaten and match-winning partnership of 202 runs with skipper Pat Cummins, who held the one end like a rock.
Eventually, Australia sealed a historic win by 3 wickets to seal a spot in the semi-finals of the tournament.
Here's how fans reacted to Australia's historic win against Afghanistan:
Maxwell Maxwell Maxwell 🙏🙏🙏
What did we Just See
Definitely Will Take a Week To Come From This Greatest Odi Innings Hangover
Maxi worship is The Only Option🙇🙇
You are No Less than GOD today 😭🙏#AUSvsAFG pic.twitter.com/KK79TCZ3AM

— VINEETH𓃵🦖 (@sololoveee) November 7, 2023
This is not just a win. It's a motivation chapter!

Just Glenn Maxwell. You have my heart! #AUSvsAFG pic.twitter.com/AXM417xhUU

— Himanshu Pareek (@Sports_Himanshu) November 7, 2023
Just stand up and Salute to Glenn Maxwell. Greatest Knock in ODI cricket history. #AUSvsAFG pic.twitter.com/hLDiB7zzWp

— R A T N I S H (@LoyalSachinFan) November 7, 2023
Saw this coming. 200 in a run-chase, One of the all time great one day innings by Maxwell. @Gmaxi_32 was a man possessed and
great support by @patcummins30 . An innings to remember for a long long time . #AUSvsAFG https://t.co/ClOM3NdSJf pic.twitter.com/nQ8uNVh1af

— Virender Sehwag (@virendersehwag) November 7, 2023
On of the greatest innings one would ever see. Never Give Up.
Take a bow Glenn Maxwell . That was quite incredible #AUSvsAFG pic.twitter.com/THVzef8Dz8

— VVS Laxman (@VVSLaxman281) November 7, 2023
🚨 It will be considered as the best innings in 48 years world cups history.

Take a bow, Maxwell.#AUSvsAFGpic.twitter.com/tpDrotZqTg

— Haroon 🏏🌠 (@HaroonM33120350) November 7, 2023
Pat Cummins said, "Glenn Maxwell played the greatest ever knock today. It was ridiculous, out of this world".
Maxwell Maxi Greatest ODI innings#AUSvsAFG #Maxwell

pic.twitter.com/fbzYy45fGz

— VINEETH𓃵🦖 (@sololoveee) November 7, 2023
Just wow 😲
Maxwell single handly pulled the match from Afghanistan.

He stands tall in every situation.
Like button has been changed for Maxwell Inning ❤️#AUSvsAFG #AUSvAFG #AFGvAUS #Maxwell #tuesdayvibe #earthquake #いいおなかの日 #BrandedFeatures pic.twitter.com/nNs9qpje6t

— Cricket_updates (@unknown_khabari) November 7, 2023
Wankhede erupted when Maxwell hits the Winning Runs.

- WHAT A KNOCK 🔥🤩#AUSvsAFG | #maxwell | Australia | Greatest ODI | Maxi | Big show | Ajay Jadeja | Yorker | SHOT OF THE CENTURYpic.twitter.com/3ZHOYGKqLN

— Nickson P (@NicksonP8) November 7, 2023
Maxwell Created History

Glenn Maxwell becomes Only player to have scored Double Hundred in run chase ⚡🔥💯💯
Greatest ODI innings #AUSvsAFG

pic.twitter.com/qEmrd5M4lO

— VINEETH𓃵🦖 (@sololoveee) November 7, 2023
Maxwell Maxwell Maxwell 🙏🙏🙏
What did we Just See
Definitely Will Take a Week To Come From This Greatest Odi Innings Hangover
Maxi worship is The Only Option🙇🙇
You are No Less than GOD today 😭🙏#AUSvsAFG pic.twitter.com/KK79TCZ3AM

— VINEETH𓃵🦖 (@sololoveee) November 7, 2023
SALUTE YOU, MAXWELL 🔥#AUSvsAFG pic.twitter.com/bietqiSZ0t

— Fakhar Zaman (@FakharZamaanPAK) November 7, 2023