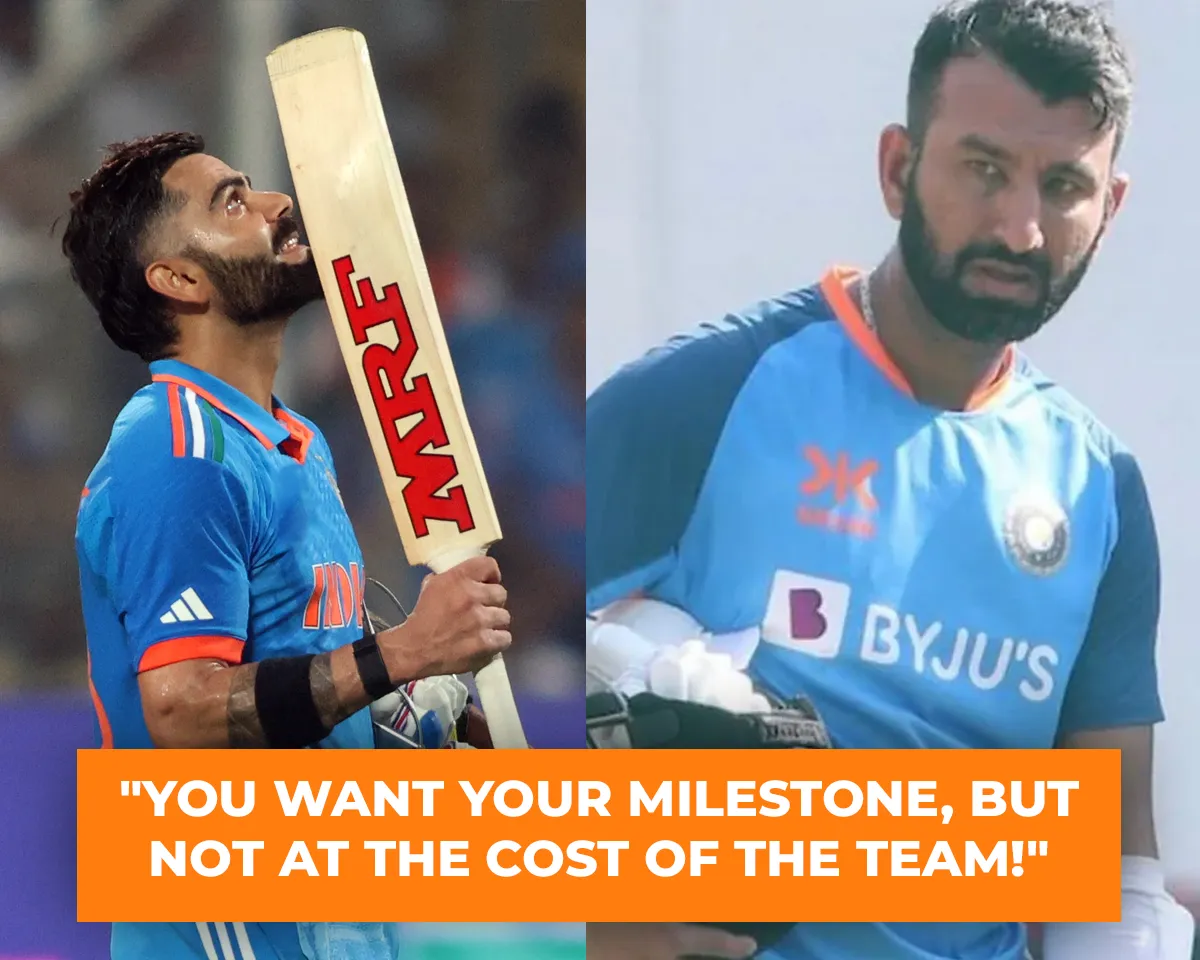 Former Indian skipper and modern-day batting great, Virat Kohli scored his 48th ODI century with an amazing 103-run knock in India's ODI World Cup 2023 match against Bangladesh. It was also the first century for Virat while chasing in the ODI World Cup. On the back of his century, the men in blue comfortably chased down the target of 257 runs in 41.2 overs, scoring 261 runs for the loss of just 3 wickets.
Meanwhile, there were a lot of debates and discussions among cricket experts about the milestone achieved by Virat Kohli. Some of the cricket experts and veteran cricketers opined that Kohli could've accelerated the pace of his batting to chase the target as soon as possible.
"Maybe you have to sacrifice a bit. You want to look at the team." - Cheteshwar Pujara on Virat Kohli
In the same line of events, the veteran Indian Test specialist batter Cheteshwar Pujara also came up with a statement that the requirement of the team should've been kept on priority.
"As much I wanted Virat Kohli to score that hundred, you have to keep in mind, that you want to finish the game as early as possible. You want your Net Run Rate to be at the top. If you are in a position where you are fighting for the Net Run Rate, then you don't want to look back and say 'you could have done that'," said Pujara to ESPN Cricinfo.
"That's where I feel that as a collective decision, maybe you have to sacrifice a bit. You want to look at the team, you want to put the team first, that's how I look at it. You want your milestone, but not at the cost of the team. As a player, you always have a choice. But some players feel if they get a hundred, it helps them in the next game. So, it depends on what kind of mindset you have," he added later.
Talking about the ongoing ODI World Cup 2023 campaign of India, they will now face New Zealand in their next match at the HPCA Cricket Stadium in Dharamsala on Sunday, October 22.