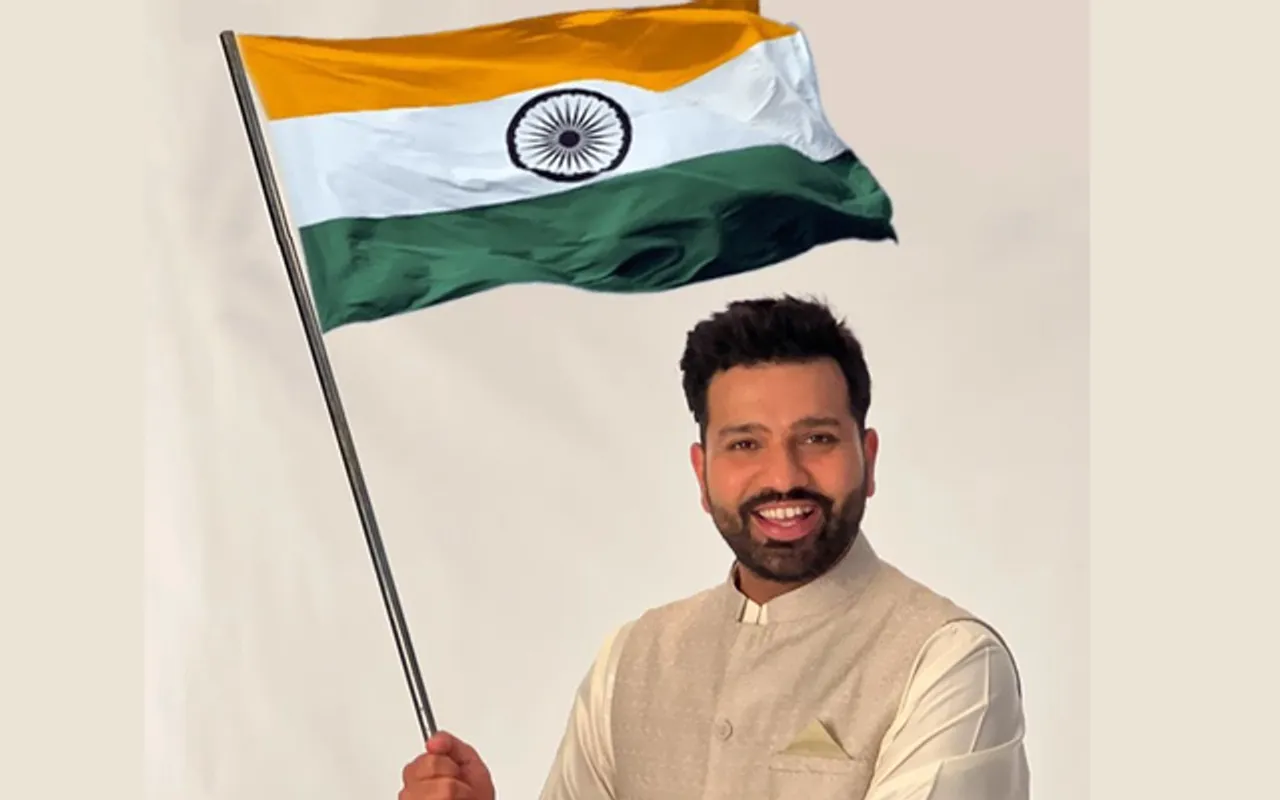 On the 75th anniversary of Indian Independence from the oppressive British rule, a lot of Indian and foreign cricketers wished the Indian fans. Rohit Sharma was also one of them, who wished the 1.3 billion people in the Asian country. However, little did he know what was about to come next. Apparently, the fans have been trolling him mercilessly. The photo that Sharma uploaded on Twitter was a morphed one and the fans didn't spare him for using that.
One of them pointed out the rod, which looks clearly edited. After this, the other fans came up with others morphed images in his comments section. Meanwhile, talking about the image, India's skipper was wearing a traditional dress and was holding the Indian tricolor. The image was captioned "75 years of independence. स्वतंत्रता दिवस की हार्दिक शुभकामनाएं".
75 years of independence. स्वतंत्रता दिवस की हार्दिक शुभकामनाएं 🇮🇳 pic.twitter.com/5KlQA3Y87d

— Rohit Sharma (@ImRo45) August 15, 2022
This is how Twitter reacted
I thought just the flag was edited, but rod too 😭 https://t.co/lMvF5Vqa0P pic.twitter.com/WMVnyuFmRc

— Adi (@WintxrfellViz) August 15, 2022
Guy has millions but can't buy a flag and stick

— Av1nash (@K1ckbut) August 15, 2022
Flag bhi nakli hai aur Sar k Baal bhi !! 😂😂

— Dhrumil Modi (@DModi24) August 15, 2022
Also this photoshoot is from 2016 or something. Reusing every year

— Adi (@WintxrfellViz) August 15, 2022
Wahi mai sochu aisa konsa camera hai jisse poora leherta hua jhanda aa raha hai photo mai😂

— Mr.360 (@IMNamanYadav9) August 15, 2022
Body is edited too, this shirt can't fit his belly.

— Density Wave (@DensityWave) August 15, 2022
Real life glitch

— Souradeep Chakraborty (@deadball92) August 15, 2022
Totally Edited..

— Mount Everest (@MountEv78145640) August 15, 2022
Haha kuch bhi😭

— ȺղցҽӀ Ƒìɾժօʂ (@Srk_Rooshi) August 15, 2022
Isse acha to Virat Kohli k saath Amrit Mahotsav mein participate karliya hota

— Anubhav shahi 🇮🇳🇮🇳🇮🇳🇮🇳🇮🇳 (@Anubhavshahi48) August 16, 2022
Talking about the 35-year-old, he has been rested for the upcoming three-match ODI series in Zimbabwe. The series will start on August 18 and conclude four days later. Each game will be played after a gap of a day. The Mumbaikar will return to lead the team in the Asia Cup, starting on August 27 in the UAE.