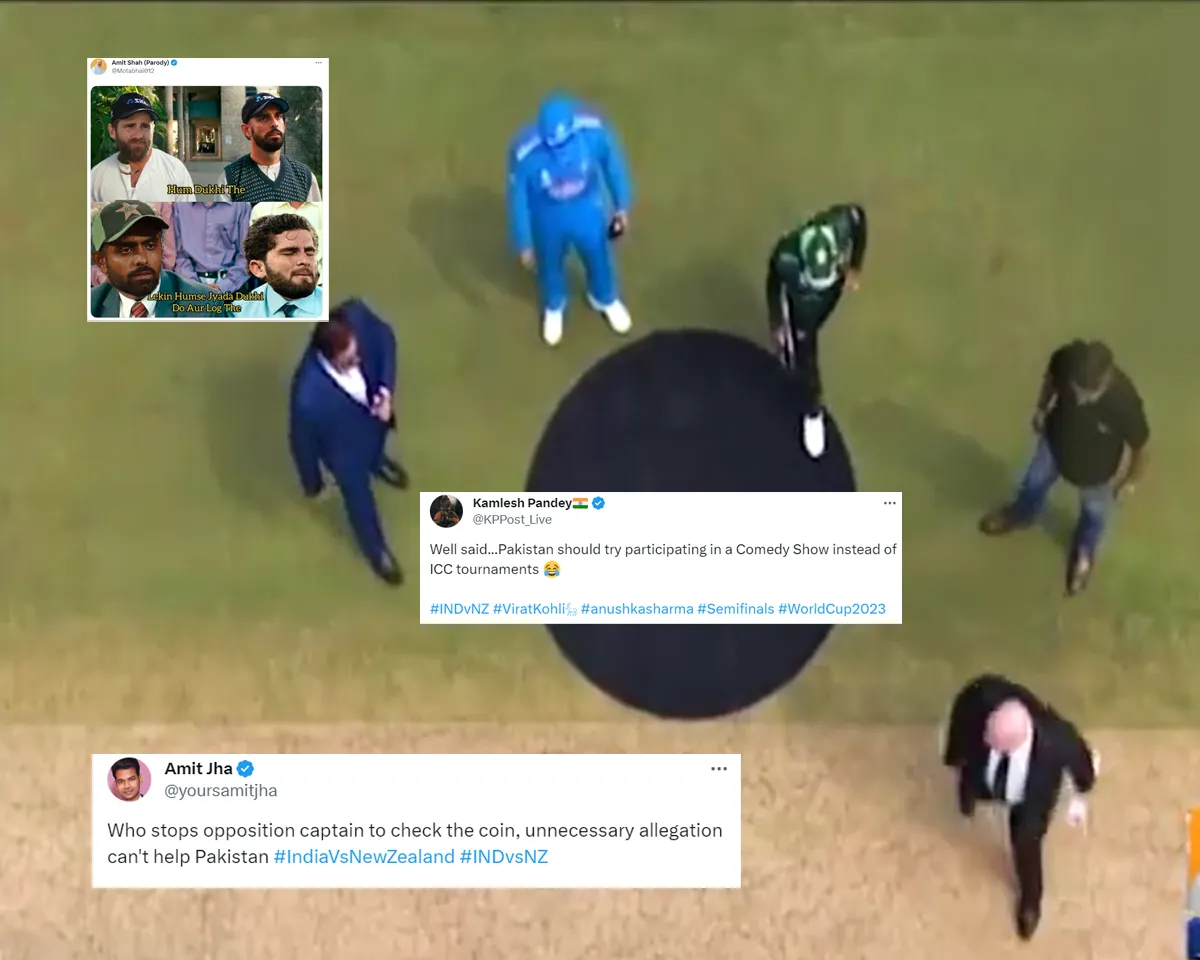 India has been on a sensational run in the ODI World Cup 2023. The home side defeated New Zealand in the semifinal of the tournament to enter the final. It has been a dominating run for the Indian team in the tournament. All the players have stepped up to the occasion. The players in the team have collectively performed well to make the team it is today.
The way India has played in the tournament has been praised by many. The individuals in the team have been praised for their performances, which has led to the eventual success of the team. Both the batters and bowlers have been very good for India. The All-rounder, Ravindra Jadeja, has been exceptional too. There are very few instances where some of the players could not deliver on a given day.
At the same time, the way India has played in the tournament has raised the eyebrows of many. Former Pakistan cricketer Hasan Raza accused India of using pitch and ball in their favour. The latest to join the accusation club of Raza has been another former Pakistan cricketer, Sikandar Bakht, who has accused Rohit Sharma of unfair practising during the tosses.
Sikandar Bakht's accusation on Indian captain
The former Pakistan cricketer said that he observed Rohit throwing the coin way too far away from the opposition captains during the toss intentionally so that they could not see what the result of the coin was going to be eventually. Fans could not control their laughter hearing the accusation of Bakht. The accusation of Bakht seems to be absurd and rather funny.
It is to be noted that any call from the captain during the toss takes place before the coin gets tossed by the captain. The outcome of the toss does not depend on what a captain would see in the coin. Toss is something that is purely luck-based outcome. To have that luck on one's side can be good. However, the success rate cannot be guaranteed with the toss of the coin. 
Watch the accusation of Bakht here -
Former Pakistan bowler Sikandar Bakht indicates India captain Rohit Sharma throws the coin far away at the toss so the opposition captain doesn't see it and he gets the decision in his favour 🤦🏽‍♂️🤦🏽‍♂️
A new controversy 👀 #CWC23 #INDvsNZpic.twitter.com/zdzd3Zwrc7

— Farid Khan (@_FaridKhan) November 15, 2023
Here's how the fans reacted to the accusation of Bakht -
Also, if you look closely, Rohit Sharma controls the ball from remote control during fielding.

— Cabinet Minister, Ministry of Memes,🇮🇳 (@memenist_) November 15, 2023
Special coin for Pakistan 😂 pic.twitter.com/tDi1mq7GkB

— Radhika Chaudhary (@Radhika8057) November 15, 2023
Well said...Pakistan should try participating in a Comedy Show instead of ICC tournaments 😂#INDvNZ #ViratKohli𓃵 #anushkasharma #Semifinals #WorldCup2023

— Kamlesh Pandey🇮🇳 (@KPPost_Live) November 15, 2023
Here's the video why I'm saying that WC is fixed. pic.twitter.com/dgfSAuPg2H

— 𝚃𝚑𝚘𝚛 𝚋𝚑𝚊𝚒 🎗 (@THORthayaar) November 15, 2023
This is you who said India has fixed the world cup and now you say I support India to win coz they are the best team.. Bdaa Dogla Hai Tu Bhai Farid pic.twitter.com/tWkRHahJT9

— Paji Sports Talk (@Paji_Talk) November 15, 2023
Now
India controls BCCI.
India controls the ICC.
India controls every match.
India destroyed the SL and Pak cricket board.
India controls the global cricket revenue share.
India controls the pitches and umpiring.
India controls the coin and toss as well.

Soon
India controls…

— Inder J Gusain (@OfficialInderJ) November 16, 2023
A new joke 😂

— CricXtra (@CricXtra_) November 15, 2023
Australia will win the world cup

— Sadam rana (@Sadamrana10) November 15, 2023
😂😂Kahaa se laathe ho yaar ye sab🤣🤣🤣 iss World Cup ka sabse badaa entertainment Pakistan ke inn chapri experts ka hi hai😂😂😂

— Indosapien🇮🇳 (@kkspeaks) November 15, 2023
November 15, 2023
Pitch gate, toss gate, umpire gate, DRS gate, crowd gate....

Itnay paisay kharch k khareedna tha tou izzat k saath jeet jatay.#IndiaVsNewZealand #ODIWorldCup2023 pic.twitter.com/9iIt0pnN6t

— Hina Safdar (@hinasafi) November 15, 2023
November 15, 2023