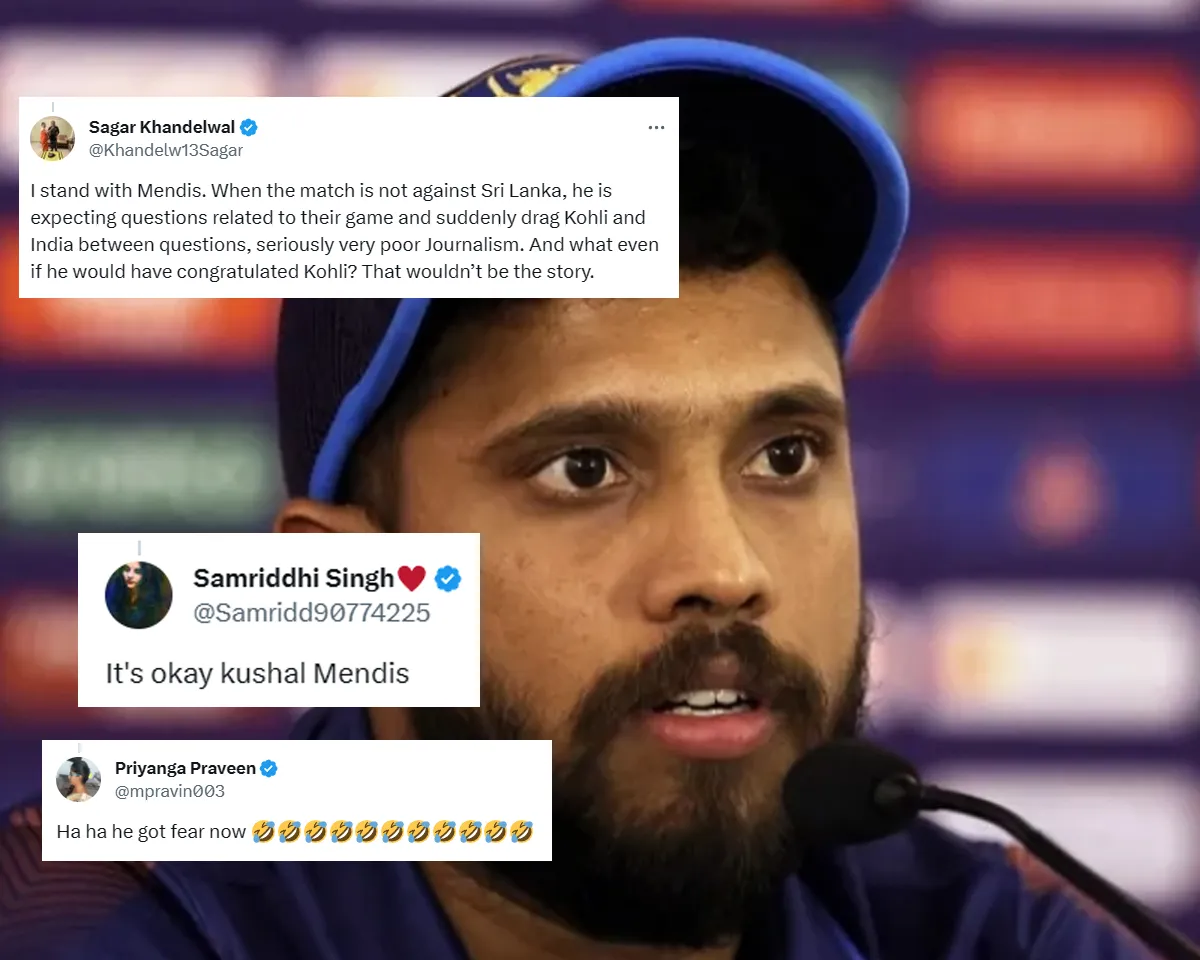 Sri Lanka are already out of the ODI World Cup 2023. They failed to qualify for the knockout stage, as their Cricket Board had been banned by the Cricket Governing Body, before that their members were also dissolved due to dismal performance in the tournament. The Asia Cup 2023 finalists were bowled out for 55 runs against India while chasing a target of 358 runs. Their regular skipper Dasun Shanaka was also out injured in between the mega event. 
Kusal Mendis who was their stand-in captain in the tournament, made a controversial comment on former India skipper Virat Kohli, as he refused to congratulate the Indian star on his 49th ODI hundred. The batter has been in sensational form in the ongoing tournament and played a knock of 88 runs against the Islanders. 
The skipper of the Lankan has now explained the fact that he did not understand the question and also stated that his comments were wrong. He insisted that he did not know how to respond to the question before praising Kohli for his historic feat. 
 I didn't know what to say: Kusal Mendis
Mendis said, "On that day I went for the press conference and I was not aware that Virat had scored a century, When suddenly that journalist asked that question, I didn't know what to say, And also I didn't understand the question clearly. Scoring 49 ODI tons is not an easy job to do, Virat is one of the brilliant cricketers in the world, later I realized what I said was absolutely wrong. I now feel I shouldn't have reacted the way I did."
Kohli who is currently the highest run-scorer in the tournament as well as for his side, with 594 runs in 9 innings tied Sachin Tenudlkar's record of 49 ODI centuries in the game against South Africa, at the Eden Gardens on his birthday. Tendulkar also congratulated him saying, "Well played Virat. It took me 365 days to go from 49 to 50 earlier this year. I hope you go from 49 to 50 and break my record in the next few days. Congratulations!!"
Here's how fans reacted
I don't blame Kusal Mendis for what happened at PC.

It was Sri Lanka Match Press Conference and he was looking for questions related to that, sometimes it becomes iritating when you drag India everywhere coz it is World Cup not India's domestic trophy.

I stand with Mendis❤️

— Rajiv (@Rajiv1841) November 12, 2023
Software update of Mendis and his pakistani sons. pic.twitter.com/7kfMOQH0PN

— Johns (@JohnyBravo183) November 12, 2023
I heard some experts here saying that it wasn't India's press conference.

Of course right, but when he was asked about Kohlis hundred he should have simply said I don't know and all. What exactly triggered was his attitude 💯

— Manu (@virat_facts) November 12, 2023
He born to hit centuries. Hope he completes his half century in hitting 100s🔥🔥🔥 pic.twitter.com/ctLcNVRhP0

— White knight 🦇 (@santhoshtiger14) November 12, 2023
I stand with Mendis. When the match is not against Sri Lanka, he is expecting questions related to their game and suddenly drag Kohli and India between questions, seriously very poor Journalism. And what even if he would have congratulated Kohli? That wouldn't be the story.

— Sagar Khandelwal (@Khandelw13Sagar) November 12, 2023
Ha ha he got fear now 🤣🤣🤣🤣🤣🤣🤣🤣🤣🤣🤣

— Priyanga Praveen (@mpravin003) November 12, 2023
Medins is suffering here😂

— Manu (@virat_facts) November 12, 2023
Software updated

— 𝐊𝐨𝐡𝐥𝐢𝐧𝐚𝐭!𝟎𝐧_👑🚩 (@bholination) November 12, 2023