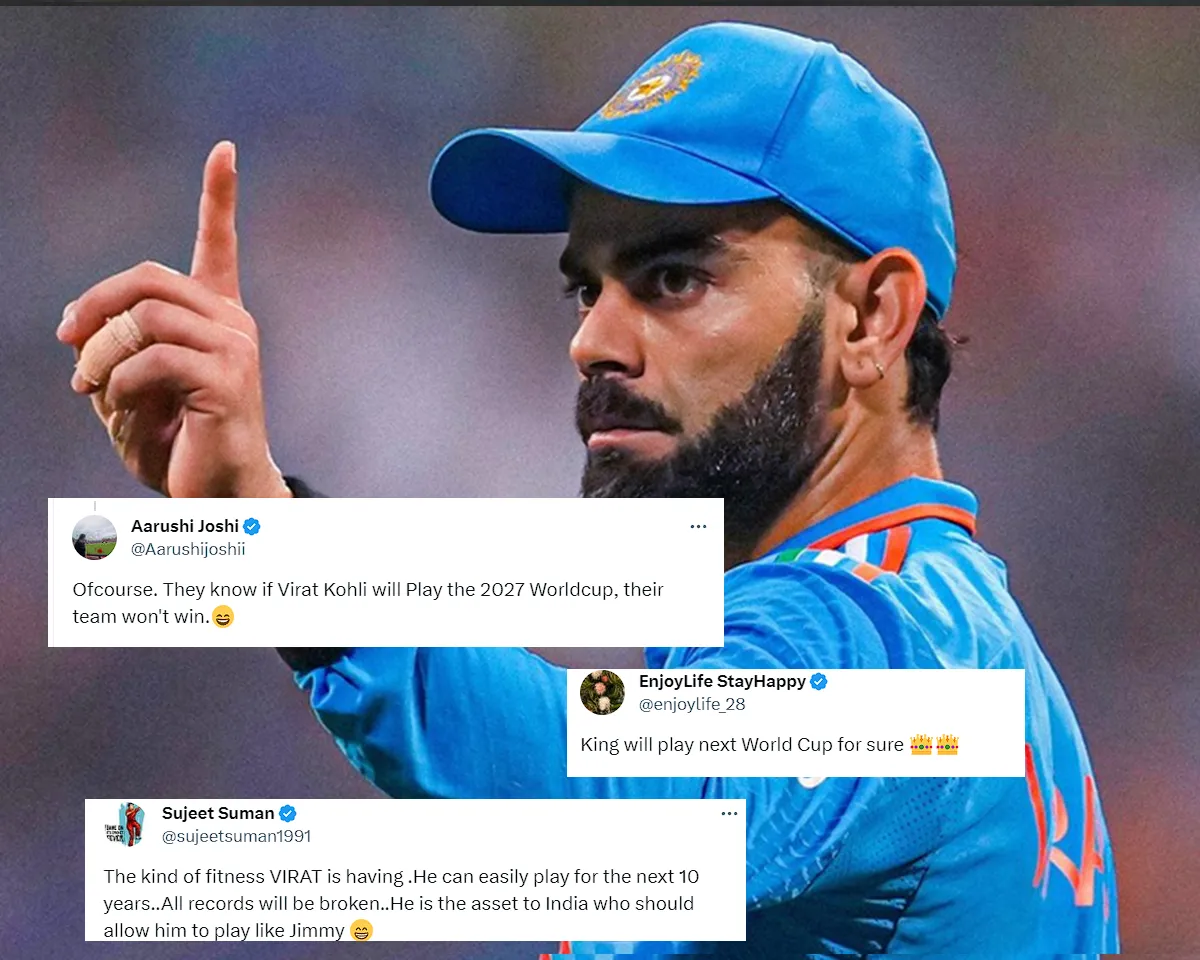 Ricky Ponting spoke about the future of Virat Kohli in the ODI World Cup. The former Australian captain felt that the Indian batter is playing very well in the ongoing ODI World Cup and is the absolute best. Further, Ponting felt that the Indian fans would like to see Virat play in the ODI World Cup 2027 as well, which might not be the case with others. 
Speaking about Virat's future in the big tournament, Ponting said "Any other cricket fan other than Indian fans wouldn't want Virat Kohli to play the next World Cup." Ponting felt that the fans of other teams would not like to see Virat playing in the next World Cup, as it would affect their chances in the tournament. The former Australian captain said that Virat is the absolute best in cricket today. 
Virat recently scored the 49th ODI hundred against South Africa in Kolkata's Eden Gardens in the ODI World Cup 2023. On a difficult surface to bat on, Virat showed great mental strength played out the tough phase and eventually got to his milestone. The Indian batter became only the second batter in the world to score 49 hundred in ODIs after Sachin Tendulkar.
Virat Kohli's phenomenal form in ODI World Cup 2023
Virat has been in sensational form in the ongoing tournament. The Indian number 3 has been the second-highest run scorer in the tournament till now. In 8 matches so far in the tournament, Virat has 543 runs at a batting average of 108.60, including 2 hudnreds and 4 fifty plus scores. Out of his 4 fifties, 3 of them were in the range of 85 to 99. 
Against Australia, Virat scored 85. Against Bangladesh and South Africa, Kohli scored unbeaten hundreds. Against Afghanistan, Virat saw his team home with a fifty. Against New Zealand, Virat scored 95 and missed a century. Against Sri Lanka, the Indian batter scored 88 runs. The form of Virat has been a big positive for the home side in the big tournament. 
Here's how the fans reacted to the statement of Ponting -
That's it, that's all I want in my life. Virat to play pic.twitter.com/3URnwTw4PU

— Nikhil Gupta (@Nikhilgupta1104) November 7, 2023
King will play next World Cup for sure 👑👑

— EnjoyLife StayHappy (@enjoylife_28) November 7, 2023
Ofcourse. They know if Virat Kohli will Play the 2027 Worldcup, their team won't win.😄

— Aarushi Joshi (@Aarushijoshii) November 7, 2023
Here we have indian fans who target him for no reason 💔

— A (@_shortarmjab_) November 7, 2023
That's not correct statement. We always want to see talented players to play .. this , next and next to next

— Shivani (ShivkiVani) (@_Shivkivani) November 7, 2023
The kind of fitness VIRAT is having .He can easily play for the next 10 years..All records will be broken..He is the asset to India who should allow him to play like Jimmy 😁

— Sujeet Suman (@sujeetsuman1991) November 7, 2023
Shakib AL Hasan ruled out from last WC match due to finger injury 😂😂

— Yamraj (@yamrajhuu) November 7, 2023
I think Ricky ponting needs a doctor

— CONTEXTUAL MEME (@Contextual_Meme) November 7, 2023
Kuch bhi

— Insider Prakash (@Insider_prakash) November 7, 2023
If he play up to next world cup, he will create lots of new record.

— Rupesh Rane (@RSR020690R) November 7, 2023