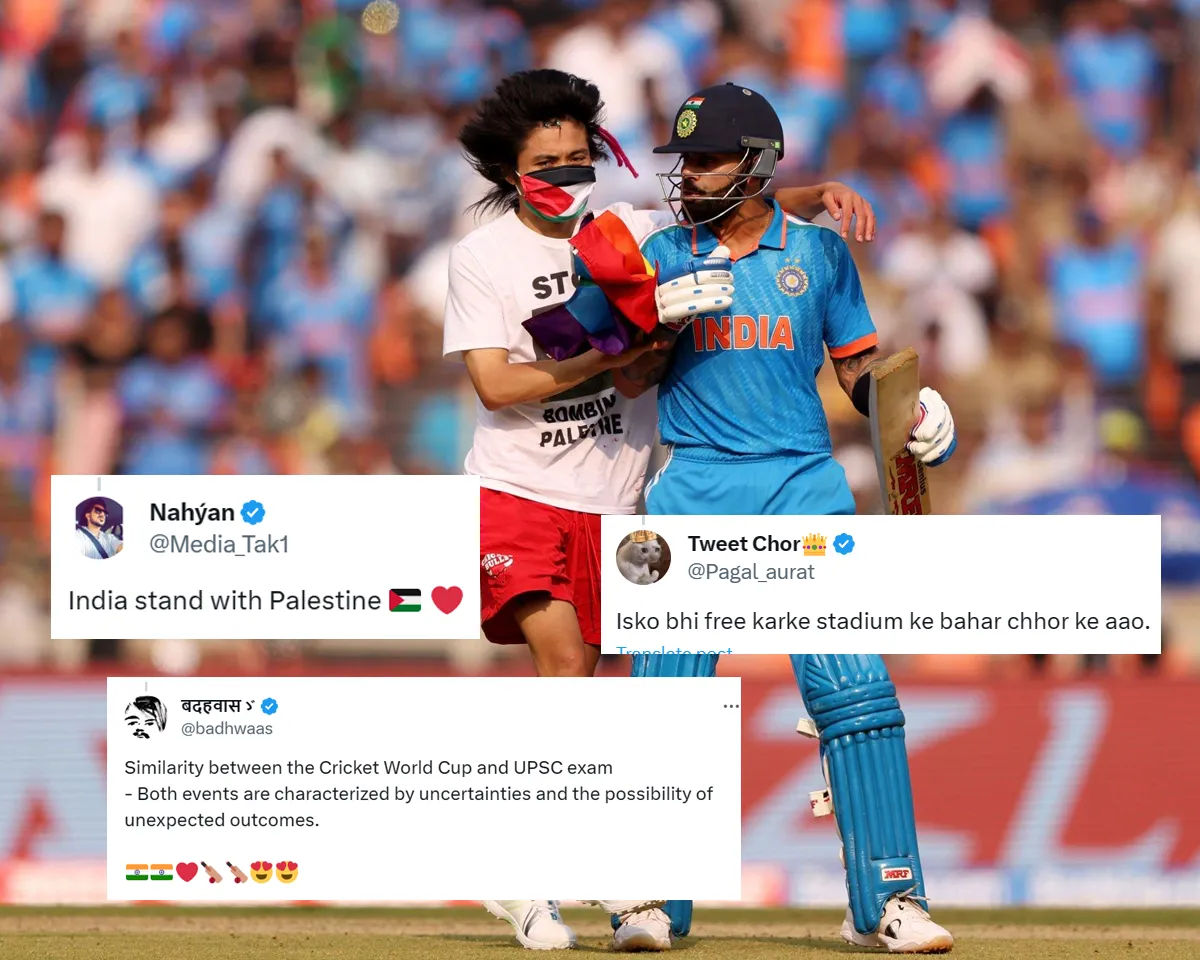 The ongoing ODI World Cup 2023 final between India and Australia was interrupted briefly by a Palestine supporter. Apparently, since the third day of the ongoing tournament (October 7), the Israel-Palestine conflict has been the center of attention. On that day, while two games (South Africa vs Sri Lanka and Afghanistan vs Bangladesh) were being played, Hamas, a terrorist organization attacked a music festival.
Apart from this, they took a lot of people hostage who were attending the music festival. At this point, it is said that the hostages are being set free. Meanwhile, in the 14th over of the ongoing India innings, a Palestine supporter came close to former India skipper Virat Kohli. The incident when the Men In Blue were 93/3 in 13.3 overs. At this point, the likes of skipper Rohit Sharma, Shubman Gill, and Shreyas Iyer went back to pavilion.
Police arrested the Palestine supporter who breached the security to enter the ground. pic.twitter.com/glpqFy7X27

— Mufaddal Vohra (@mufaddal_vohra) November 19, 2023
November 19, 2023
Meanwhile, talking about the game, the likes of Kohli and KL Rahul have stood and put together 68 runs for the fourth wicket. When it looked like the former would get his 51st ODI hundred after getting 54 runs, Pat Cummins got him out. On the other hand, Rahul has stayed strong with 56 runs and counting. At the time of writing, Ravindra Jadeja, who was promoted up the order at number six, has been caught behind after scoring nine runs.
At the time of writing, Rahul and Suryakumar Yadav are batting at the crease with 180/5 in 37.3 overs. This is the last recognized batting at the crease and both will look to bat till the end.
This is how Twitter reacted
Just not good enough from the ground security. Dangerous for both the fan as well as the players.

— 🏏Flashscore Cricket Commentators (@FlashCric) November 19, 2023
Belt Treatment for this Fan !!

— Utkarsh (@utkarshh_tweet) November 19, 2023
Not a fan, but a activist!

— Manish Purohit (@iManishPurohit) November 19, 2023
This was no ordinary fan he was making a statement on Israel Hamas Conflict.

— Maarwadi🚩🚩 (@Marwadi99) November 19, 2023
Don't do that yaar
It's final ..!!
Let them concentrate on game..!!

— Pankaj (@Pankaj41627) November 19, 2023
Fan is supporting Palestine pic.twitter.com/1Ui3uR4d45

— Khabis Insan (@IamUmarJav) November 19, 2023
An unknown person has entered the ground. According to sources Jay Shah has sent a spring wali bat pic.twitter.com/GFRE1Ruqz0

— Secular Chad (@SachabhartiyaRW) November 19, 2023
Meanwhile Jarvo watching this over TV 👀 pic.twitter.com/BoGa6NkDy0

— The Khel India (@TheKhelIndia) November 19, 2023
He is wearing palestine mask .
He came with a motive

— Sambhav Gupta (@sambhavgupta6) November 19, 2023
This is final match of the world cup or security ka yeh hal hai

— Mr Zia (@iammrzia) November 19, 2023