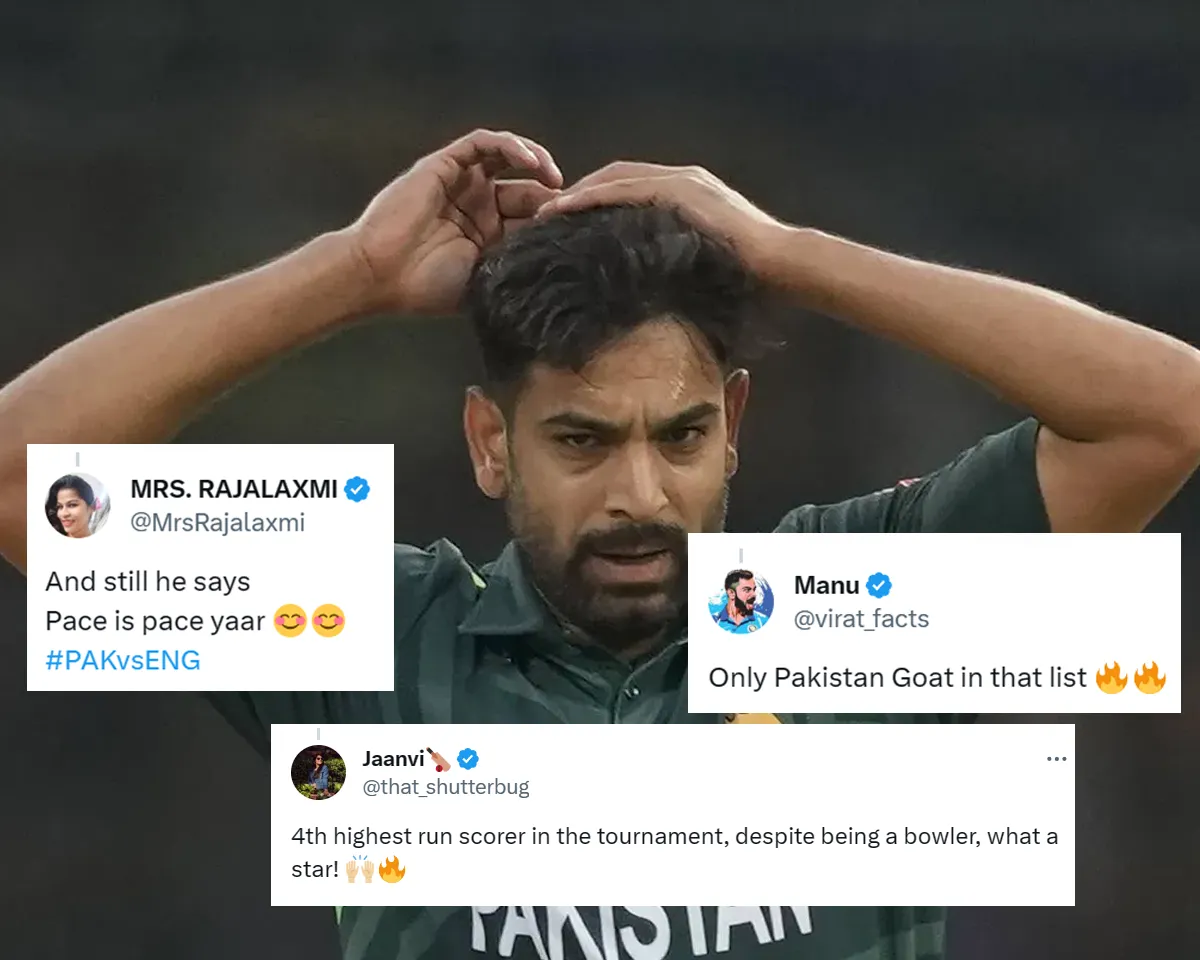 Haris Rauf came into the ODI World Cup 2023 touted as the fastest bowler in the world currently. During the game on Saturday, the Pakistani pacer conceded 500 runs in the tournament, which prompted the fans to heavily troll the 30-year-old pacer.
In the eight games prior to the game in Kolkata, Haris Rauf had picked 13 wickets. Those wickets though have come at a high economy rate. The Pakistanis have been eliminated from the ODI World Cup 2023 despite having two of the best pace bowlers in the world.
Pakistan came into the game needing to bat first in a bid to fold England out cheaply when defending the total. The exit for the men in green was confirmed when Jos Buttler decided to bat first after winning the toss.
Haris Rauf concedes 500 runs in ODI World Cup 2023 –
Pakistani bowler Haris Rauf was the subject of huge trolling as he conceded his 500th run during the ODI World Cup 2023 tournament. The 30-year-old pacer has been time and again called the fastest bowler in the current era.
Coming into the tournament, it was expected that Haris Rauf would form a lethal partnership with Shaheen Shah Afridi. The 30-year-old though has been taken to the cleaners in each of the matches he has played so far.
In the big game versus India, Rohit Sharma hit the Pakistani pacer all over the park. David Warner too showed no mercy during his 163-run knock against Pakistan in Bengaluru. Many of the Pakistani experts were left bemused at the lack of success Haris Rauf has had during the ODI World Cup 2023.
Just a few days ago, the Apex Cricket Body had declared the Virat Kohli six off Haris Rauf as the shot of the century. The moment occurred during the India versus Pakistan game in Melbourne during the 2022 T20 World Cup.
Speaking about the shot, the former Indian skipper said "There is one thing that is practice on technique and on skill. There is one where you think about techniques that you can use to win the match or if I can play like this, this is an improvement for sure."
In his three overs against England on Saturday in Kolkata, Haris Rauf has already given 31 runs from his 3 overs. Dawid Malan and Jonny Bairstow took full toll on the erratic bowling from the 30-year-old pace merchant.
Here's how the fans reacted –
Haris Rauf has conceded 500 runs in this World Cup now. pic.twitter.com/DfA4c8wB7I

— Mufaddal Vohra (@mufaddal_vohra) November 11, 2023
And still he says
Pace is pace yaar 😊😊#PAKvsENG

— MRS. RAJALAXMI (@MrsRajalaxmi) November 11, 2023
4th highest run scorer in the tournament, despite being a bowler, what a star! 🙌🏼🔥

— Jaanvi🏏 (@that_shutterbug) November 11, 2023
Only Pakistan Goat in that list 🔥🔥

— Manu (@virat_facts) November 11, 2023
500 runs by Haris Rauf.
Just like a Wow 🤌 pic.twitter.com/qogpQVExmB

— Abhishek Ojha (@vicharabhio) November 11, 2023
So beautiful,So elegant just looking like a wow 🥵🔥 pic.twitter.com/SXd0W3PuHk

— Dinda Academy (@academy_dinda) November 11, 2023
His name should be Breaking Rauf ! pic.twitter.com/wovzUDEsHe

— Aditya (@AdityaDntCare) November 11, 2023
Good job by him pic.twitter.com/tsHVTlQRBU

— 𝖨ɑოડ𝗈𐓣ɑ 🍒 (@iamsonarajput) November 11, 2023