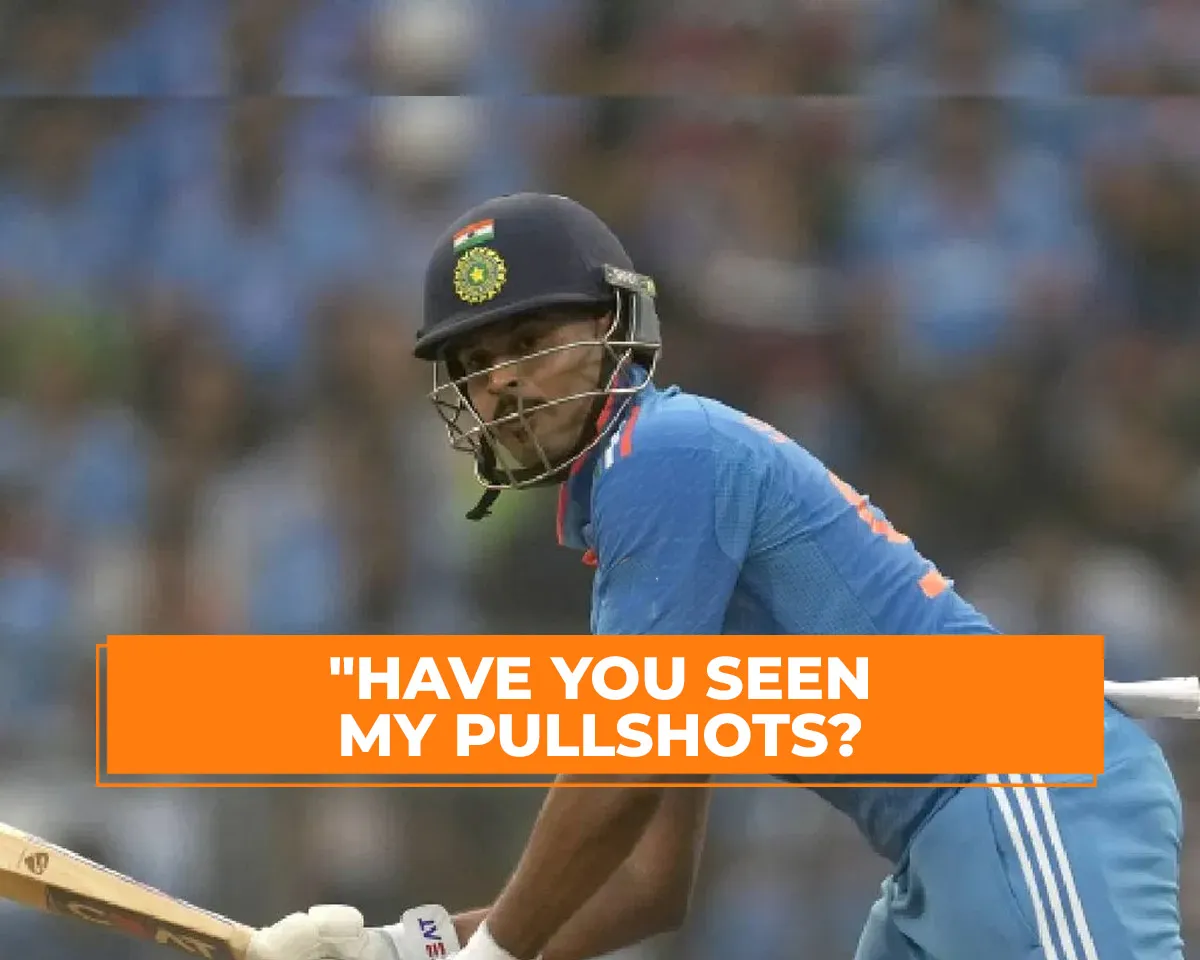 Indian batter Shreyas Iyer was a relieved man at the end of the game versus Sri Lanka on Thursday. The 28-year-old scored 82 runs to notch up his second fifty of the ODI World Cup 2023 tournament.
Despite his match-winning efforts, Shreyas Iyer was seen unhappy. The 28-year-old was posed with questions about his penchant to get out to the short-pitched bowling. This left Shreyas Iyer angry as he was getting angry at the reporters.
The Indian cricket team became the first side to qualify for the semi-finals of the ODI World Cup 2023. Sri Lanka were bundled out for a mere 55 runs as the Indian team won the game by 302 runs against a huge crowd in Mumbai on Thursday.
Shreyas Iyer loses his cool at journalists –
Moments after India had beaten Sri Lanka to confirm their place in the final four of the ODI World Cup 2023, Shreyas Iyer was facing the journalists. One of the scribes in attendance posed a question to Iyer about his problems against the short-ball.
Shreyas Iyer reply to all clowns who trolls him for Short Bowls!!

I hope agendaDhari Pattalkaar @vikrantgupta73 & Sky Lobby is hearing him🤡#INDvSLpic.twitter.com/vmvX4OU4NB

— Rajiv (@Rajiv1841) November 2, 2023
Shreyas Iyer wasn't impressed with the question when he replied "When you say it's a problem for me. What do you mean?" The journalist tried to rephrase the question when he said "not a problem exactly, but it has troubled you".
At this point, Shreyas Iyer could be seen fuming when he said "Troubled me? Have you seen how many pull shots I've scored, especially that have gone for four? If you're trying to hit a ball, you're bound to get out anyway, irrespective of if it's a short ball, if it's overpitched. If I get bowled two or three times, you all would say, 'he can't play an inswinging ball, he can't play a cut if the ball is seaming'.
The Indian batter further explained "We as players, we are bound to get out on any sort of deliveries. You guys have created that mahaul [atmosphere] outside that 'he can't play a short ball', and I feel that people are picking that up every now and then and it plays on your [the media's] mind regularly, and you keep working on that"
Shreyas Iyer scored 82 runs off just 56 balls which also included six huge sixes. Iyer credited his familiarity with the Mumbai conditions. Iyer said "Coming from Mumbai, especially from Wankhede where the bounce is pretty much even, here it bounces way more than any other pitches,"