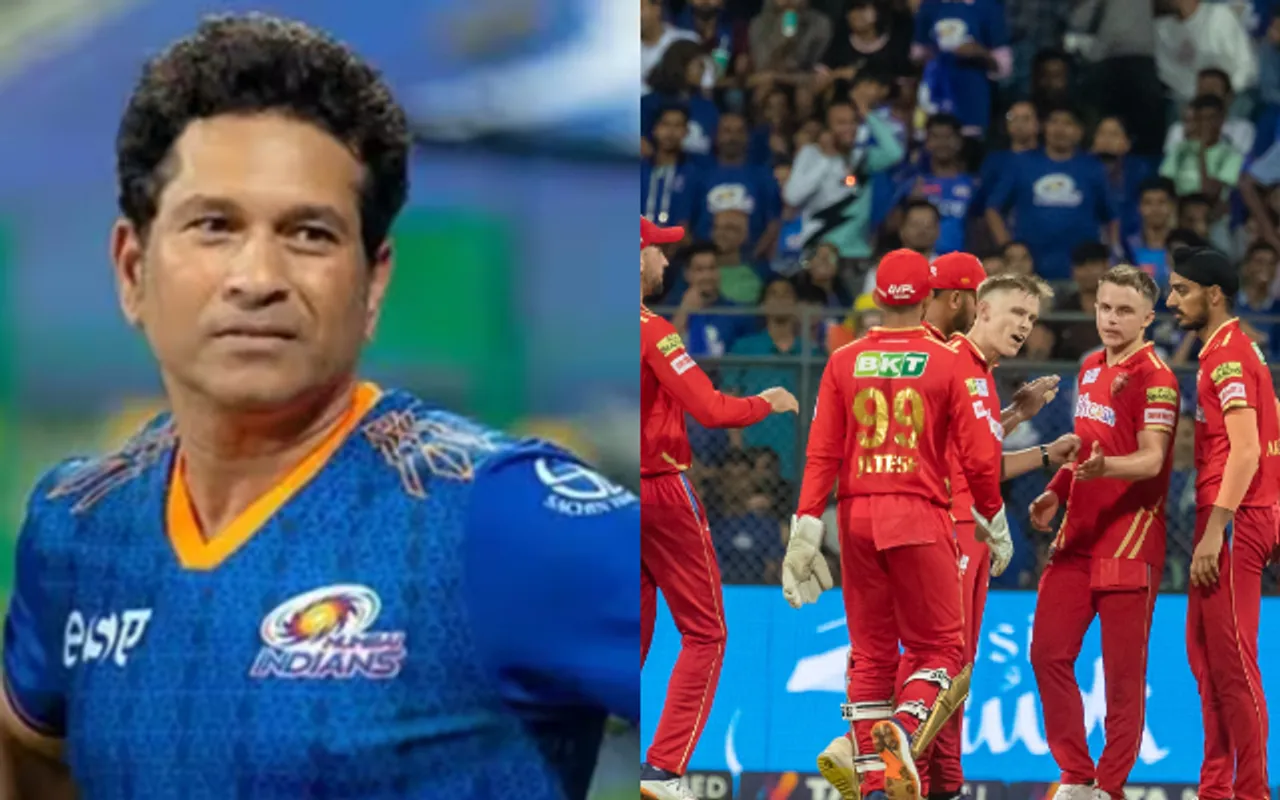 Legendary cricketer Sachin Tendulkar has earned a lot of respect from cricketers around the globe. His legacy during the course of his 24-year career from 1989 to 2013 has had a great impact. Meanwhile, the Mohali-based IPL franchise got caught up in controversy during their game against Mumbai Indians. Apparently, while praising Prabhsimran Singh, the Twitter handlers of the Kings struck off Tendulkar's name.
This has created a stir on social media with fans bashing them endlessly. On the other hand, the five-time winners arranged a birthday cake and a celebration for their former player and now mentor, Tendulkar. After the first innings of the game, the right-hander could be seen cutting the cake although he would turn 50 on April 24.
The name that you've scratched na his one century has more legacy than your team's entire existence.
Pour as much puns as you want but as a professional team know to draw the line or just run a fan page.

— Shrutika Gaekwad (@Shrustappen33) April 23, 2023
Just the audacity to strike off that name.

— Anuj Nitin Prabhu (@APTalksCricket) April 23, 2023
sachin's left leg is bigger than pbsdk

— Sharp🦘 (@Sharp__14) April 22, 2023
Sachin paji khud 5'3 ke hai unki leg to aur choti hogi 😹😹

— ༒𝕾𝖍𝖆𝖘𝖍𝖆𝖓𝖐༒¹⁸ (@Nottingham_103) April 22, 2023
Ridiculous tweet. Sachin is an emotion. Shame on you.

— Rohit Gupta (@Rowhitz) April 23, 2023
Pls respect the legend @BCCI this is totally uncalled for

A franchise handle tweeting this is not acceptable#mivpbks#MIvsPBKS @realpreityzinta

— Telugu Box office (@TCinemaFun) April 22, 2023
— Ankit Jain (@indiantweeter) April 23, 2023
Punjab ka admin ganja phunk ke tweet karta hai

— Babu (@Babu60879339) April 22, 2023
Don't disrespect Sachin Tendulkar !

Delete it ASAP

— Tanmoy Chakraborty🩺⚕️ (@Tanmoycv01) April 22, 2023
It will take atleast 25 Simrans with 50 matches each to erase Sachin Sachin and get it replaced..

1 Simran se nahi hoga

— Misty Sinha (@naive_shrewd) April 22, 2023
Former India cricketer Anshuman Gaekwad Sachin Tendulkar's glorious days
"It makes me happy to say that we have played Ranji together. It was my last year. One of the Mumbai cricketers brought him to me . It was a game in Thane, and I sat with him for about 45-45 minutes, and the whole time he listened and did not blink once," Gaekwad recalled.
"That itself indicated that he wanted to be somebody in the game. He was not listening. It looked as if he was drinking what I was saying. Very patient and concentrating," said the former India opener, who played 40 Tests and 15 One-Day Internationals (ODIs).
"Unfortunately, we lost the game, but he was declared man of the match, and he did not go to accept the award. I had to do that for him. It showed he was a total team man," said Gaekwad, referring to Tendulkar's 136 against Pakistan in 1999.