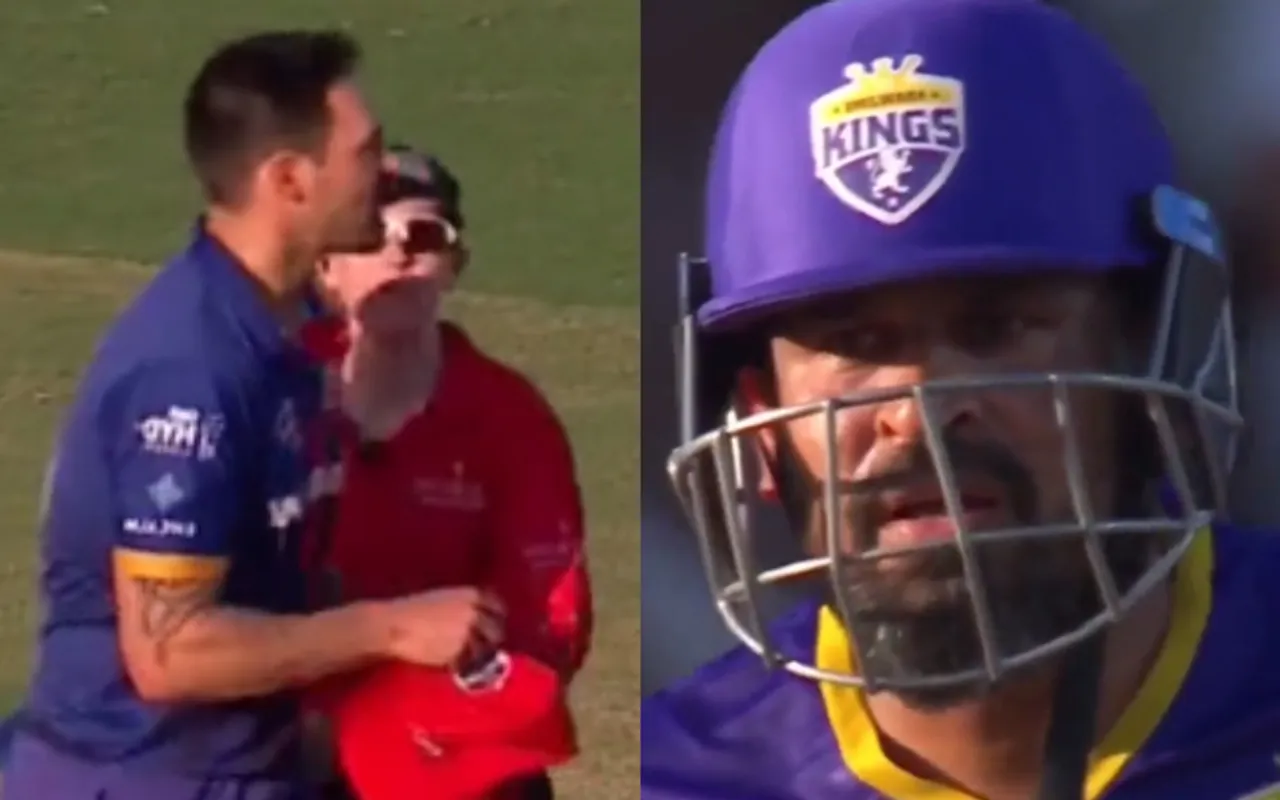 The final of the Legends League Cricket 2022 is slated to be played on Wednesday between Bhilwara Kings and India Capitals. However, the one incident which has constantly been making headlines is the recent verbal spat between Yusuf Pathan and Mitchell Johnson. For those of you who don't know, the duo got involved in an on-field spat in the qualifier match on Sunday.
In the video, Johnson could be seen pushing Yusuf Pathan away after the latter came towards him to say hurl a few words. While the fans have been lashing out at Mitchell Johnson for his on-field antics, a recent report claims that it was Yusuf Pathan who was at fault and not the Australian fast bowler. As per a report published by Australian media, the on-field brawl took place because of Yusuf Pathan's misconduct.
#ICYMI: Things got really heated in @llct20 between Yusuf Pathan and Mitchell Johnson. 🔥 pic.twitter.com/4EnwxlOg5P

— Nikhil 🏏 (@CricCrazyNIKS) October 2, 2022
On the final ball of Johnson's over, after the female umpire didn't call it a wide, Yusuf Pathan sledged her for the decision. It prompted Johnson to give it back to the Indian batter, which resulted in a fight.
"Mitch did nothing. was sledging the female umpires," Fox Cricket Australia quoted a player as saying, who decided to keep his identity anonymous.
Well, it's not clear how true the story is. Meanwhile, the left-arm pacer has been warned for his misconduct and has also been fined 50 percent of his match fees. Yusuf Pathan, on the other hand, has escaped with no penalty.
"We are here to promote serious and competitive cricket through this league. What happened yesterday on the ground during the qualifier match shouldn't have happened. We have closely gone through the video multiple times before coming to any conclusion. I hope everyone gets a clear message that the spirit of the game is of prime importance and such things won't get repeated in this league," said Raman Raheja, CEO, and Co-Founder of Legends League Cricket.
It has been a great contest between the two so far in the league. In the ongoing season, Yusuf Pathan has smashed 48 runs in 28 balls against the Australian pacer. They are, once again, likely to face each other on Wednesday.