Rafael Nadal is one of the biggest names in tennis history. Regardless of the different fans' opinions, the Spaniard will remain forever in the highest records book side to side with the biggest sports names. Nadal simply is one of the biggest ever tennis players and one of the most impressive athletes over the last decades. With 34, Nadal continues to collect titles and records alongside Federer and Djokovic, in a rivalry that lasts since 2003.
Get to know some of the most fascinating marks and records of Nadal's career.
Nadal's first professional title was back in 2004
Rafael Nadal's first professional title was in 2004, at the ATP 250 in Sopot, Poland. Since then, the Spaniard won numerous titles. In 2005 he surprised the world by securing an incredible record of 11 titles, four of them Master 1000 tournaments (Montreal, Madrid, Rome and Monte Carlo) and also his first Grand Slam at Roland Garros.
Until today, he won 96 tournaments, 85 in singles, and 11 in doubles. In his curriculum, he has 19 Grand Slams, which is the second-best in history. Two Olympic Gold Medals complete his remarkable list of trophies.
The true king of clay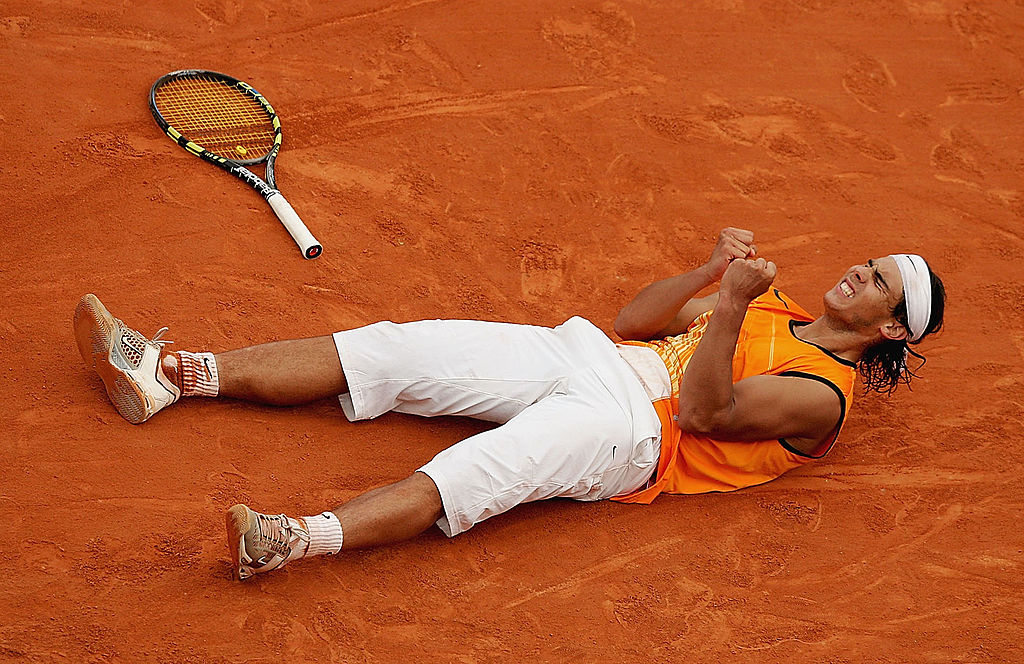 Rafael Nadal is the best player ever on clay. No doubts about it. His numbers are truly breathtaking on this surface, leaving the competition far behind. The Spanish star has 58 titles on this surface, 12 of them being at Roland Garros. He is the record holder in the French grand Slam. Max Decugis follows him in the list of the biggest French Open winners (8). He dominates the tournament since the beginning of the century, at a time when the competition was far from the current level. True legends of modern tennis like Bjorn Borg (6), Ivan Lendl (3), Gustavo Kuerten (3) or Mats Wilander (3) are far behind the Spaniard. Never in the history of the sport has anyone won a Grand Slam as many times as he did it in Paris.
Rafael Nadal's career is not limited to individual titles. With the Spanish team, he has won 5 Davis Cup and two Olympic gold medals: Beijing 2008 (individual) and Rio in 2016 (doubles).
Nadal: Some impressive records
He is the player with the most consecutive victories on clay: 81 in total.
Nadal is the youngest tennis player ever to complete a Career Grand Slam. Something that only Andre Agassi, Roger Federer, Rod Laver, Roy Emerson, Don Budge, Fred Perry and Novak Djokovic have achieved so far.
The only player to win the same Grand Slam for 10 consecutive years.
Alongside Agassi, he is the only player to win four Grand Slams and an Olympic Gold Medal: the Golden Slam.
Since his first appearance at Roland Garros, Nadal lost only two games.