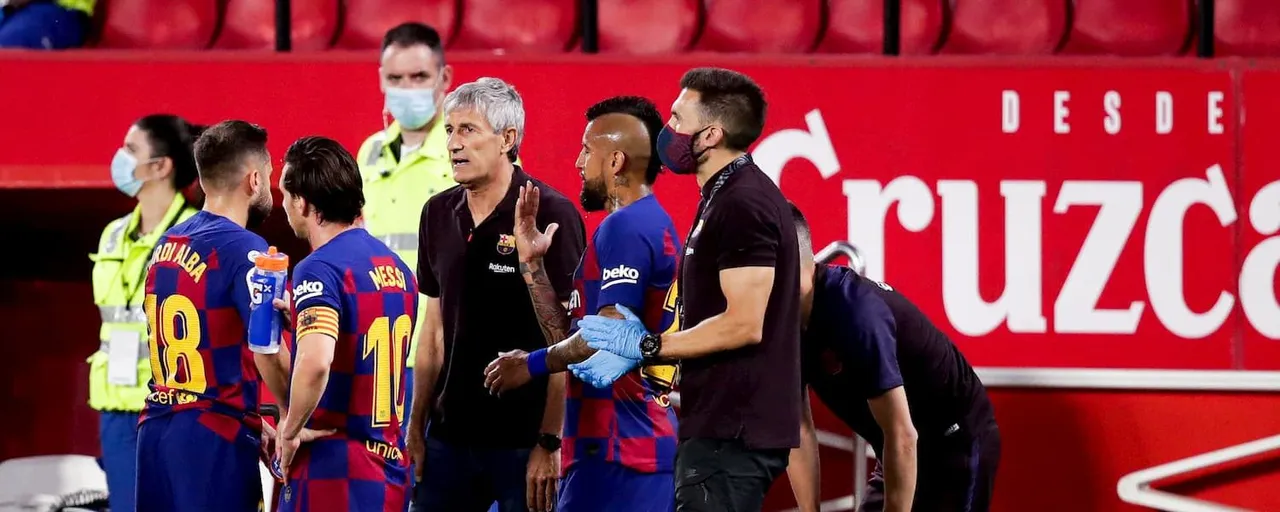 Barcelona is going through tough times lately. Not only by recent results but also by the visible discomfort between players and coaching staff.
It went viral the scenes starring Lionel Messi and Eder Sarabia, Quique Setien's assistant coach. During the pause for hydration at Abanca-Balaidos against Celta Vigo, Messi visibly ignored Sarabia's approach. The Argentinian turned his back twice at Sarabia. During that same period, Rakitic argued with some members of the staff, and Quique Setien was completely shut, with no communication with the team.
Later, Luis Suarez was seen arguing with Sarabia at the bench as Barcelona conceded the draw in the final stages against Celta Vigo.
How things reach this point in Barça's locker room? What's the reason behind Messi's discomfort with Eder Sarabia?
Barcelona could see Real Madrid open a 4-point lead tomorrow in case of a win against Getafe. With 5 games left to play in La Liga, Barça's title hopes will be pretty much over if that happens.
It was precisely against Real Madrid that all this conflict began. Sarabia was visibly arguing and criticizing the players during the 2-0 loss at Santiago Bernabeu. That moment marked the beginning of a conflict that damaged Barcelona's performances in the Spanish League.
Eder Sarabia apologized after the incidents at Bernabeu. Barcelona tried to hide the discomfort in the team with images showing the assistant coach engaging with the players in La Masia after El Clasico.
After another episode at Abanca-Balaidos, the team was seen in a circle debating the incident. But Quique Setien wasn't objective about what was discussed. At the press conference before the game against Atletico Madrid, the coach couldn't explain how was the relationship between the team and the coaching staff. Watching Griezmann being sent to the pitch in the 90th minute was another erratic decision.
Multiple sources point to Setien's dismiss, and names like Xavi Hernández, Marcelo Gallardo, or even the return of Pep Guardiola continue to rise. That scenario of a new coaching staff seems inevitable for next season. Now, it remains uncertain if Quique Setien keeps his role as Barcelona are still fighting for the Champions League, or the board will seek an interim coach until the end of the season.