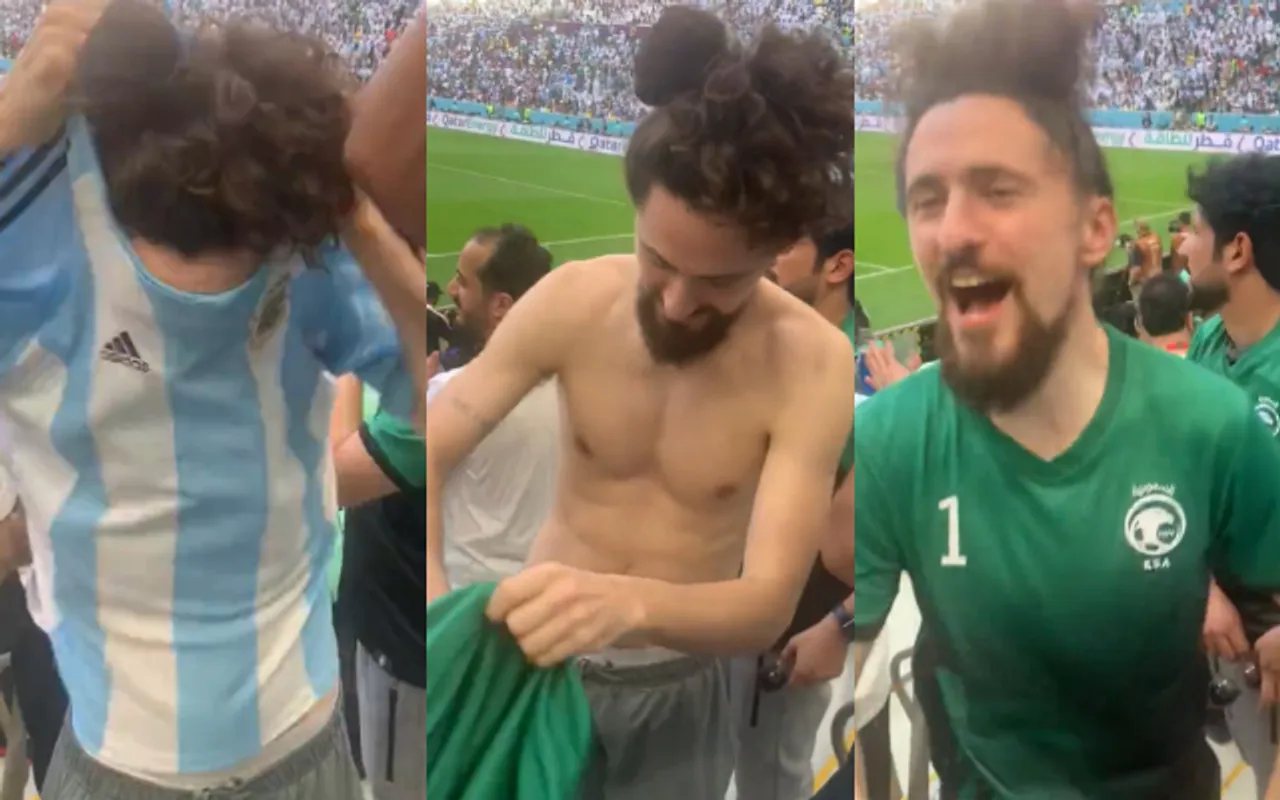 On 22 November 2022, Argentina began their FIFA World Cup campaign in Qatar against Saudi Arabia. The match took place in the Lusail Stadium. However, all Argentina fans were waiting to see Lionel Messi in action. This World Cup is going to be the last one for the Argentine superstar.
Argentina came to this clash after enjoying a 36-game unbeaten streak to their name. So, everyone was expecting them to win this game with ease. But, they failed to do so as they suffered a shocking loss to Saudi Arabia with a scoreline of 2-1. During that match, a video has now gone viral where An Argentina Fan was seen getting involved in a funny activity.
Here is the shared video:
We all Saudi now 🇸🇦🇸🇦🇸🇦 pic.twitter.com/SCpysHIX4e

— VUJ (@DavidVujanic) November 22, 2022
Lionel Messi failed to guide Argentina to a win in their World Cup opener
Speaking of the video, an Argentine fan was seen swapping his jersey with a Saudi Arabia fan after Saudi Arabia took the lead over Lionel Messi's side. He was seen swapping the jerseys and then, he was seen celebrating with others by wearing the Saudi Arabi jersey. 
Speaking of the match, Argentina made a good start as Lionel Messi scored the opening goal from the spot in the 10th minute. Argentina fans were over the moon after having such a great start to this encounter. Then, they managed to score two goals. But, unfortunately, both goals turned out to be off-side. Then, the first half of the match ended with Argentina leading Saudi Arabia by one goal to nil.
But, in the second half, Saudi Arabia shocked everyone by scoring two quick goals in the 48th and 53rd minute respectively. Within that five minutes of play, Saleh Alshehri and Salem Aldawsari managed to take a lead over Argentina. Then, Argentina tried hard to make a comeback in the game. But, Saudi Arabia kept their nerves and managed to hold their lead until the final whistle. Thus, Saudi Arabia managed to pull off the first upset of this World Cup by defeating Lionel Messi and his men with a scoreline of 2-1.