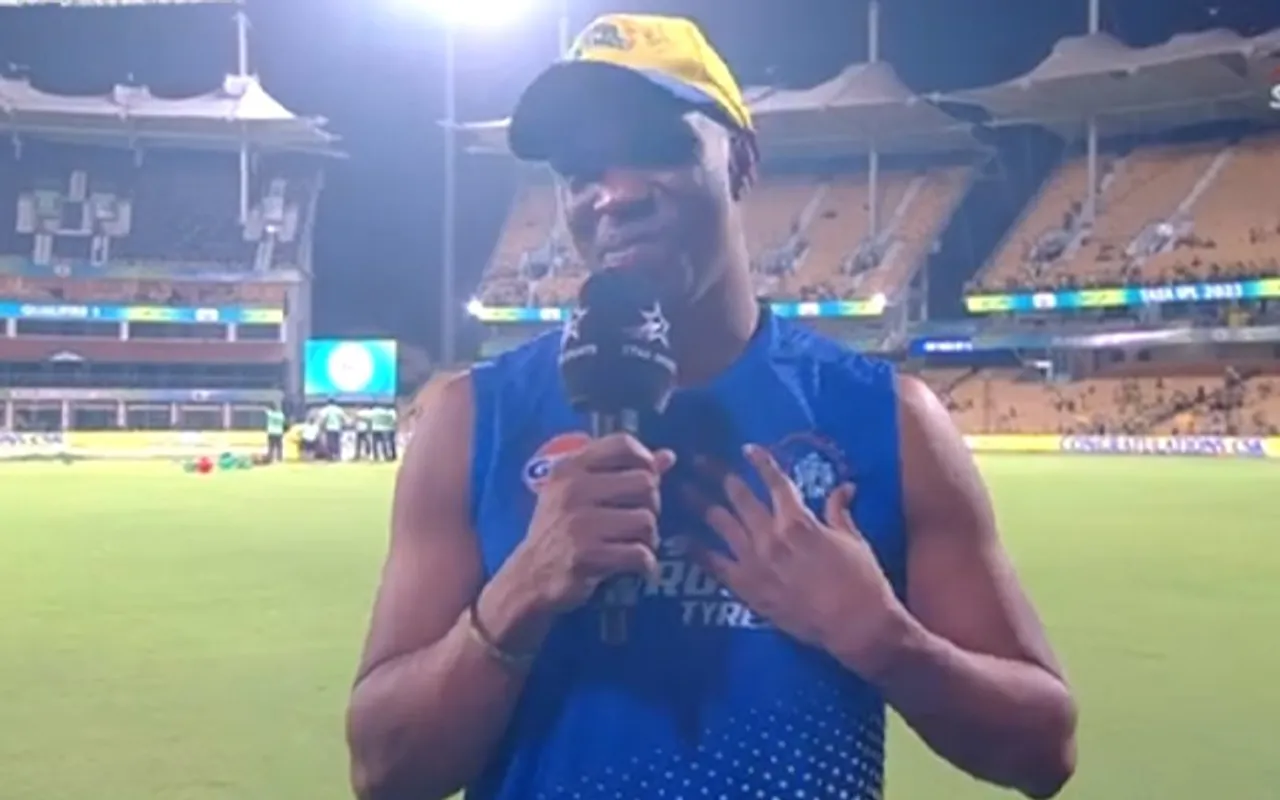 The rivalry between Mumbai Indians and Chennai Super Kings is one of the greatest in the Indian Premier League. Whenever these two teams clash against each other, entertainment is guaranteed. The tournament's two most successful teams may compete again in the IPL 2023 Finals.
CSK beat Gujarat Titans in the first Qualifier to book a spot in the finals, while MI beat Lucknow Super Giants in the Eliminator to advance to the second Qualifier. They will now face GT for the second final slot on Friday at Ahmedabad's Narendra Modi Stadium.
In the meantime, CSK bowling coach Dwayne Bravo joked about the rivalry between CSK and MI, stating he wouldn't want the Super Kings to meet the Mumbai Indians in the final. "No, I am scared of Mumbai (laughs). We don't see it like that. All three other teams are dangerous teams. They are quality teams," Bravo told Star Sports after CSK's 15-run win over GT.
"Yeah, I mean, honestly, my personal feeling, I don't want Mumbai. My friend Pollard knows that. But, jokes aside, all the best to the other teams. We are looking forward to whoever we are going to face. I think we have got it," he added.
Bravo's lighthearted remark highlights MI's IPL domination against CSK over the years. The two teams have met in the final four times, with Mumbai winning three times, including 2013, 2015, and 2019, and CSK winning their first-ever encounter in a final in 2010.
The Men in Blue and Gold will seek vengeance for their previous two losses against CSK this season. While they started the season on a losing note, with two consecutive defeats, they qualified for the playoffs as RCB fell short to GT in the last league game.
In the meantime, fans have been trolling Dwayne Bravo for his comments. "Yeh darr hona chahiye. Yeh darr mujhe accha laga," wrote a user on Twitter. "Meanwhile Mumbai Indians:- Jalwa hai humare," wrote another.
Here is how fans trolled Dwayne Bravo
Khauf nahi chutiyo Ambani ke bare me indicate kar raha hai

— VIRAT THE GTEATEST (@18mahi18) May 25, 2023
If mi score below 145 they will win 👍

— Yashwanth Rao (@YRS2tweets) May 25, 2023
if mi goes final then mi will win the trophy,he fear of bravo

— #Raam. (@Raam_Pspk) May 25, 2023
Deepak Chahar Said "we wish to compete with MI in finals & want to defeat them" On Jio Cinema

— Rajesh Negi (@I_Am_RNegi) May 25, 2023
First beat GT 🤣

— Vinay (@vinayKuma_57) May 25, 2023
May 25, 2023
May 25, 2023
Laughs meaning 😂 revenge time is loading..

— Jay JD❤️ (@MasterJayaraj01) May 25, 2023
Meanwhile Mumbai Indians:- Jalwa hai humare

— N I K H I L (@nikhilkalavale) May 25, 2023
Ager dhoni a interview dekh liya bravo out from CSK

— N I K H I L (@nikhilkalavale) May 25, 2023