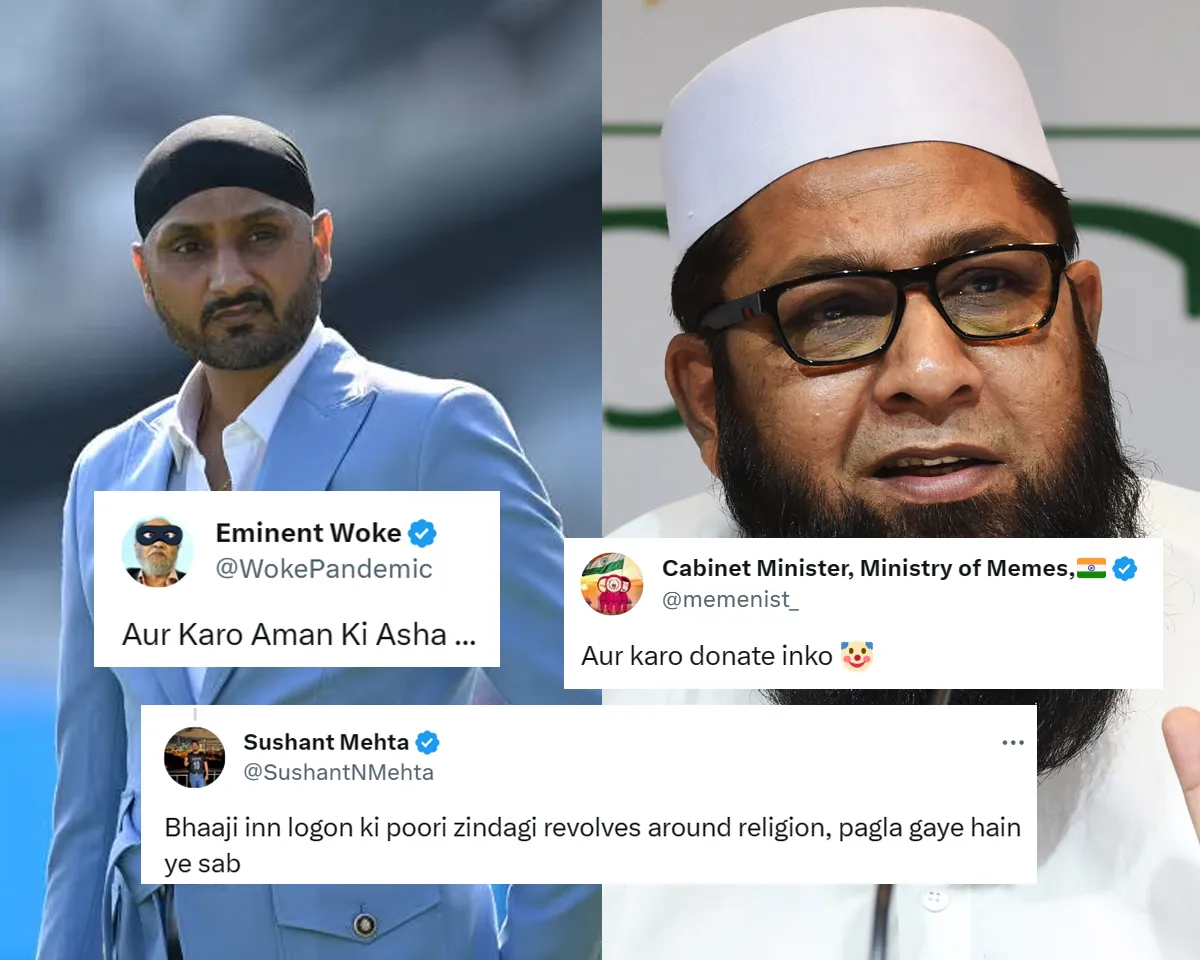 Former Indian off-spinner Harbhajan Singh bashed former Pakistan skipper Inzamam-ul-Haq after the latter came up with some controversial statement. Recently, a video is making rounds on social media in which Inzamam is making a claim that the former Indian spinner was quite influenced and impressed with Pakistan-based Muslim scholar Maulana Tariq Jameel and was very close to converting to Islam.
We had a room where players were conducted. Maulana Tariq Jameel used to visit us in the evening and lead us into a namaz. After a few days, Irfan Pathan, Mohammad Kaif, and Zaheer Khan also started coming and joined us. Four other Indian cricketers sat and watched us," said Inzamam in a viral video.
"Harbhajan, who was unaware that Tariq Jameel was a maulana said 'I am impressed with this man and want to follow his words," he added.
But it seemed like Inzamam's remarks didn't go down well with Harbhajan Singh as soon as he came to know about the same. The two-time World Champion Indian cricketer lashed out at the former Pak skipper for this controversial statement.
"Ye kon sa nasha pee kar baat kar rha hai? I am a proud Indian and proud sikh..ye bakwas log kuch bhi bakte hain (What kind of intoxication he had before talking? I am a proud Indian and proud sikh, these rubbish people babble all non-sense," wrote Harbhajan Singh in his tweet as a response to Inzamam-ul-Haq's controversial remarks.
Here's a look at Harbhajan Singh's tweet 
Yeh kon sa nasha pee kar baat kar raha hai ? I am a proud Indian and proud Sikh..yeh Bakwaas log kuch bi bakte hai 😡😡😡🤬🤬 https://t.co/eo6LN5SmWk

— Harbhajan Turbanator (@harbhajan_singh) November 14, 2023
Harbhajan Singh's tweet in reply to Inzamam-ul-Haq's 'religious' provocative statement, the fans also came up with a lot of divided reactions over X (formerly Twitter). 
Talking about cricket, Inzamam-ul-Haq was recently in the headlines after he resigned as chief selector of Pakistan's men's cricket team following the embarrassing group-stage exit from the ODI World Cup 2023.
"Inzamam-ul-Haq voluntarily stepped down from his position on 30 October to offer the PCB the opportunity to conduct a transparent inquiry about the conflict of interest allegations," said the official statement released by PCB.  
Here's how fans reacted to Harbhajan Singh's reply to Inzamam-ul-Haq:
Aur karo donate inko 🤡

— Cabinet Minister, Ministry of Memes,🇮🇳 (@memenist_) November 14, 2023
Bhaaji inn logon ki poori zindagi revolves around religion, pagla gaye hain ye sab

— Sushant Mehta (@SushantNMehta) November 14, 2023
Aur Karo Aman Ki Asha ...

— Eminent Woke (@WokePandemic) November 14, 2023
magar bhai tu toh support karta hai inn pakistanis ko

— Sunil the Cricketer (@1sInto2s) November 14, 2023
Raaz Khul Gya 🧐👀 pic.twitter.com/Ja9lzeD9Qx

— Prof cheems ॐ (@Prof_Cheems) November 14, 2023
Bhai agr convert hote to naam kya rhkte 😂😂

— Ayush (@vkkings077) November 14, 2023
Bilkul sahi baat hai Sir. Ab yeh bhi elaan krdo ki kisi Pakistani cricketer k sath stage share nahi kroge naa kisi Pakistani charity mei donation doge.

— Walter Red (@WalterScientist) November 14, 2023
You deserve it. Pyaar bhi bht aata hain na tumko inpr.

— Kunal Yadav (@Kunal_KLR) November 14, 2023
Owned him 🤣 pic.twitter.com/AWeRaNcykZ

— TEJASH 🚩 (@LoyleRohitFan) November 14, 2023
देख लिया ना नतीज़ा ज्यादा secularism दिखाने का.. भज्जी सर आप सिक्ख हो जिस कौम ने अपने लोगों की रक्षा के लिए इनके सामने सर कटा दिए अपने बच्चों की कुर्बानी दे दी... ये केश कृपाण कटार और कच्छा आपके गुरुओ की देन है इसे कभी secularism की भेंट मत चढ़ने देना ये आपके 10 गुरुओं का गरूर…

— सलोनी (@Imjytk) November 15, 2023