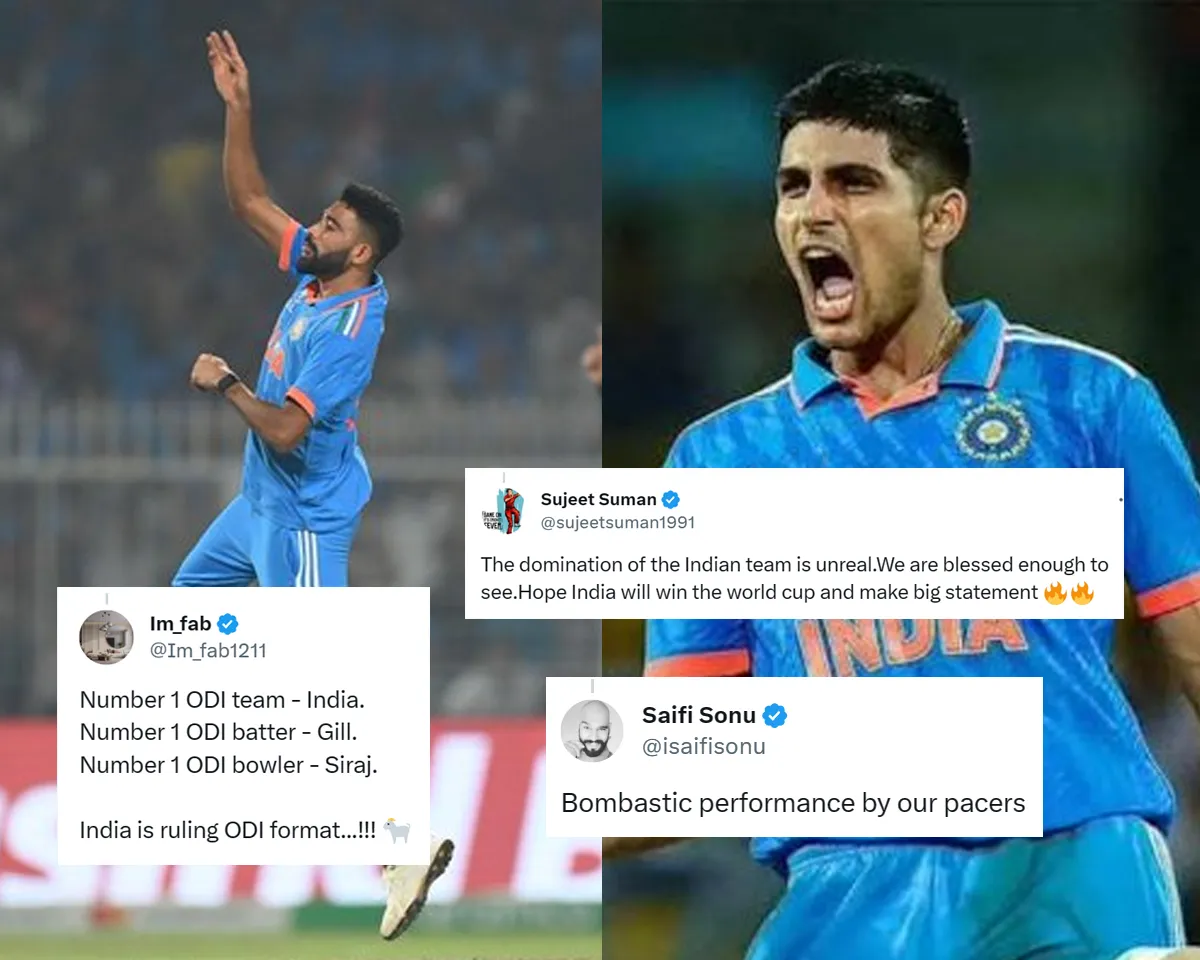 In a delightful piece of news for Indian cricket fans, the star Indian pacer Mohammed Siraj and young batter Shubman Gill have now become the number one bowler and number one batter, respectively in the ODI format. Siraj and Gill have dethroned the Pakistan batter Babar Azam and pacer Shaheen Afridi from their respective number-one positions.
Notably, the other Indian bowlers, alongside Mohammed Siraj have also performed brilliantly in the tournament so far. For the first time in history, four Indian bowlers have made it to the top-10 rankings in the ODI format.
Following Mohammed Siraj, Kuldeep Yadav recently moved to the fourth spot in the international bowlers rankings. From an Indian point of view, Kuldeep is followed by star pace spearhead Jasprit Bumrah who is at the 8th spot, including a fresh entry of the veteran pacer Mohammed Shami in the top-10 rankings with 10th spot to his name.
Three Indian players make a cut in top-10 ODI batters
Apart from that, speaking of top-10 rankings of teams, the men in blue are dominating with the top spot across all formats, having their players as number one ODI batter, number one ODI bowler, No. 1 Test bowler, No.1 Test all-rounder, and No.1 T20I batter.
Meanwhile, the Indian cricket fans are also pleased and they come up with a lot of praising reactions for Team India and the star Indian players who are dominating the international rankings.
Coming back to the rankings, the Indian players are also dominating in the ranking of batters in the ODI format, including Shubman Gill at No.1, Virat Kohli at No.4, and skipper No.6.
Currently, Team India are completely in a dominating position in the ongoing ODI World Cup 2023 as they are unbeaten with 8 successive wins in the 8 matches, they played so far in the tournament. Now, the men in blue will face the Netherlands in the last league match of their World Cup campaign.
Here's how fans reacted to Indian dominance in the international rankings:
Number 1 ODI team - India.
Number 1 ODI batter - Gill.
Number 1 ODI bowler - Siraj.

India is ruling ODI format...!!! 🐐

— Im_fab (@Im_fab1211) November 8, 2023
Bombastic performance by our pacers

— Saifi Sonu (@isaifisonu) November 8, 2023
The domination of the Indian team is unreal.We are blessed enough to see.Hope India will win the world cup and make big statement 🔥🔥

— Sujeet Suman (@sujeetsuman1991) November 8, 2023
Domination of Team India pic.twitter.com/79GQxsJb5n

— Andleeb Akhtar 🇮🇳 (@mr_akhtar_17) November 8, 2023
Best time of Indian Cricket 🏏

— Surinder (@navsurani) November 8, 2023
This is India's best bowling attack

— Yaqzan Alam Siddiqui (@AlamYaqzan) November 8, 2023
Bombastic performance by our pacers

— Saifi Sonu (@isaifisonu) November 8, 2023
India is doing great recently in WC so they deserve the appreciation 👍

— Fatima Zahra (@its_fatiiiii) November 8, 2023
This is the first time in history that 4 Indian bowlers have been able to make their place in the top 10. Congratulations to all.

— Aryan Pandey (@AryanPa66861306) November 8, 2023
India should be proud of their bowlers

— Manum✨ (@InfoMahnoor) November 8, 2023
Greatest Team On This Planet 🐐

— deepfekzehar (@deepfuk_zehar) November 8, 2023