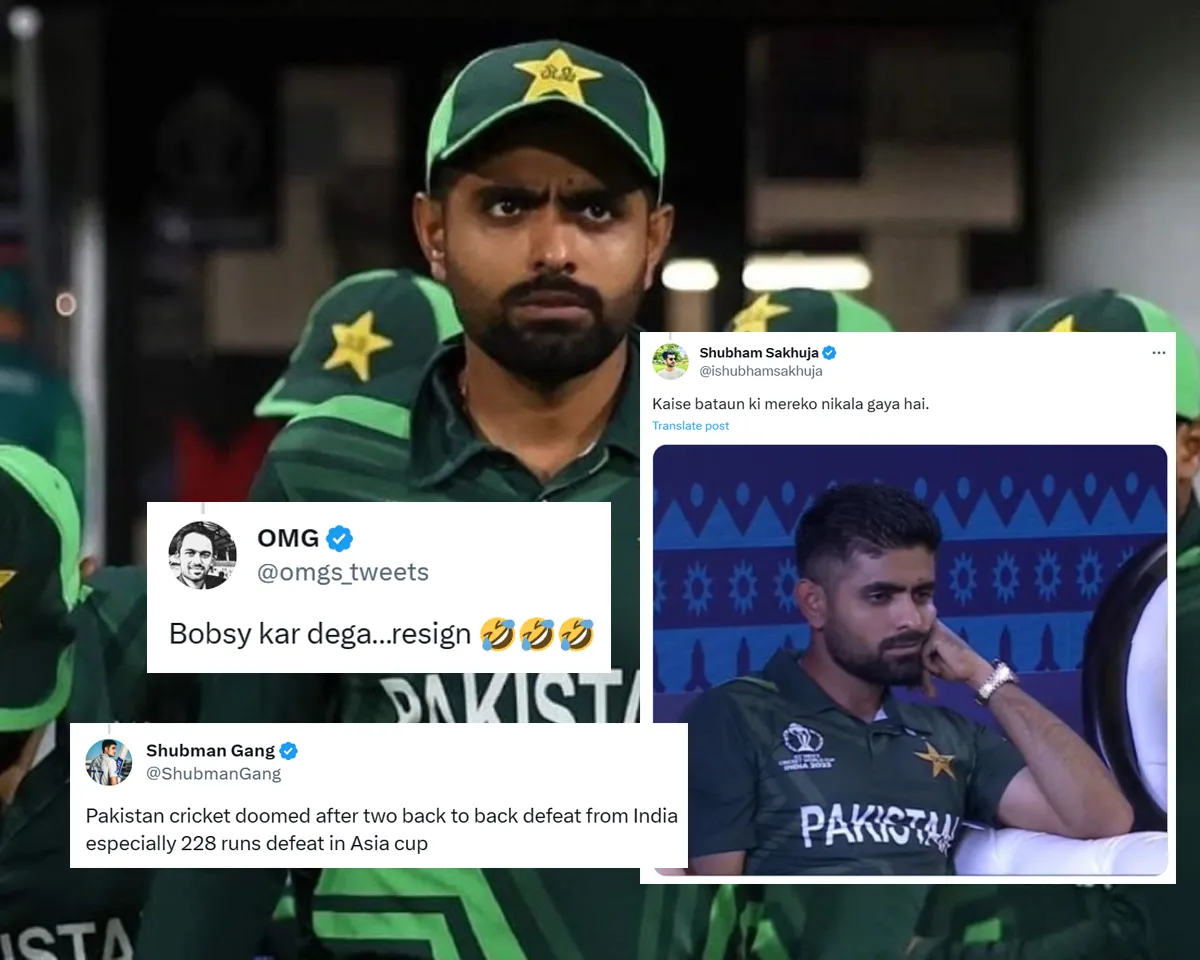 In a recent and shocking piece of news for the Pakistan cricket team and Pakistan cricket fans, the Pak skipper Babar Azam resigned as captain of the national men's cricket team across all the formats of the game. Babar Azam announced his retirement with a message in a tweet from his official Twitter handle.
Babar's resignation from captaincy has come in the aftermath of the Pakistan cricket team's dismal run in the ongoing ODI World Cup 2023 as the team got knocked out from the league stage of the tournament with 5 defeats out of the 9 matches, they played in the league stage, registering only 4 wins.
"I vividly remember the moment when I received a call from PCB to lead Pakistan in 2019. Over the past four years, I've experienced many highs and lows on and off the field, but I wholeheartedly and passionately aimed to maintain Pakistan's pride and respect in the cricket world," wrote Babar Azam in his X-post.
"Reaching the number one spot in the white-ball format was a result of the collective efforts of players, coaches, and management but I'd like to express my gratitude to passionate Pakistan cricket fans for their unwavering support during this journey," he added later.
"I will continue to represent Pakistan as a player in all three formats." - Babar Azam
Furthermore, he informed me about resigning from his captaincy role for the Pakistan cricket team and also cleared his plans for the future with the team after stepping down from the captaincy.
"Today, I am stepping down as the captain of Pakistan in all formats. It's a difficult decision but I feel it is the right time for this call. I will continue to represent Pakistan as a player in all three formats. I am here to support the new captain and the team with my experience and dedication," stated Babar.
"I want to express my sincere thanks to the Pakistan Cricket Board for entrusting me with this significant responsibility," he concluded.
Here's how fans reacted to the resignation of Babar Azam from captaincy:
Kaise bataun ki mereko nikala gaya hai. pic.twitter.com/a4AGGfe3Tq

— Shubham Sakhuja (@ishubhamsakhuja) November 15, 2023
Bobsy kar dega…resign 🤣🤣🤣

— OMG (@omgs_tweets) November 15, 2023
Pakistan cricket doomed after two back to back defeat from India especially 228 runs defeat in Asia cup

— Shubman Gang (@ShubmanGang) November 15, 2023
This is Karma.

— Johns (@JohnyBravo183) November 15, 2023
That defeat from India in Asia cup has changed the whole pakistan cricket

— CricXtra (@CricXtra_) November 15, 2023
Sacked from Captaincy

— Abhishek (@be_mewadi) November 15, 2023
He was asked to stepped down but the king will emerge again This Too shall pass 👑

— Junaid Khan (@oyeee_junaid) November 15, 2023
Lets laugh at Pakistan 😂😂🤣

— Guri Pbks (@Guri_Pbks) November 15, 2023
Buttler Be Like :- Ek Toss Jeet Ke Babar Ko Uski Aukat Dikha Di 😂🤣 pic.twitter.com/rSAsPw9ia5

— Aufridi Chumtya (@ShuhidAufridi) November 15, 2023
Good for Pakistan Cricket....

— Shashank Singh (@RccShashank) November 15, 2023
Tel lagakar dabur ka
Naam Mita Diya babar ka 🤣

— Ms.पॉजिटिविटी 🇮🇳 (@No__negativtyxd) November 15, 2023
bhai mujhe check karna pada kahi parody to tweet nahi kar raha 🤣😭😭

— Tweet Chor👑 (@Pagal_aurat) November 15, 2023
It's okay he will focus on his batting now without team pressure 😕

— Ridaa (@RidaaAlli) November 15, 2023