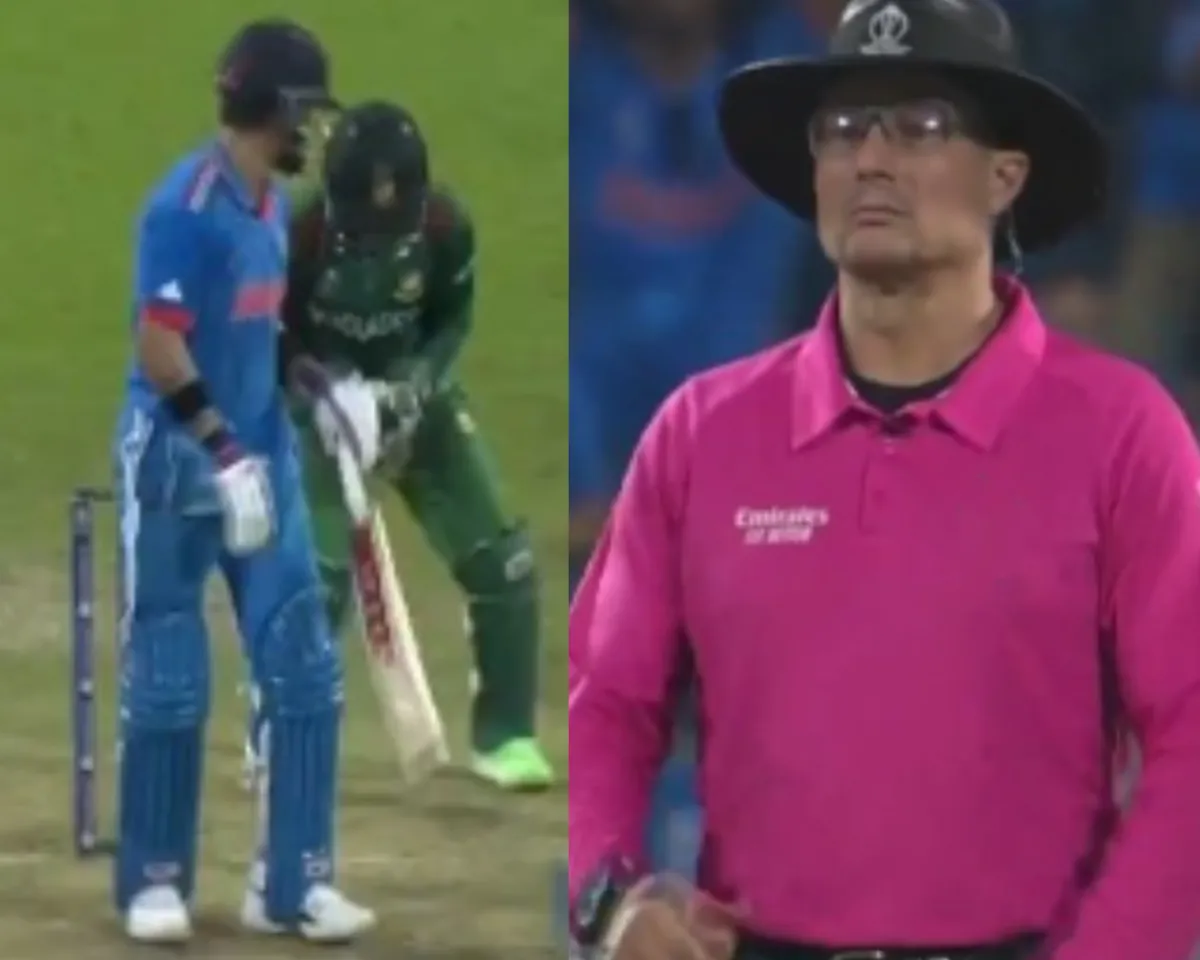 India and Bangladesh took on each other in the 17th match of the ongoing ODI World Cup 2023. Both teams played this match at the Maharashtra Cricket Association Stadium in Pune. The men in blue comfortably won the clash by a big margin of 7 wickets to register their fourth consecutive win in the tournament so far.
Meanwhile, there was something else that attracted the headlines even more than India's win and it was none other than the decision from umpire Richard Kettleborough when former Indian skipper and modern-day batting great, Virat Kohli was nearing his century.
The incident happened during the 42nd over of the Indian innings when Bangladesh's Nasum Ahmed came to bowl and India needed 2 runs to win; whereas Kohli needed 3 runs to complete his 48th ODI century. Nasum Ahmed intentionally bowled the first ball of the over a wide to stop Kohli from scoring a century but things took a complete turn when on-field umpire Richard Kettleborough didn't declare it a wide and eventually, it was counted a fair delivery.
Richard Kettleborough attracts the eyeballs for his decision
This incident has now ignited a new debate in the cricketing fraternity among cricket fans and the experts of the game. A few of the fans are coming up with the justification that it was not given wide by the umpire due to the initial movement of Virat Kohli; on the other hand, some of the fans reckoned that it was not a big deal if the umpire didn't declare that a wide ball because that would have changed nothing as Virat Kohli completed his century with a six and India were already heading to the win easily.
The social media looked divided on this debate which has an experienced umpire Richard Kettleborough in its nucleus. Notably, it was Virat Kohli's 78th international century and 48th ODI century; now, he is just two centuries away from breaking Sachin Tendulkar's world record of 49 ODI centuries.
Here's how fans reacted to the 'wide ball denied' incident involving umpire Richard Kettleborough:
to kya ho jata 100 to uska fir bhi hota

— Piyush Kant 🇮🇳 (@piyushky1) October 19, 2023
None would have faulted the experienced umpire if he had called a wide, but he kept his arms by his side keeping the bigger picture in mind.

✍️@g_rajaraman#INDvsBAN #ViratKohli #RichardKettleborough https://t.co/6yMBhAgFWK

— RevSportz (@RevSportz) October 20, 2023
Century so well deserved that even umpire denies wide for it! 😂🔥 #RichardKettleborough Give this man a medal! 😂🙌🏼 #INDvsBAN #ViratKohli pic.twitter.com/hg0N07BXBC

— Ajinkya Deshpande (@_ajinkya_d) October 19, 2023
One clap for this gentleman 👏 #RichardKettleborough#INDvBAN #ViratKohli #Umpire
#ICCWorldCup2023 #INDvsBAN
#WorldCup2023 pic.twitter.com/Jupx96NNiN

— Lakshmipriya Sahoo (@Sahoolakshmi28) October 19, 2023
#Umpire #RichardKettleborough After the Match.#ViratKohli𓃵 #INDvBAN pic.twitter.com/nBzsKCDddL

— Mohd Ayaan (@Ayaan0612) October 20, 2023
When Ravindra Jadeja won the Medal for best fielder, it was announced on Stadium's big screen, and everyone was surprised and celebrated.

- What a beautiful moment! This team is our heart...!!!#INDvsBAN #ViratKohli #KLRahul #RichardKettleborough pic.twitter.com/WuytS1lYbW

— Shreyam Sharma (@yourstartupman) October 20, 2023
This was epic 😂 Umpire got no chill cuz it's king @imVkohli On Strike with a shot close to hundred. #indiavsbangladesh #richardkettleborough #INDvsBAN #ICCCricketWorldCup pic.twitter.com/YTz1uPoARw

— Pankaj Thakur (@Thakurpankaj563) October 19, 2023
HOW ON EARTH UMPIRE DIDN'T GAVE IT A WIDE ????

WELL PAID INDIA 💰💵#INDvsBAN #INDvBAN pic.twitter.com/Ya0FhUg2pA

— Hamxa 🏏🇵🇰 (@hamxashahbax21) October 19, 2023
It is his decision and authority, sometimes umpires do take decisions to see winning shots. Anyways it wasn't against the spirit of game or Bangladesh, so nothing to crib about

— High Fly (@Stubborn_desk) October 20, 2023
We can pay kyunki hmare paas paisa hai
Aate ke liye nhi taras rhe hum

And it was deliberately bowled wide, jaank bhujhkar daali hui wide is not wide

— 🆂🅰🅳🅶🅸 🇮🇳✨ (@CSKian0407) October 20, 2023