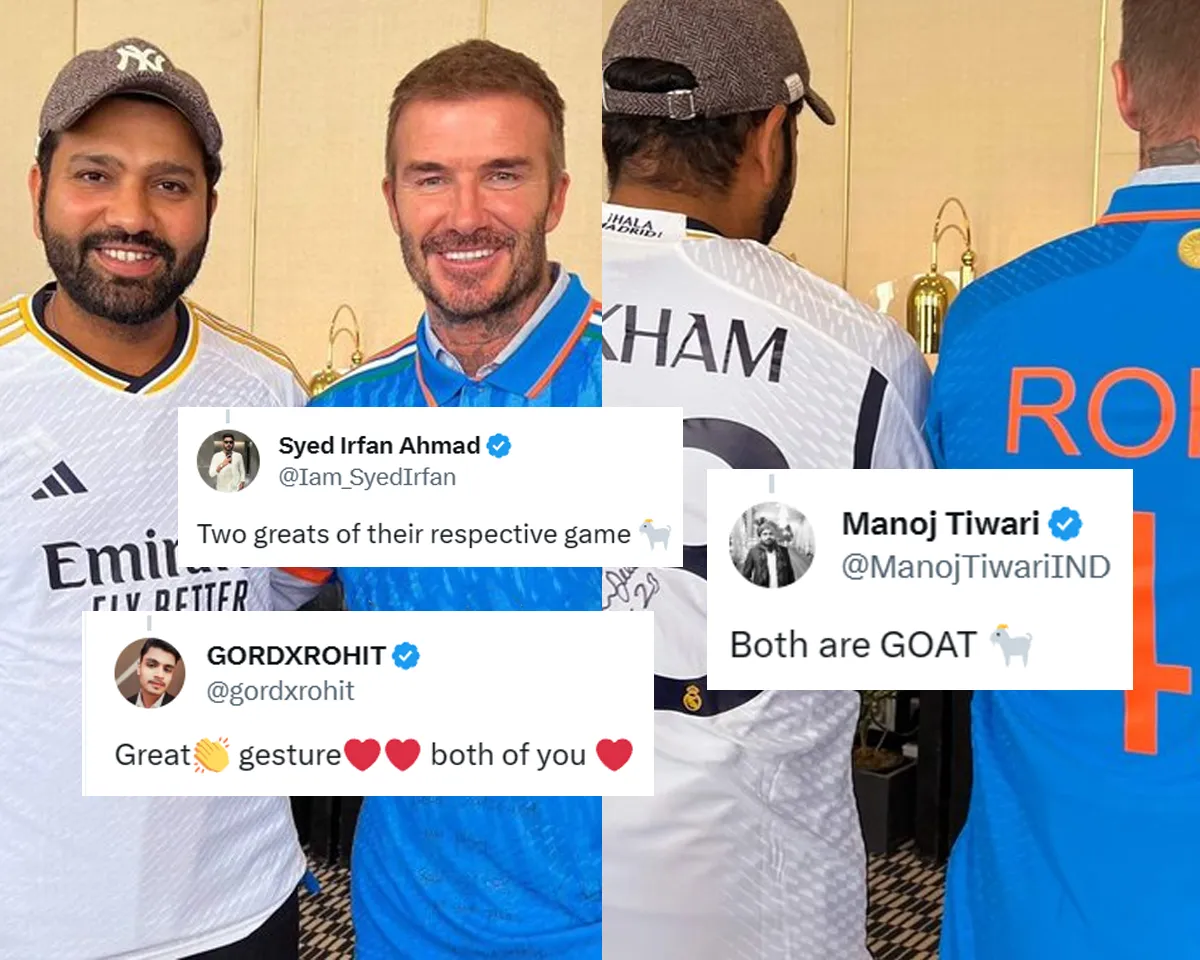 India under the captaincy of Rohit Sharma, defeated New Zealand by 70 runs to enter the final of the ongoing ODI World Cup 2023. Meanwhile, the football legend David Beckham was also there to witness this iconic semi-final between India and New Zealand. He accompanied the former legendary Indian cricketer Sachin Tendulkar as both the greats were there throughout the entire match.
Apart from this, David Beckham also attracted the headlines of social media for his meeting with the Indian skipper Rohit Sharma; Beckham and Rohit also exchanged their jerseys with each other as the former was seen in Rohit's jersey of Indian cricket team while the latter wore Beckham's jersey of Real Madrid Football Club.
Notably, Rohit Sharma is Real Madrid's Indian brand ambassador; he is the first-ever non-footballing personality in La Liga's history to become Real Madrid's brand ambassador.
Here's a look at the moment when Rohit Sharma and David Beckham exchanged jerseys:
David Beckham wearing Rohit Sharma's Indian Team Jersey.

Rohit Sharma wearing David Beckham's Real Madrid Jersey. pic.twitter.com/dfloBKDBvl

— Johns. (@CricCrazyJohns) November 16, 2023
The former legendary mid-fielder of Real Madrid also expressed his excitement about being a part of the memorable semi-final between India and New Zealand at the iconic Wankhede Stadium in Mumbai.
"Electric, Passionate, incredible," said Beckham about the atmosphere at the Wankhede Stadium during the all-important knockout game of the ODI World Cup 2023. 
"You know what? I would always say, football fans. But being here today, I'm not so sure. The atmosphere is incredible. The fans are creating an electric atmosphere and they're very loud, so I'm not so sure," said Beckham in a video posted by the Indian Cricket Board from official social media channels.
"I think It's nice to step into a stadium and get goosebumps, and I felt as soon as I walked into this stadium. There's nothing about it that maybe because I was walking with Sachin, that made it feel even more special. But you can feel the energy within the stadium even when there weren't that many people in at that start, you feel the energy," he added later.
Here's how fans reacted to Rohit Sharma and David Beckham exchanging their jerseys:
Two greats of their respective game 🐐

— Syed Irfan Ahmad (@Iam_SyedIrfan) November 16, 2023
Both are GOAT 🐐

— Manoj Tiwari (@ManojTiwariIND) November 16, 2023
Great👏 gesture❤❤ both of you ❤

— GORDXROHIT (@gordxrohit) November 16, 2023
Legend ✨👀 pic.twitter.com/y9zy8lDjqJ

— Hemaram Saran (@saran_hemaram) November 16, 2023
Legend pays respect for Legend. 🥰

— The Random Guy (@RandomTheGuy_) November 16, 2023
Wow!!!!!!!!!!
Respect for Each Other.
Two Giants

— Surinder (@navsurani) November 16, 2023
Two goats of their respective field

— Usman. (@oficialkashmiri) November 16, 2023
What a STARS 🙌

— 𝗦𝗵𝗼𝗮𝗶𝗯 (@shoaibkhanxz) November 16, 2023