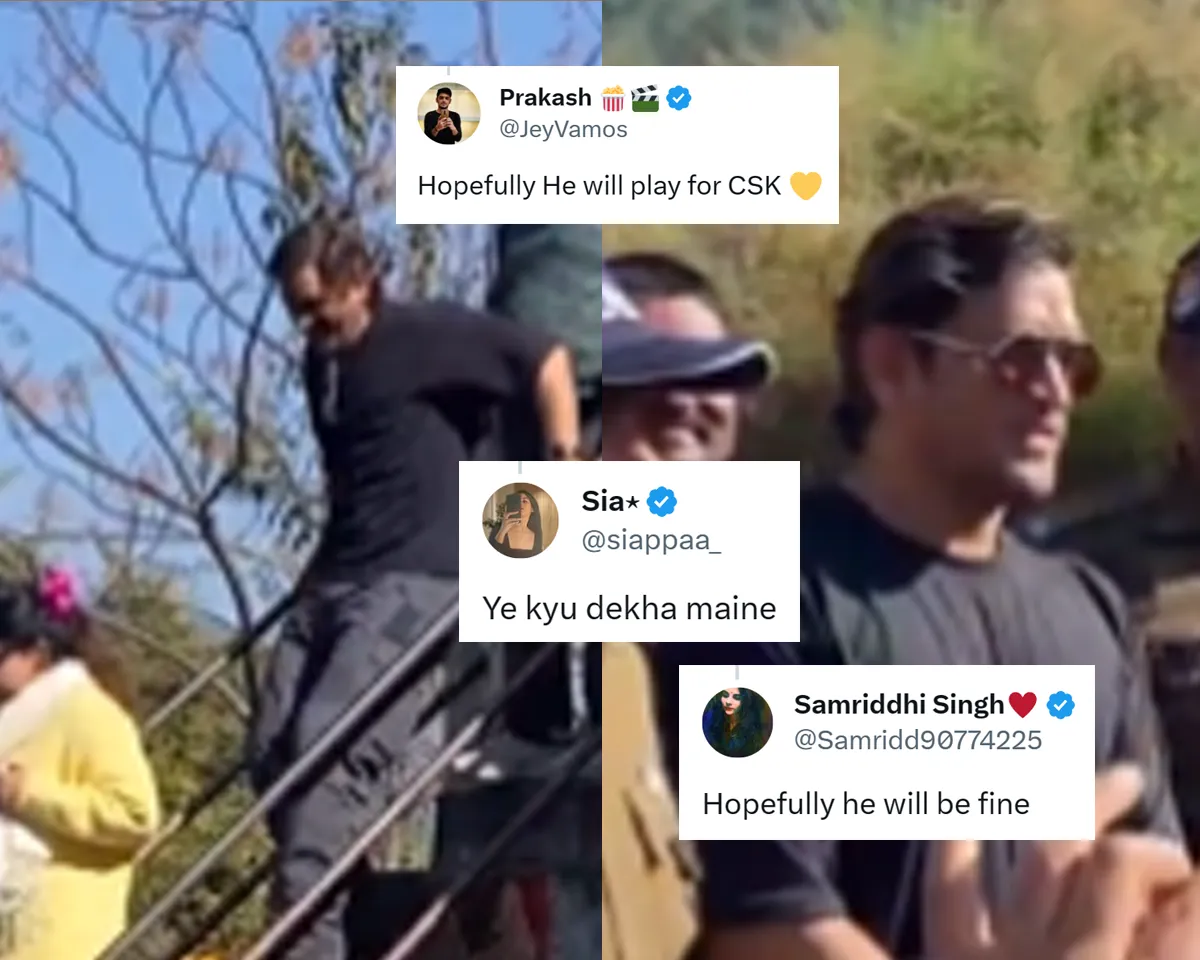 Recently, the former legendary Indian skipper and wicketkeeper-batter, MS Dhoni was in his paternal village in the Almora district of Uttarakhand. The videos and photos of Dhoni, alongside his wife Sakshi Dhoni from their visit to the paternal village also made rounds on social media within minutes of being shared over X (formerly Twitter) by cricket fans.
Meanwhile, in the same line of events, MS Dhoni's recovery from the knee injury and his recovery has also risen as a concern for ardent Dhoni lovers; it all started after a video of MS Dhoni struggling with his knees while coming down the stairs in his paternal village.
A fan shared a short clip of Dhoni coming down the stairs, with his knees struggling, captioned it as "Bro, Dhoni's knees aren't giving me confidence, I hope he has one more season in him."
Here's the video of MS Dhoni struggling with his knees:
Brooo Dhoni's knees aren't giving me confidence ☠️ Hope he has one more season in him. pic.twitter.com/az62tcfmh9

— Silly Point (@FarziCricketer) November 21, 2023
Notably, there are also speculations and media reports, that learned about MS Dhoni's potential appearance in the upcoming Indian Premier League 2o24 edition. But this hope of Dhoni fans is also looking under jeopardy as things are not properly assured on his recovery from the knee surgery, which he went through just after the conclusion of the Indian Premier League 2023. 
Dhoni guided Chennai Super Kings to win their record-equaling fifth IPL title after they clinched the IPL 2023 title, beating Gujarat Titans in a thrilling final at the Narendra Modi Stadium in Ahmedabad.
Now, CSK is the most successful team in the Indian Premier League, alongside the Mumbai Indians who have also won the five titles in the history of the Indian Premier League since the inception of the tournament 15 years back in the year 2008.
Coming back to Dhoni, the two-time World Cup (ODI and T20I) champion skipper retired from international cricket three years back in 2020 but he still enjoys a big fan following and massive love from the cricket fans.
Here's how fans reacted to the knee injury of MS Dhoni:
Ye kyu dekha maine

— Sia⋆ (@siappaa_) November 21, 2023
Hopefully He will play for CSK 💛

— Prakash 🍿🎬 (@JeyVamos) November 21, 2023
Hopefully he will be fine

— Samriddhi Singh♥️ (@Samridd90774225) November 21, 2023
Bas karo

— Mukesh (@majak_kar_raha) November 21, 2023
Pura reel enjoy Kiya until this part came

— Silly Point (@FarziCricketer) November 21, 2023
pura video do mood kharab hai do din se

— BUFFETT FAN ACC (@Gujjuhii) November 21, 2023
November 21, 2023
He will be fine for next ipl

— 𝐊𝐨𝐡𝐥𝐢𝐧𝐚𝐭!𝟎𝐧_👑🚩 (@bholination) November 21, 2023
Dhoni be like meri ek Taang nakli hai par main 2 WC aur champions trophy jeeta chuka hu pic.twitter.com/HPwbm4uigz

— Sarcastic Cowboy (@SarcasticCowboy) November 21, 2023
Abhi surgery hua hai uska, hope he recovers

— Aman (@AmanHasNoName_2) November 21, 2023