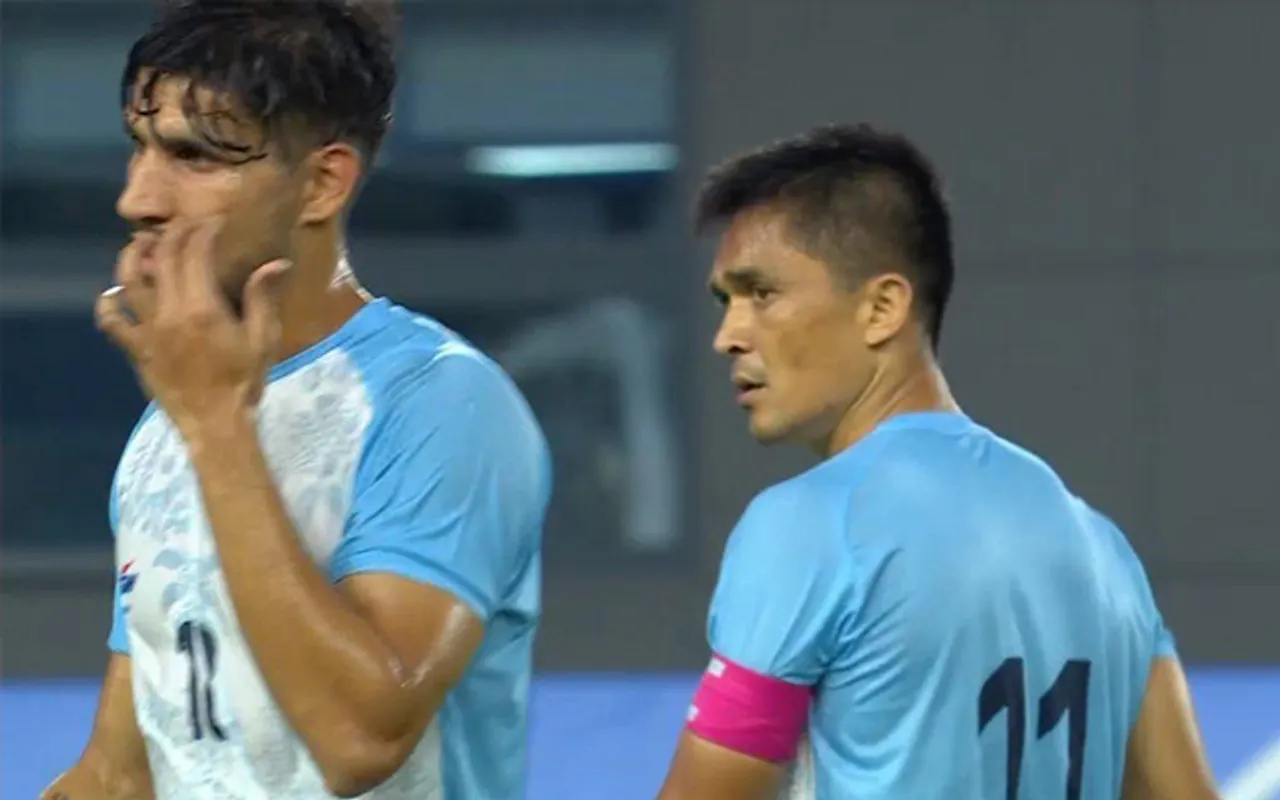 India and Bangladesh locked horns in their second match of the Asian Games 2023; both teams played this match at the Xiaoshan Sports Centre in Hangzhou on Thursday, September 21. Sunil Chhetri's India were already coming off with a massive loss of 1-5 against China in their campaign opener of the Asian Games 2023.
The first half of the second game against Bangladesh was quite disappointing for India as they missed a couple of penalty chances; eventually, the first half ended without any goal for India. Things didn't look in India's favour in the second half either as Samuel Kynshi's free-kick was brilliantly saved by Bangladesh goalkeeper Mitul.
India heaved a sigh of relief when Bangladesh skipper Rahmat Mia happened to make a foul; as a result, India was given a penalty and skipper Sunil Chhetri took charge himself and cashed it in for the men in blue. The Indian captain managed to slot it in the bottom-left corner, helping India to gain a lead of 1-0 in the last minutes of the match.
India managed to keep this lead till the end of the match and ended up winning the match by 1-0 to get their track back on track. This win has also kept India's hopes alive for their contention to the knockout stage of the tournament.
Now, before the commencement of the round of 16, India will take on Myanmar in their last group match of the competition. India and Myanmar will play this match at the Xiaoshan Sports Center Stadium on Sunday, September 24.
Here's a look at the Indian football team squad for the Asian Games 2023:
Goalkeepers - Gurmeet Singh, Dheeraj Singh Moirangthem, and Vishal Yadav.
Defenders - Sumit Rathi, Narender Gahlot, Deepak Tangri, Sandesh Jhingan, Chinglensana Singh, and Lalchungnunga.
Midfielders - Amarjit Singh Kiyam, Samuel James Lyngdoh, Rahul KP, Abdul Rabeeh, Ayush Dev Chhetri, Bryce Miranda, Azfar Noorani, Vincy Barretto.
Forwards - Sunil Chhetri, Rahim Ali, Rohit Danu, Gurkirat Singh, Aniket Jadhav.
Here's how fans reacted to India's 1-0 win against Bangladesh in Asian Games 2023:
Cricket walo tumhara kab khoon khaulega

— Introvert //🙇🏻‍♂️ (@introvert_hu_ji) September 21, 2023
Just a push from government side and our football team will break many records.

— Virat Kohli(parody) (@Virat_Kohli001) September 21, 2023
Congratulations and Well played India 🇮🇳

— Ganesh Maurya (@ganeshmauryaa) September 21, 2023
Chhetri 🐐 🔥

— Pranav Singh (@ImPranav7306) September 21, 2023
Congratulations 🙌

— Shivam Kahar (@ishivamkahar) September 21, 2023
Ye huyi na baat

— Hussain (@imhussy92) September 21, 2023
Congratulations Indian football team

— Dr. Aditi (@aditisinghSA) September 21, 2023
September 21, 2023