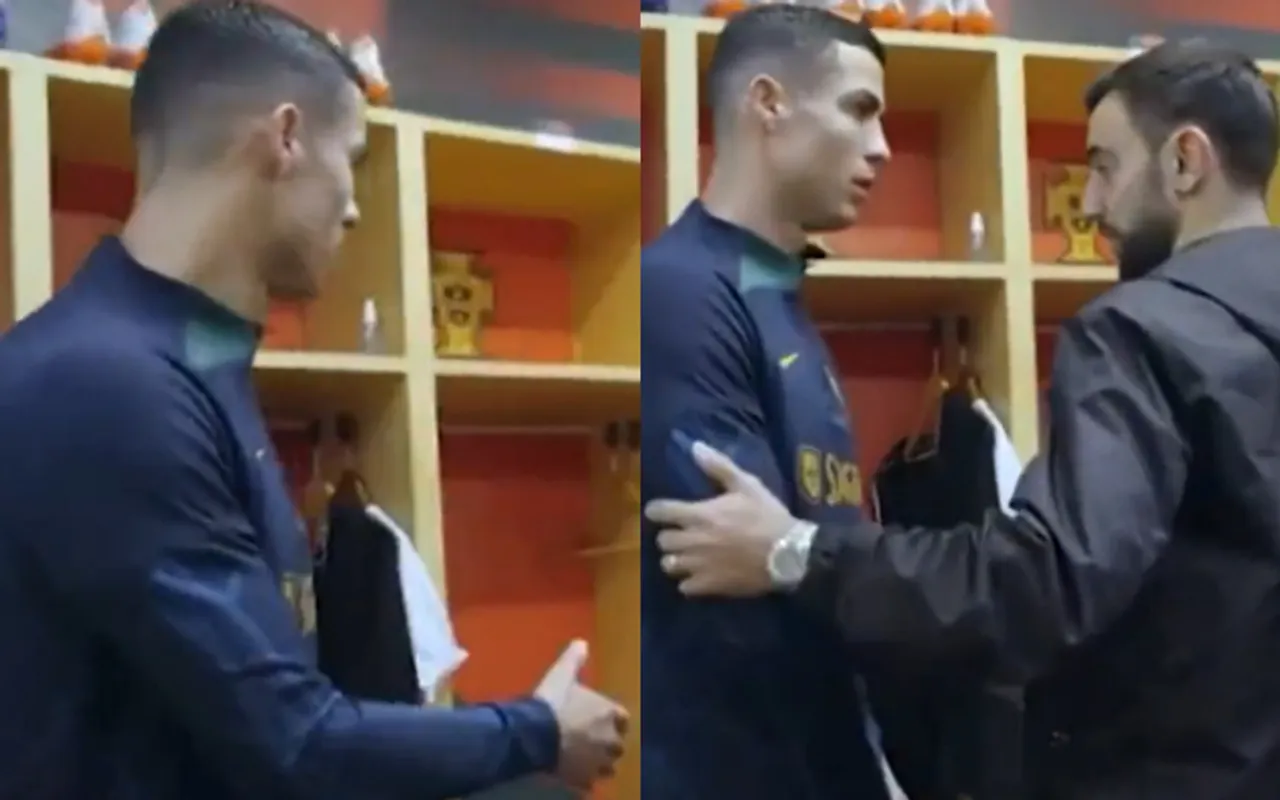 Cristiano Ronaldo is currently preparing for the 2022 football World Cup in Qatar. He has already reached Qatar with his teammates with an aim to win the World Cup for Portugal. However, Ronaldo has not enjoyed his form this season for his club, Manchester United. He has failed to settle his place in the playing XI this season.
However, things got worse when an interview came out on 13 November where Ronaldo was seen claiming to get betrayed by the club. His club team-mate, Bruno Fernandes is also a part of the World Cup squad for Portugal. After such an explosive interview, now a video has gone viral where both these players got involved in an awkward situation.
Here is the shared video:
Cristiano Ronaldo y Bruno Fernandes se cruzaron hoy en la concentración de Portugal, horas después de los dichos de CR7 sobre Manchester United…

¿El saludo entre ambos? Así. 😳⛔️pic.twitter.com/Jrh11YPRpd

— Ataque Futbolero (@AtaqueFutbolero) November 15, 2022
Both Cristiano Ronaldo and Bruno Fernandes will be crucial for Portugal in the World Cup
Speaking of the video, it was seen that Cristiano Ronaldo was in the dressing room along with his other Portugal teammates. Then, Bruno Fernandes came and started to greet everyone by snubbing the Portuguese superstar. However, Ronaldo spread his hand towards him, and then, Bruno shook hands with him.
Fans found the video very awkward as both players seemed to be not happy to meet each other. So, fans started to think that the explosive interview might have affected that meeting before the World Cup. Speaking about that interview, Cristiano Ronaldo said that his club, Manchester United have betrayed him. He also clarified that he has no respect for the current coach, Erik ten Hag.
Ronaldo said: "Manchester United tried to force me out. Not only the manager but the other two or three guys who are around the club . I felt betrayed. I don't care, people should listen to the truth. Yes, I felt betrayed. I feel that some people didn't want me here, not only this year but last season too. I followed my heart. He said to me, 'It's impossible for you to come to Manchester City,' and I said, 'OK, Boss.' The progress was zero. Since Sir Alex left, I saw no evolution in the club. Nothing had changed. He knows better than anybody that the club is not on the path they deserve to be. He knows. Everyone knows. The people who don't see that. It's because they don't want to see; they are blind. I don't have respect for him because he doesn't show respect for me. If you don't have respect for me, I'm never gonna have respect for you."