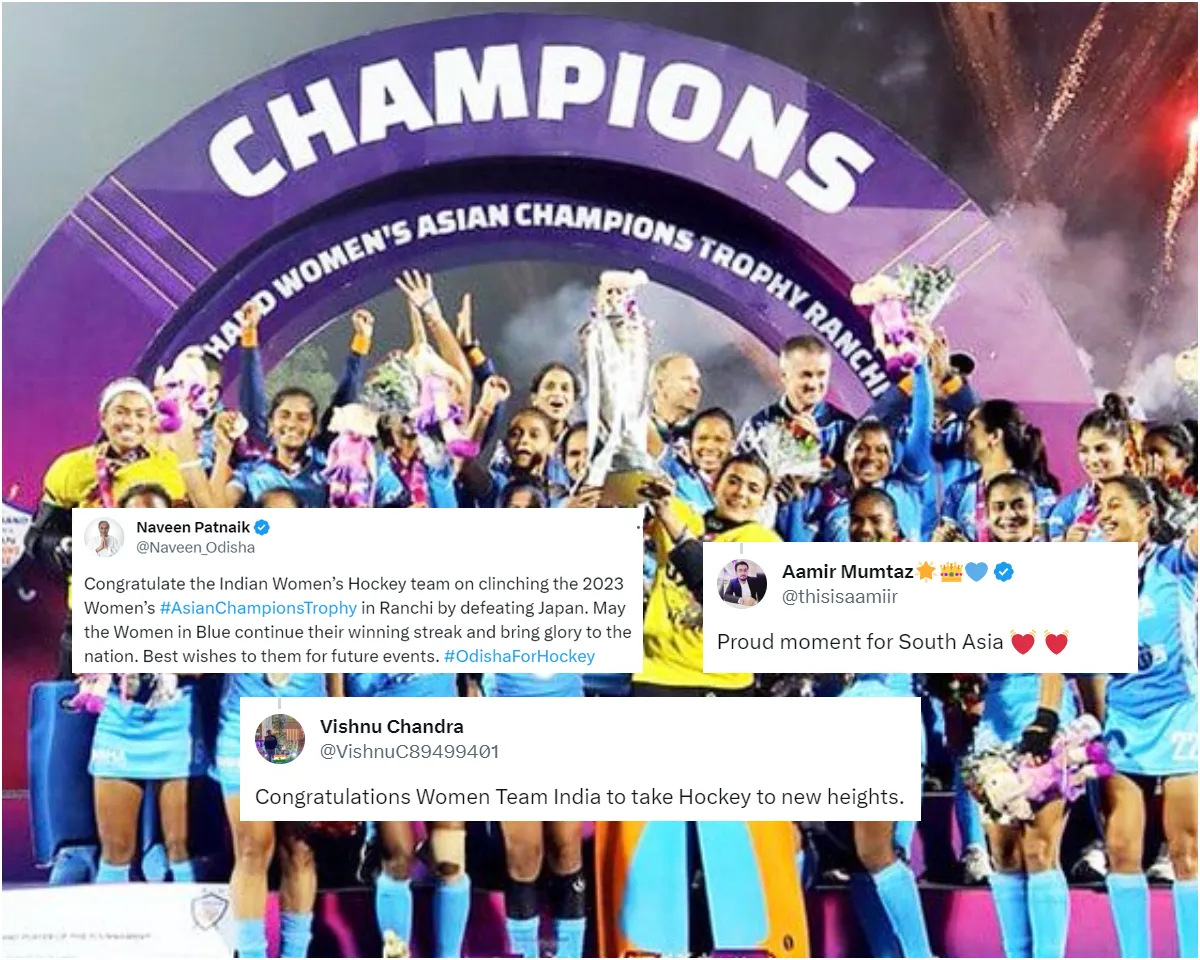 When All India was celebrating India's dominating performance in the ODI World Cup 2023, the Indian Women's Hockey Team also allowed fans to smile. In the finals of the Asian Women's Hockey Championship, India thrashed Japan by 4-0 to win the crown. This is India's second win in tournament history, as they claimed it earlier in 2016.
The highly anticipated game started with a delay of 50 minutes at the Marang Gomke Jaipal Singh AstroTurf Hockey Stadium in Ranchi. The delay was due to a technical issue with one of the floodlights. Once the game commenced, the Indian team showcased their dominance, spurred on by the encouraging presence of the Indian men's team in the audience.
Demonstrating an aggressive approach, the hosts made swift advances into Japan's territory, keeping the opposition on edge. The stalemate was ultimately disrupted as Navneet Kaur executed a remarkable sprint to the top of the Japanese striking circle. She then transferred the ball to Neha, who in turn directed it to Sangita. The player from Jharkhand skillfully guided the ball across the line, securing her sixth goal in the tournament.
India continued to dominate former World Champions
Captain Savita Punia's exceptional goalkeeping skills shone as she thwarted three consecutive penalty corner opportunities and even saved a penalty stroke in the final quarter, securing India's lead. India netted their second goal through a penalty corner variation, with Deepika passing to Deep Grace Ekka, who struck the ball, and Neha positioned in front of the goal, resulting in a score.
India added their third goal when Lalremsiami successfully converted a penalty corner. Vandana sealed the victory in the final minute. Local talent Sangita Kumari (17th min), Neha Goyal (46th), Lalremsiami (57th), and Vandana Katariya (60th) were the goal scorers, leading India to secure the continental crown for the second time.
Here is how fans react to India's dominant victory:
🇮🇳🇮🇳CHAK DE INDIA!!🇮🇳🇮🇳

Indian Women's Hockey Team wins The Asian Trophy Final after beating Japan by 4-0 @TheHockeyIndia pic.twitter.com/AS2xjG5QUy

— Kavishala (@kavishala) November 5, 2023
Glory for the girls. Congrats to the Indian Women's Hockey team on beating Japan 4-0 in the final to win the Asian Champions Trophy at Ranchi. @TheHockeyIndia pic.twitter.com/tphV1Yzthi

— VVS Laxman (@VVSLaxman281) November 5, 2023
India conquers the Hockey Women's #AsianChampionsTrophy with an impressive 4-0 victory against Japan in the final.
Their unwavering commitment have brought glory to the nation. Well done, Team India! 🏆🇮🇳🏑@TheHockeyIndia pic.twitter.com/IzX7RjOxZ4

— DK (@DineshKarthik) November 6, 2023
शाबाश बेटियों!

Asian Women's Hockey Champions Trophy के फाइनल मुकाबले में भारतीय महिला हॉकी टीम ने जापान को 4-0 से पराजित कर देश के लिए स्वर्णिम खिताब जीता है।

इस ऐतिहासिक एवं अभूतपूर्व विजय पर सभी बेटियों को बहुत-बहुत बधाई और उज्ज्वल भविष्य के लिए अनंत शुभकामनाएं।

यह तो बस… pic.twitter.com/bF0J11hpv6

— Shivraj Singh Chouhan (@ChouhanShivraj) November 6, 2023
Congratulate the Indian Women's Hockey team on clinching the 2023 Women's #AsianChampionsTrophy in Ranchi by defeating Japan. May the Women in Blue continue their winning streak and bring glory to the nation. Best wishes to them for future events. #OdishaForHockey

— Naveen Patnaik (@Naveen_Odisha) November 6, 2023
Gold for India. Beat depending champions Japan 4-0. Sweet home victory in the sensational final, 7 0ut of 7 all-win record. A home title that can lift the women's hockey profile by notches. Sangita the sensation. More fitting Vandana struk the last goal. CONGRATS INDIA pic.twitter.com/qrsnydv3BS

— stick2hockey.com (@indianhockey) November 5, 2023
There Should be Massive Celebration all over the country to encourage very talented Women's Hockey Team! This is a huge victory, let us all feel proud. The Sporting success of every nation depends on people's support.
Cheers for #Hockey Girls! चक दे भारत! Chak De India! 🇮🇳 https://t.co/Tpglm5OgVm pic.twitter.com/tWwVjzDhe6

— Kiren Rijiju (@KirenRijiju) November 6, 2023
Heartiest congratulations to the Women's Hockey Team for lifting the Asian Champions Trophy!#AsianChampionsTrophy

— Anil Kumble (@anilkumble1074) November 5, 2023
What a historic moment for Bharatiya women's hockey! 🇮🇳

They dethroned Japan and are now the Asian Champions Trophy winners!

The final in Ranchi was pure brilliance, with a 4-0 victory over the two-time champions.

Our women's team is on fire, and we're so proud of their… pic.twitter.com/IdtokmEZSp

— Anurag Thakur (@ianuragthakur) November 6, 2023