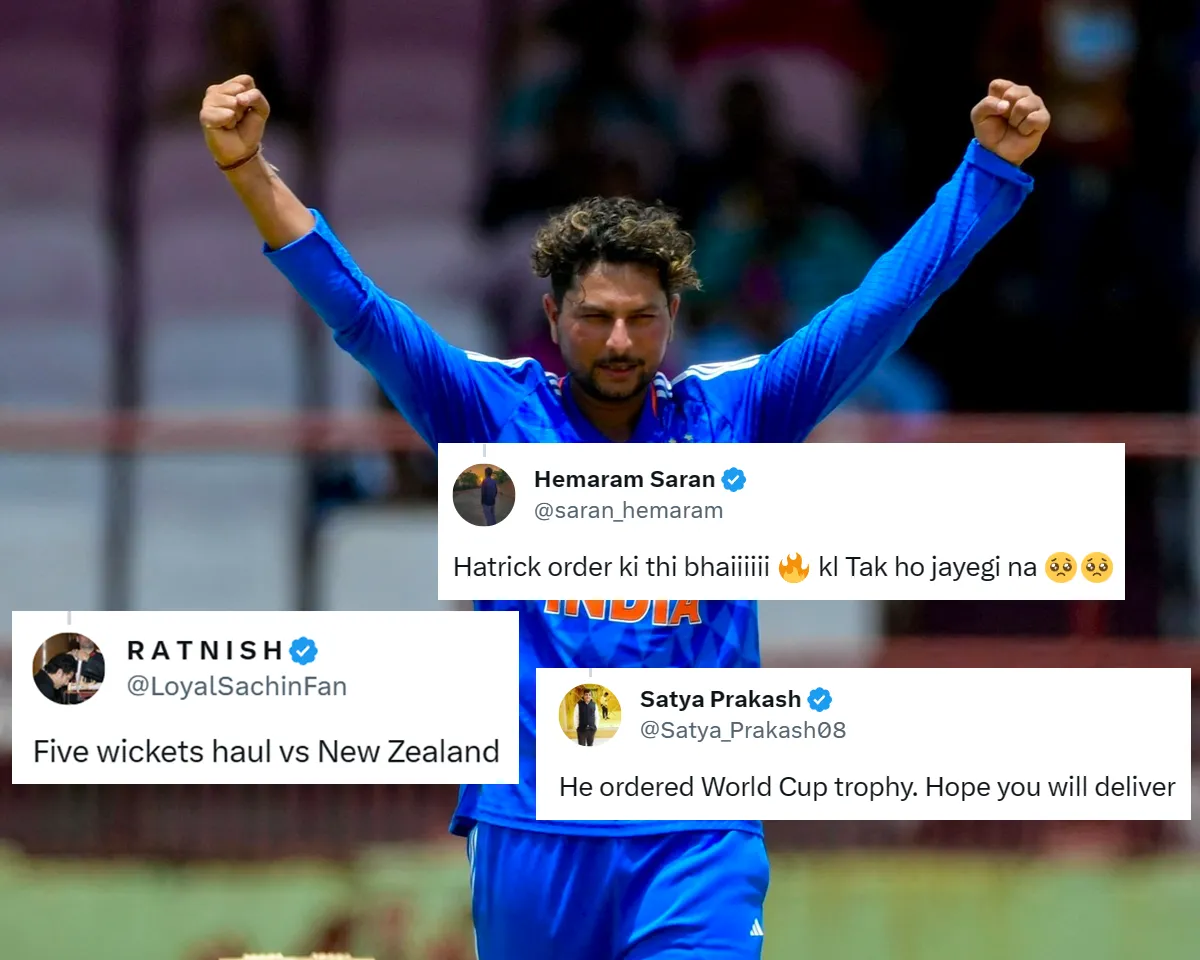 A funny conversation has taken place on social media between a fan and Kuldeep Yadav. The Indian spinner has been bowling so well in the ongoing ODI World Cup 2023 and is focused on continuing the same in the Knockout stage of the tournament as well. Ahead of India's big match against New Zealand in Mumbai's Wankhede stadium, Kuldeep made some time to be active on social media. 
The chinaman spinner took to X and reacted to a unique tweet from a user named 'Harshhh!'. In the tweet, the user had attested to an image of a delivery boy named 'Kuldeep Yadav', who was about to deliver his order in about 9 minutes. Since the name of the delivery boy was the same as the Indian cricketer, the user questioned the chinamn spinner and enquired if it was the same Kuldeep everyone knows. 
'Bhai @imkuldeep18 aap off-pitch bhi deliver kar rahe??' enquired the user to Kuldeep. Kuldeep, who was active on X, realised the funny side behind the comment. On a funny note, Kuldeep replied to the user and asked what delivery he had asked. 'Kya order kia tha bhai..??' asked Kuldeep to the user. The tweet of Kuldeep went viral instantly, as fans reacted to the funny moment with their interpretations. 
Fans demand special deliveries from Kuldeep 
As Kuldeep replied to the fan, many other fans started asking Kuldeep to deliver some 'Special' feats, particularly in India's match against New Zealand in the semifinal of the ODI World Cup. Some of them asked Kuldeep to claim a five-wicket haul. Others asked Kuldeep to claim a hat-trick. Some others asked Kuldeep to claim big wickets like that of Kane Williamson and Daryl Mitchell. 
India won its group-stage match of the tournament against New Zealand in Dharamshala. In the match, Kuldeep did not have a great game. Fans hoped he to have a good game against New Zealand when India took them on in Mumbai's Wankhede stadium in the big match on the 15th of November. 
Here's how the fans reacted to Kuldeep's tweet -
Hatrick order ki thi bhaiiiiii 🔥 kl Tak ho jayegi na 🥺🥺

— Hemaram Saran (@saran_hemaram) November 14, 2023
Five wickets haul vs New Zealand

— R A T N I S H (@LoyalSachinFan) November 14, 2023
He ordered World Cup trophy. Hope you will deliver

— Satya Prakash (@Satya_Prakash08) November 14, 2023
5 wicket deliver kardo bass

— 𝙕𝙄𝙈𝘽𝙐 😎 𝕏 (@Zimbu12_) November 14, 2023
Duck of new Zealand batsman

— Kirkett (@bhaskar_sanu08) November 14, 2023
Bhai 5 Wc ki hai kal aa jyegi kya ? 🙂

— Simran K (@Simrank82) November 14, 2023
Williamson aur Mitchell ka wicket order Kia hai. Kal jaldi se deliver kardena 🙈🙈🔥

— Aman (@AmanHasNoName_2) November 14, 2023
I think he ordered "Googly" :)

— Sourabh Sanyal 🇮🇳 (@sourabhsanyal) November 14, 2023
Kane Williamson ki wicket!

— Sujal (@Sujal__21) November 14, 2023
Kuldeep bhai pls win it for us 🙏

— 𝐊𝐨𝐡𝐥𝐢𝐧𝐚𝐭!𝟎𝐧_👑🚩 (@bholination) November 14, 2023
Kya Kuldeep bhai part time ye v krte ho Kya aap 🤣

— Golden Vlogs (@GoldenOfficial0) November 14, 2023