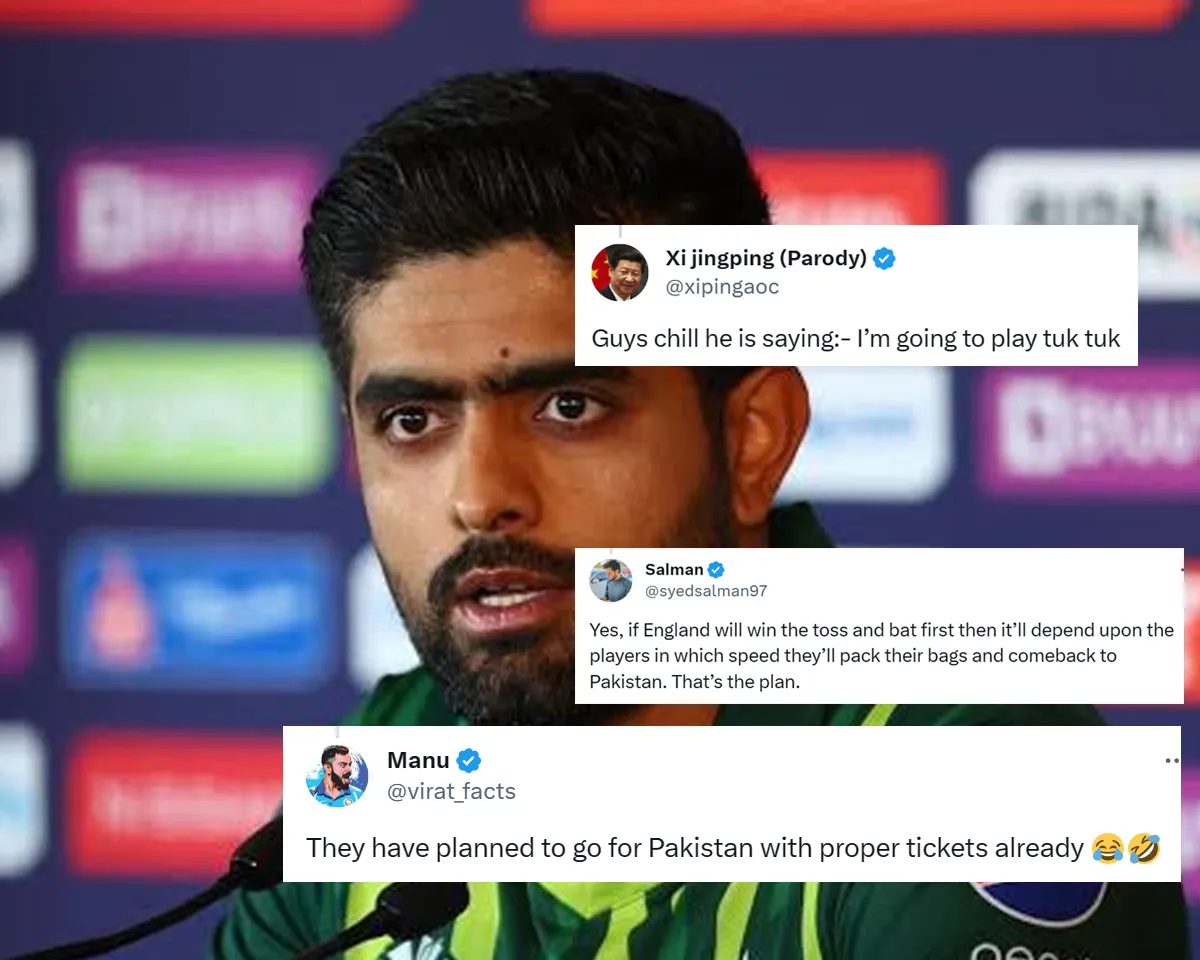 Ahead of a crucial game against England, Pakistan skipper Babar Azam hopes to qualify for the semifinals. In their last league game, Pakistan needs to beat England by a huge margin of 287 runs, or 16 balls. Despite being an uphill task for the team captain, Babar Azam feels that the team can get a favourable result.
Speaking at the pre-match press conference, Babar revealed that if opener Fakhar Zaman bats till 20–30 overs, Babar said, "Anything can happen in cricket. We will try to finish the tournament on a high note. If Fakhar Zaman plays for 20–30 overs, we can achieve what's required. The roles of Iftikhar Ahmed and Mohammad Rizwan will also be important during the match."
It's worth noting that in the last two games, Fakhar has led Pakistan to comprehensive victories. While making a comeback against Bangladesh, Fakhar scored a magnificent half-century. He hammered 81 runs off 74 balls with the help of three fours and seven sixes. Meanwhile, in his next match against New Zealand, he hammered a magnificent century. He scored an unbeatable 126 runs off 81 balls with the help of eight fours and 11 sixes.
Is Captain Babar Azam under pressure?
Meanwhile, speaking about his captaincy and how it's affected his batting, Babar Azam backed himself. He said, "There is no pressure on me. I was performing and leading the side for the past three years as well. It is easy to say things while sitting on TV. People who want to advise me can contact me at my number," he retorted with conviction.
However, further speaking about the future of his captaincy, Babar revealed that his current focus is an ongoing tournament. "Right now, my focus is on the next match. I will think about the future of the captaincy later", says Babar. It's worth noting that Pakistan will need to win the game against England by a huge margin to qualify for the semifinals. On the other hand, England will look to win the game to qualify for the Champions Trophy in 2025.
Here is how fans react to Babar Azam's comments:
Kuch bhii 😂

— ARYAN_OP™ (@ARYAN__OP) November 10, 2023
What if England bat first? 😂

— R A T N I S H (@LoyalSachinFan) November 10, 2023
Same Energy pic.twitter.com/RyaFjhjp8Q

— Khabis Insan (@IamUmarJav) November 10, 2023
Toss coin pic.twitter.com/Y4AVEec3VE

— djay (@djaywalebabu) November 10, 2023
Bat first,
Score whatever you can,
Time out the entire English team.

— Parth Goyal (@StocksRoyale) November 10, 2023
Babar Azam said, "you never know what'll happen next, we've a match left". pic.twitter.com/ogOwlUKh7W

— Jago India (@JagoIndia_) November 10, 2023
It's difficult but not impossible
inshAllah winning with hug margin #PAKvsENG pic.twitter.com/s5aRkMvHCM

— ЅᏦᎽ (@13hamdard) November 10, 2023
Babar Azam 8 hours after planning for run rate against New Zealand. pic.twitter.com/PyUXzzpoAg

— Anshumaan Singh 🇮🇳 (@Anshum1958) November 10, 2023
Overconfident babar 😭

— Ambreeeen.. (@Nostalgicc_A) November 10, 2023
Yes, if England will win the toss and bat first then it'll depend upon the players in which speed they'll pack their bags and comeback to Pakistan. That's the plan.

— Salman (@syedsalman97) November 10, 2023
They have planned to go for Pakistan with proper tickets already 😂🤣

— Manu (@virat_facts) November 10, 2023
QUDRAT ka nizam will work pic.twitter.com/y6qIhYJjKd

— Ambreeeen.. (@Nostalgicc_A) November 10, 2023
Babar Azam said "Everything is temporary, IndKMKB is permanent". [Sports Hour]

— 𝚃𝚑𝚘𝚛 𝚋𝚑𝚊𝚒 🎗 (@THORthayaar) November 10, 2023