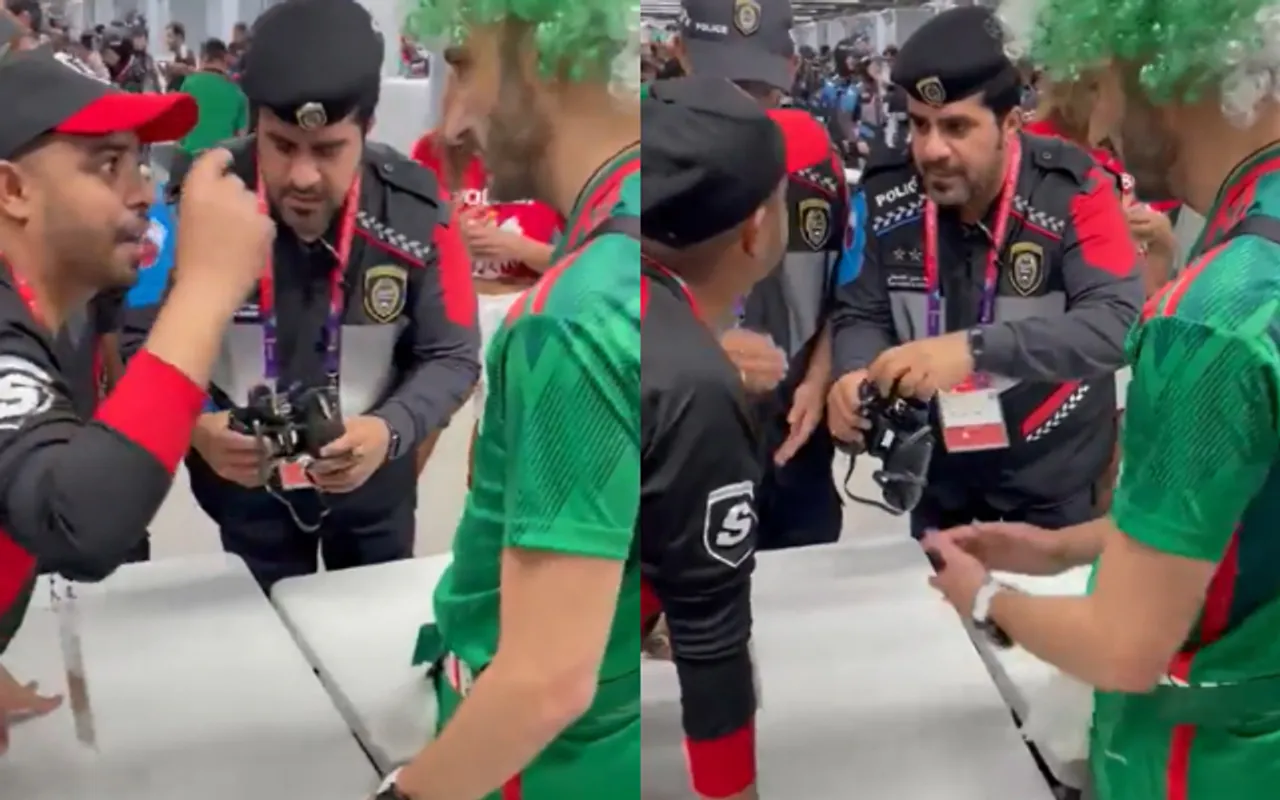 On 22 November 2022, Poland took on Mexico in Stadium 974 in the ongoing FIFA World Cup. However, before this tournament, it got confirmed that no alcohol will be available in the stadium. So, fans were trying to cope with the alcohol ban since the start of the tournament in Qatar.    
On 18 November, FIFA released an official statement where they announced that Qatar will ban the sale of beer outside of all eight FIFA World Cup 2022 venues. But, a video has gone viral now where a Mexico fan was seen getting caught by Qatar police for sneaking alcohol into the stadium.
Here is the shared video:
الأمن القطري يصادر منظار تم استعماله لتعبئة المشروبات الكحولية من أحد المشجعين

👏👏👏👏👏👏🇶🇦🇶🇦 pic.twitter.com/ltdYkUICjC

— عالم المونديال (@WC_Qatar22) November 23, 2022
Poland and Mexico settled for a goal-less draw in the FIFA World Cup 2022
Speaking of the video, a Mexico fan was seen tried sneaking alcohol into the stadium during the match by hiding it in his binoculars. Then, the security guard was seen checking the binoculars. Then,  fans argued that they are being used to carry hand sanitizers only.
In its statement, FIFA said,  "Following discussions between host country authorities and FIFA, a decision has been made to focus the sale of alcoholic beverages on the FIFA Fan Festival, other fan destinations and licensed venues, removing sales points of beer from ... stadium perimeters." Such an announcement received huge criticism from the fans. As per a Metro.co.uk report, sponsorers Budweiser paid FIFA around £62 million every four years in order to be one of its top-level partners. 
Robert Lewandowski missed a penalty in that match as Mexico's goalkeeper, Ochoa was the star of the show. He also bagged the player of the match award for his performance. With that draw, both teams managed to bag a point each from the encounter. However, in that same group, Saudi Arabia produced an upset by defeating Argentina by a margin of 2-1. Now, Poland will take on Saudi Arabia in their second match. While Mexico will lock horns with Argentina in their second match of this tournament.