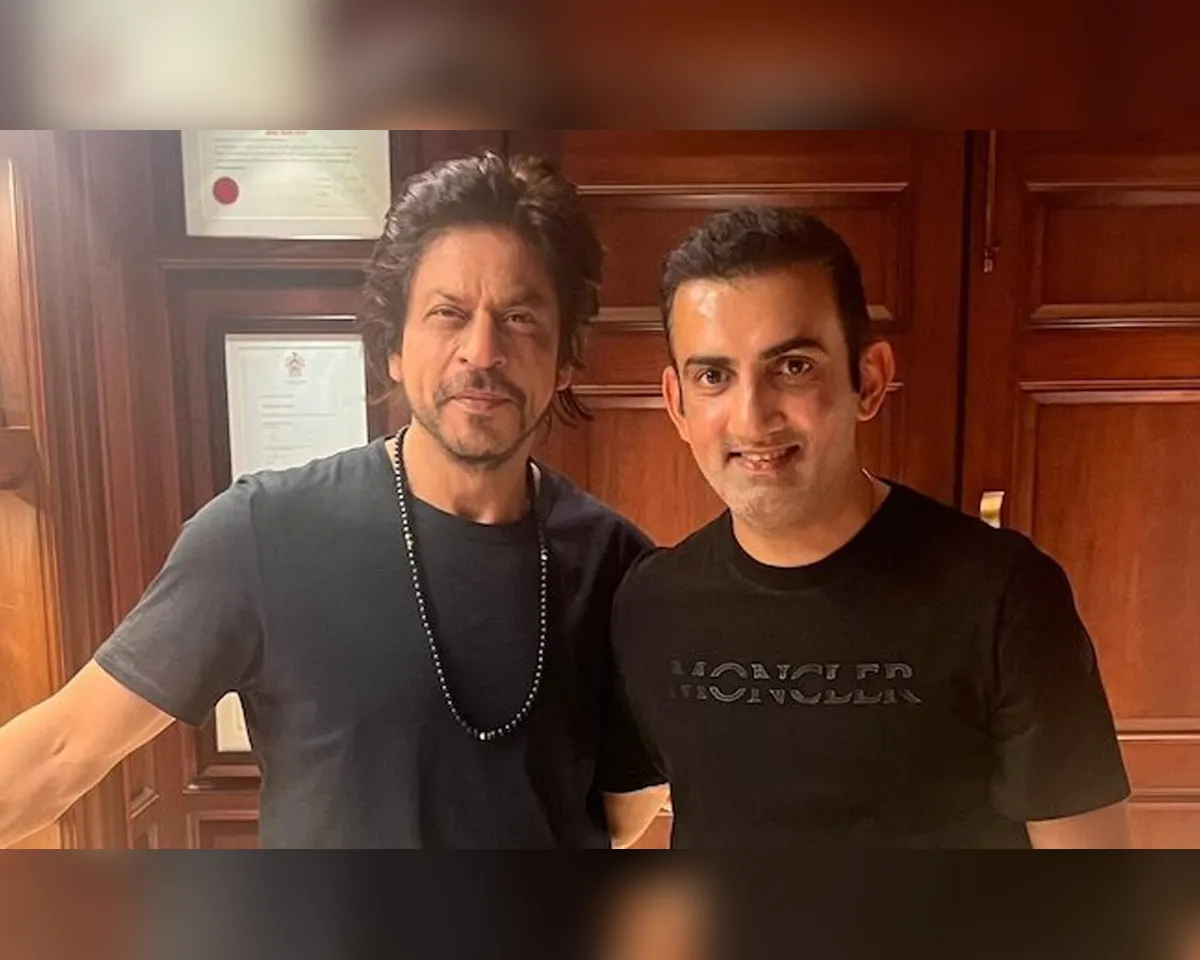 Bollywood superstar Shah Rukh Khan is celebrating his 58th birthday today. Fondly known as the "Baadshah of Bollywood" and "King Khan", SRK is one of the most admired actors in India. The charismatic actor, who has enthralled the audience with his versatile performances for over three decades, receives greetings from his fans across the globe on his special day. 
Former Kolkata Knight Riders (KKR) captain Gautam Gambhir also wished Shah Rukh Khan on his birthday. The legendary Indian cricketer is one of SRK's millions of fans and he has expressed his admiration for the actor on many occasions in the past. Gambhir took to his X (formerly known as Twitter) handle to extend his birthday wishes. 
"Happy Birthday Shah Rukh Bhai Lots of love!," the cricketer-turned-politician tweeted. Gambhir also shared a photo of Shah Rukh kissing his cheek as they both held the coveted Indian Premier League (IPL) trophy.
Check out the post below: 
Happy Birthday Shah Rukh Bhai 🎂 Lots of love! @iamsrk pic.twitter.com/ryHfmJ47Pm

— Gautam Gambhir (@GautamGambhir) November 2, 2023
Will Gambhir return to KKR in future?
Shah Rukh is the co-owner of KKR, a professional franchise cricket team representing the city of Kolkata in the IPL. SRK's friend and actress Juhi Chawla and her spouse Jay Mehta are the other owners of the franchise. Having won two IPL titles, KKR is one of the blockbuster teams in the cash-rich league since its inception in 2008. 
It was Gambhir who led KKR to the title twice in 2012 and 2014. Along with his captaincy, Gambhir's batting prowess was also crucial to KKR's success. After leaving KKR at the end of the 2017 season, he played his last IPL season for Delhi Capitals. In 2022, he was appointed as the mentor of Lucknow Super Giants (LSG), a role he is expected to continue in the upcoming season as well. 
Here's how fans reacted: 
Happy Birthday King Khan ❤️
Gauti plz come back to KKR

— Syed Irfan Ahmad (@Iam_SyedIrfan) November 2, 2023
KKR comeback loading soon 🔥

— Johns (@JohnyBravo183) November 2, 2023
Unforgettable memories.
Thanks, GG for the titles 💜 and SRK Sir Happy Birthday 🎂 pic.twitter.com/kW8Gb5cbQ8

— Abhishek Ojha (@vicharabhio) November 2, 2023
Two kings and one frame

— Liptaap (@LipTaap) November 2, 2023
Ghar waapsi ka intezaar h gauti bhai!!! 😍😁

— iNikitesh🚬 (@ANikitesh) November 2, 2023
Happy Birthday King Khan!🙌🏼

SRK always put faith & trust on his Captain. GG delivered & gave back the trust. Winning or losing never changed anything. Their bond only got stronger with time.

"Oh Captain, my Captain" - SRK
"Best owner, great human" - GG#HappyBirthdaySRK pic.twitter.com/euTiBsi2eF

— Team Gautam Gambhir (@gautamgambhir97) November 2, 2023
What a picture ❤️ wow !

— Manoj (@sammosboy) November 2, 2023
Aapki JAWANI huemsha barkarar rahe… #HappyBirthdaySRK @iamsrk

— Adv Rajat prajapati 🧑‍🎓🧑‍✈️ (@rajat9565) November 2, 2023
@GautamGambhir + @iamsrk = The greatest franchise owner-captain partnership in the @IPL ever. So much love, so many victories, 2 trophies, and tons of mutual respect.

— Madhav Sharma (@HashTagCricket) November 2, 2023
What a great gesture from SRK 😅
Gambhir with Real King 👑

— नितेश शुक्ला गर्गवंशम् (@Niteshshukla51) November 2, 2023
Happy birthday to @iamsrk king , Jawan and baadshah

— Zulfiqar Ali Langah (@Xulfiie) November 2, 2023