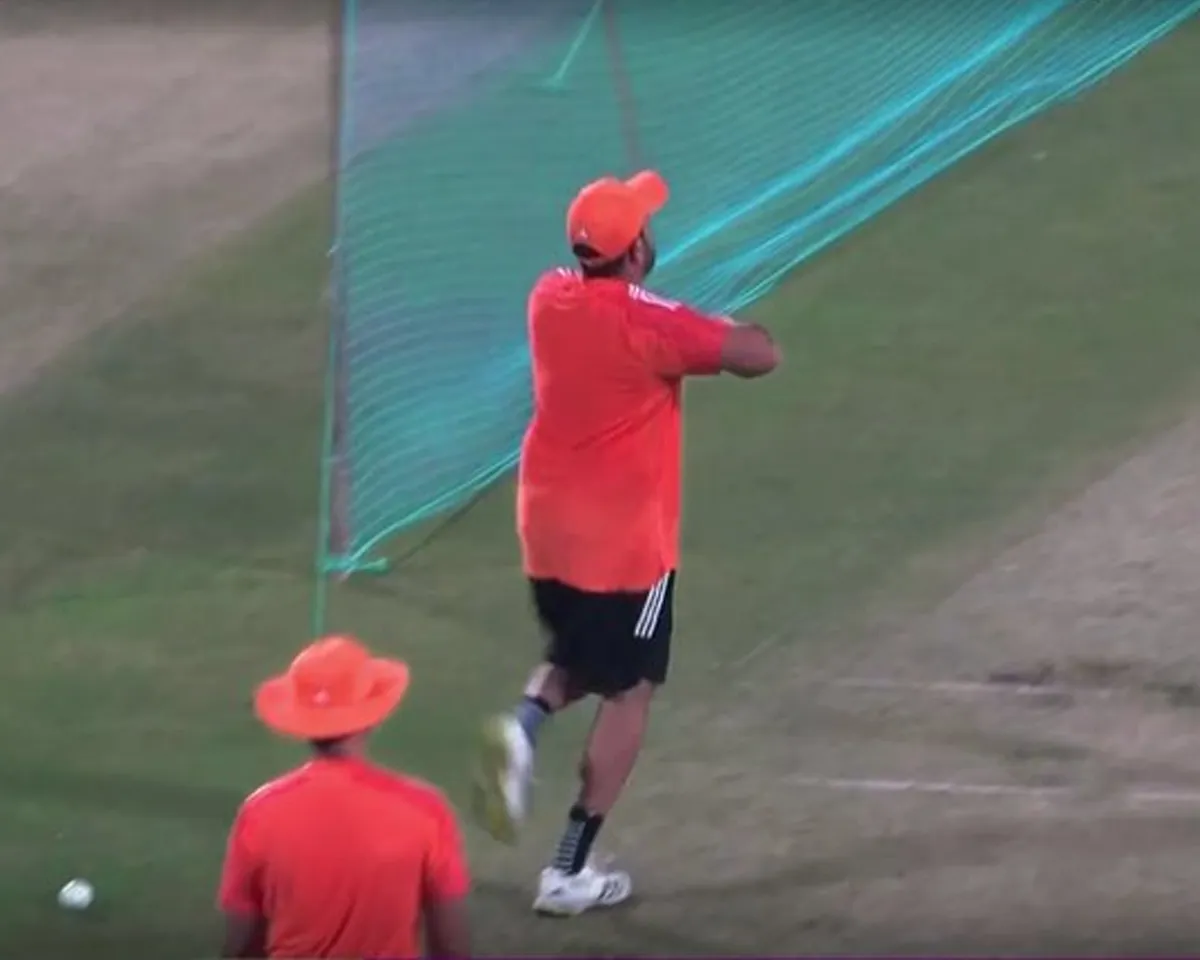 In an unexpected turn of things, Rohit Sharma pulled up his sleeves. He was assisted by Ravichandran Ashwin as he began to bowl some off-spin. Four left-handed players comprise Bangladesh's starting lineup, which may lead to several off-spin attacks. Ashwin's participation in the Bangladesh game is still uncertain.
Rohit Sharma has not bowled since sustaining a finger injury, despite his IPL hat-trick record. Rohit Sharma used to bowl pretty frequently throughout his early international career, earning eight ODI wickets and one T20I wicket.  But on Tuesday, he served as Shubman Gill's net bowler when he was still recuperating from dengue disease.
In fact, the opener has stated in several interviews that his boyhood coach realised he could perform more with the bat after he began his career as a competitive off-spinner.He last bowled during an ODI back in 2016 in Perth against Australia. It was only lately in Tests that he turned up his sleeves. Rohit Sharma delivered two overs during the 2021 Test match against England in Chennai. He bowled in T20I matches back in 2012. 
Rohit has been outspoken about his decision to stop bowling off-spin since it damaged his finger and might have an impact on his batting. But the seasoned opener was spotted delivering to Ravindra Jadeja during the practise area, and on a few times, he succeeded in getting the southpaw to take a fall shot.
Rohit set to bowl during ODI World Cup 2023?
However, Rohit did make a suggestion that players like Virat Kohli and himself may 'roll their arm over' when necessary. This happened during the press conference when India's World Cup roster was unveiled.
Rohit bowling against Bangladesh looks doubtful and unlikely. But the reality that the skipper has been practising inside the nets has provided supporters some optimism. Rohit might be confident in his own off-spin to perform. Therefore, when necessary with Hardik Pandya as the fifth bowler, they may also use Suryakumar Yadav as a finisher.
Fans react as Rohit Sharma bowls off-spin in nets ahead of India-Bangladesh clash in ODI World Cup 2023: 
Captain Rohit Sharma bowling in nets......!!!!!! pic.twitter.com/RMM0N7lq8h

— Johns. (@CricCrazyJohns) October 17, 2023
He will take Shakib wicket for sure.

— World International Cricket (@worldincricket) October 17, 2023
Haha
The Men in Blue are getting ready for the Bangladesh challenge 🔥🏏 pic.twitter.com/cNCrYdbAfv

— Praveen Jaishnav (@PJaishnav) October 17, 2023
With this tummy 😭? pic.twitter.com/pLMFFlz5q4

— 𝙋𝙤𝙥𝙖™ (@Here4Virat) October 17, 2023
Rohit Sharma like batting will open bowling for India and can take 5 wicket haul

— Ankit Khanna (@ankit_khanna) October 17, 2023
Spinners have the key in this #CWC23 good he is practising, we might need him.

— Akshay Shah - Founder CEO, iWebTechno | GenZDealZ (@AkshayiWeb) October 17, 2023
5 wicket hall is loading...

— Radhika Chaudhary (@Radhika8057) October 17, 2023
Sab kaam rohit bhai hi karenge kya..👌👌👌❤️

— Vishal Kumar (@vishalkumar9000) October 17, 2023
He is just exercising

— Zohaib (@zohaib_talks) October 17, 2023
Double century loading 💯🙌

— 𝐀𝐀𝐇𝐀𝐍𝐀🦋 (@corn4lakes) October 17, 2023
Wow mera Rohit bowling bhi karega kya🤩🤩🤩

— Bolo Yaarrrr (@ShaRo45264) October 17, 2023