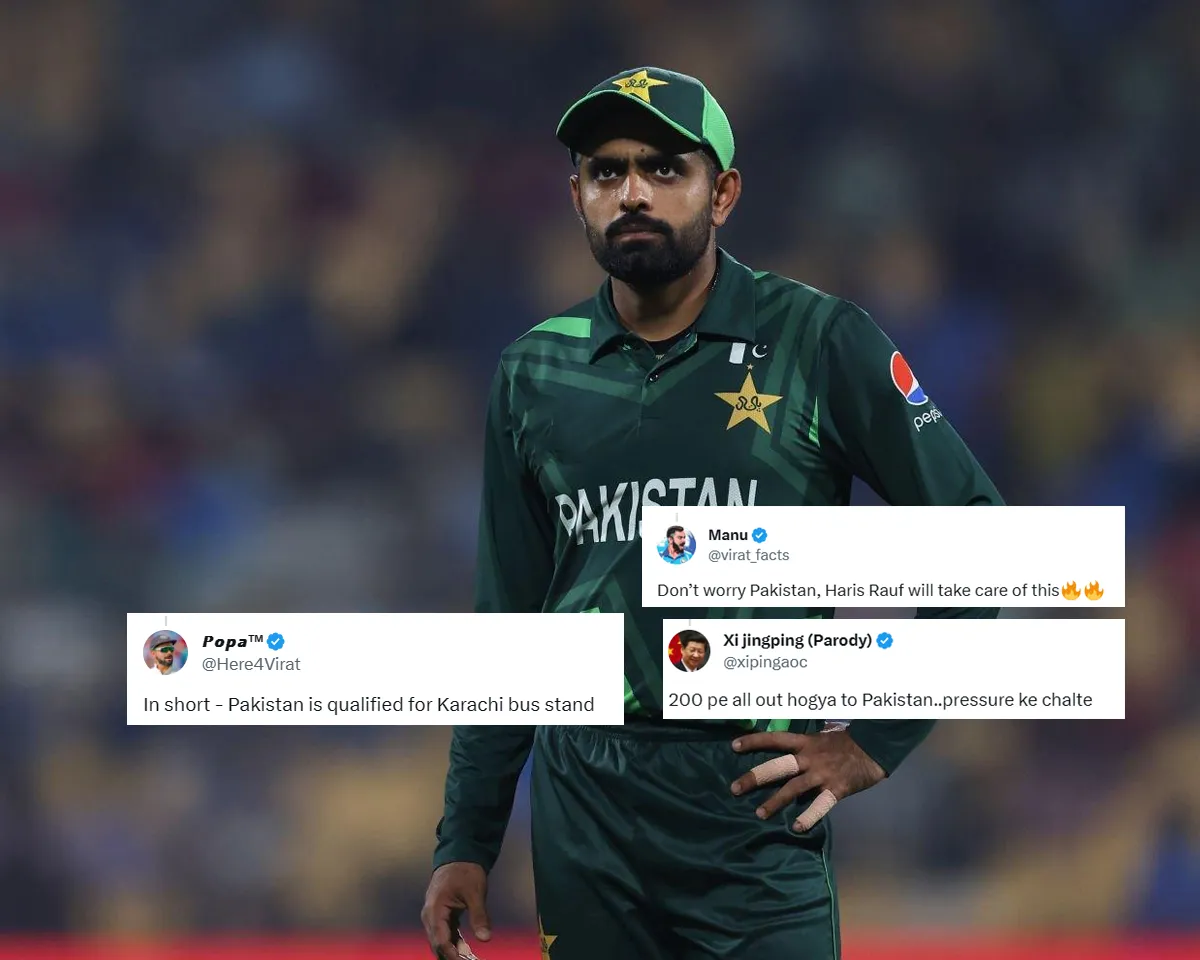 In the ongoing ODI World Cup 2023, Pakistan's journey has been nothing short of a rollercoaster ride. After winning the first two games against the Netherlands and Sri Lanka, the team flattered against top teams like India, Australia, and South Africa. However, the Babar Azam-led team is still in contention for a semifinal spot.
Pakistan will need to beat England on Saturday by a huge margin of 287 runs to qualify for the semifinals. If the team chases the target, it will need to beat England within 16 balls. These scenarios make Pakistan's qualification almost impossible, which has triggered a stir on social media. Fans are targeting their Qudrat Ka Nijam tagline, as it was trending on various platforms during New Zealand's game against Sri Lanka.
It's worth noting that during Pakistan's campaign in the 2022 T20I World Cup, a term called Qudrat Ka Nijam was coined. It refers to miracles that helped them qualify for the finals despite playing poorly throughout the entire tournament. However, this time it failed to help them as Sri Lanka flattered against New Zealand and the game didn't produce a favourable result for them.
Can England qualify for the Champions Trophy in 2025?
Meanwhile, in their last league game of the tournament, Pakistan will take on defending champion England. However, this game holds significant importance for Jos Buttler and company, as a win here will help them qualify for the Champions Trophy 2025. The tournament is going to be hosted by the Pakistan Cricket Board in 2025.
Despite playing below par in the ongoing tournament, England have their fate in their own hands. A win will help them qualify directly, while a loss will leave their fate to other results. It's worth noting that three teams have qualified for the semifinals, as India, Australia, and South Africa are likely to be joined by New Zealand. Out of them, Australia will take on South Africa in the second semifinal, while India will take on the fourth team in the first semifinal.
Here is how fans react to Qudrat Ka Nijam:
In short - Pakistan is qualified for Karachi bus stand

— 𝙋𝙤𝙥𝙖™ (@Here4Virat) November 9, 2023
Don't waste our time...

We need to surprise our children somewhat early🔥🔥 pic.twitter.com/Hju5Xkhgy4

— White knight 🦇 (@santhoshtiger14) November 9, 2023
Scorecard leaked for the
PAK vs ENG game 👇🏻

Pak 550-3
Fakhar 220 (150)
Ifthikar 100(65)
Babar 28(35)

ENG - 180 All out

Qudrat ka Nizam pic.twitter.com/1Ff2eoUbuU

— Sports With Bros (@brosswb) November 9, 2023
Mickey Arthur's statement on latest ICC rankings pic.twitter.com/ncWObdAXfH

— saj (@sajchaudhary786) November 9, 2023
2nd innings included? pic.twitter.com/PbYviSCesT

— Naveen (@_naveenish) November 9, 2023
Don't worry Pakistan, Haris Rauf will take care of this🔥🔥

— Manu (@virat_facts) November 9, 2023
Don't Worry 300 loading for Bobsy the plastic king pic.twitter.com/cHE3qZoSyd

— Tasneem Hanif 🇮🇳 (@TasneemKhatai) November 9, 2023
This tweet deserves 1M Likes Minimum 😂

— Dr Khushboo 🇮🇳 (@khushbookadri) November 9, 2023
Zimbu need this... pic.twitter.com/ZRjow52RN2

— 𝙕𝙄𝙈𝘽𝙐 😎 𝕏 (@Zimbu12_) November 9, 2023
Pakistan yet to Score 400 in the ODI World Cup.

— CricketGully (@thecricketgully) November 9, 2023
200 pe all out hogya to Pakistan..pressure ke chalte

— Xi jingping (Parody) (@xipingaoc) November 9, 2023
Pakistanis after seeing these scenarios 😂😝#NZvsSL #NZvSLpic.twitter.com/YvTpwGawjb

— CricWiz (@CricWizTalks) November 9, 2023