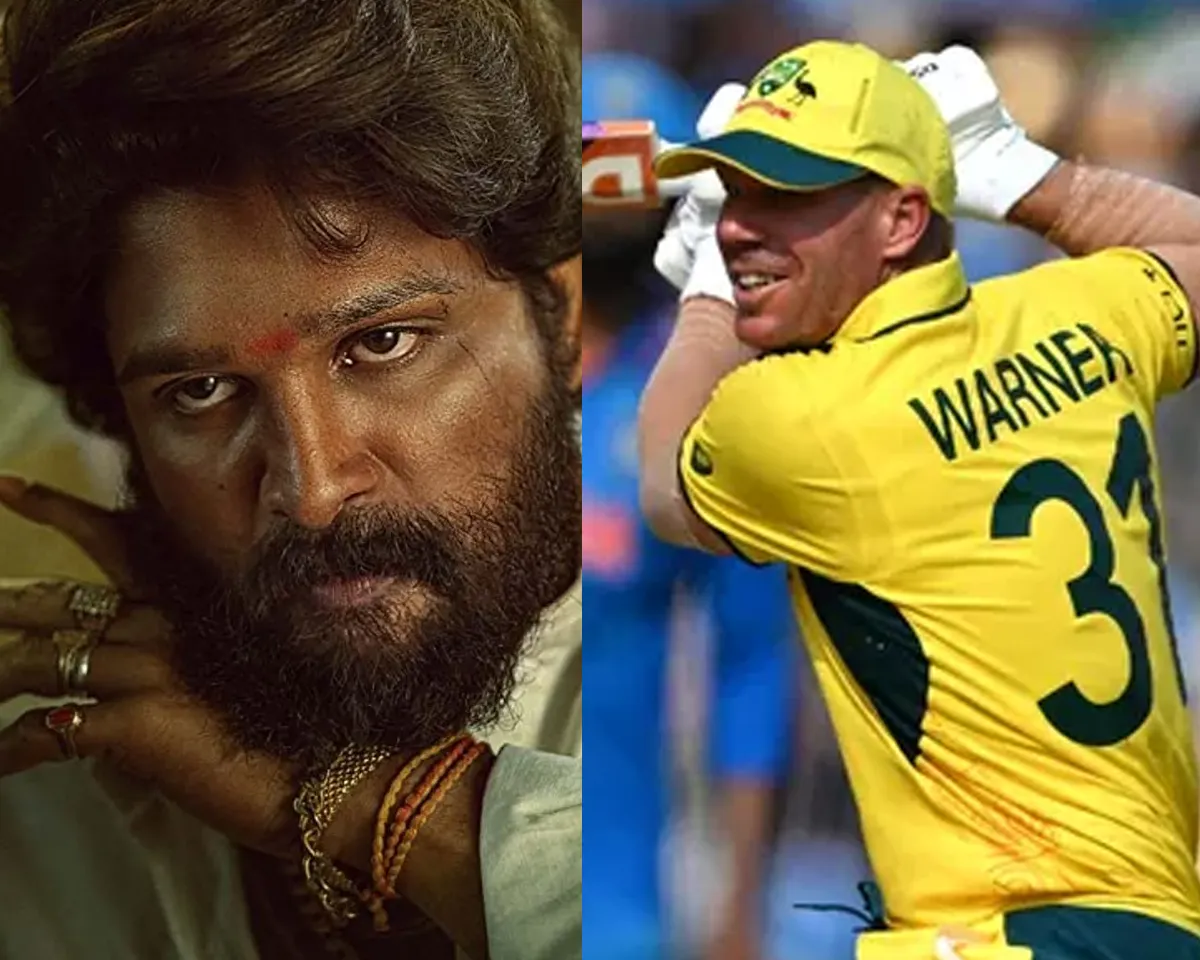 David Warner, the famous cricketer for Australia, congratulated Allu Arjun on being nominated for the Best Actor honour for his blockbuster film "Pushpa." Warner, the 36-year-old batsman who is now in India to participate in ODI World Cup 2023, is one of Allu Arjun's greatest fans.
Allu Arjun, the well-known actor in Tollywood, won the award for "Pushpa: The Rise". He was given the award for the Best Actor. He was dressed in a customary white attire. Devi Sri Prasad was granted the accolade for the best music direction for the film. When Warner posted a picture of the Pushpa squad on Instagram, it quickly gained popularity online.
The Indian Telugu film Pushpa: The Rise is a favourite of the Australian cricket player. On multiple instances, he has been spotted dancing to the songs from the movie. He has even uploaded footage of himself dancing on social media.
In a particular clip, Warner and his daughters can be glimpsed dancing amid the song "Saami Saami." In a different video, he can be seen grooving to the tune of "Srivalli" while playing in a T20 World Cup warm-up game.
Warner is well-liked by Indian fans because of his affection for Pushpa. Even some supporters have given him the moniker "Pushpa Raja" for him. Warner's appreciation for Pushpa extends beyond the soundtrack of the movie. He also gave the movie's star actor, Allu Arjun, as well as director Sukumar high accolades.
"I just sprayed out loud in frustration pretty much" : David Warner
Australian opener David Warner was upset about the umpire decisions during his nation's encounter against Australia. There were two controversial calls which did not go in the favour of his team. The opener was open about his conversation with the umpire after the game and he spoke about it.
He said, "The umpire said the ball was swinging back so to his credit, if he thinks that then that's why he's given a decision. But then when you see the replay of how it unfolded you get a little bit annoyed, (but) that's out of our control. I just sprayed out loud in frustration pretty much just (to) myself."
Fans react as David Warner congratulates Allu Arjun on winning National Award: -
David Warner 🤝 Allu Arjun. pic.twitter.com/wbBjK9aI5C

— Mufaddal Vohra (@mufaddal_vohra) October 18, 2023
Congratulations 👏#Pushpa pic.twitter.com/mPYriMjIfp

— Abhishek 💙 (@Enggabhishekgzp) October 18, 2023
Pushpa mai rukega nahi saala

— Andleeb Akhtar 🇮🇳 (@mr_akhtar_17) October 18, 2023
David Warner pic.twitter.com/C6OkS25rWu

— Anshu Chauhan (@chauhandwarrior) October 18, 2023
David Warner is the biggest fan Of Allu Arjun 🔥🔥🔥

— Mintu Dutta (@MNGamin65372627) October 18, 2023
October 18, 2023
Warner is a big fan of Allu Arjun🤔

— Tanveer Hassan (@tanveercric56_) October 18, 2023
Warner 🥰 India

— CricLoverShanky (@CricLoverShanky) October 18, 2023
Pushpa Jhukega Nahi Saala😂😅

— Bolo Yaarrrr (@ShaRo45264) October 18, 2023
The bonding.❤️ Salute 👏

— DSDimpi (@DimpiDasAssam) October 18, 2023
Nice brrooo congratulations 🇮🇳🇮🇳pusppaa

— Ajit Gupta(Rahul) (@AjitguptaRahul) October 18, 2023